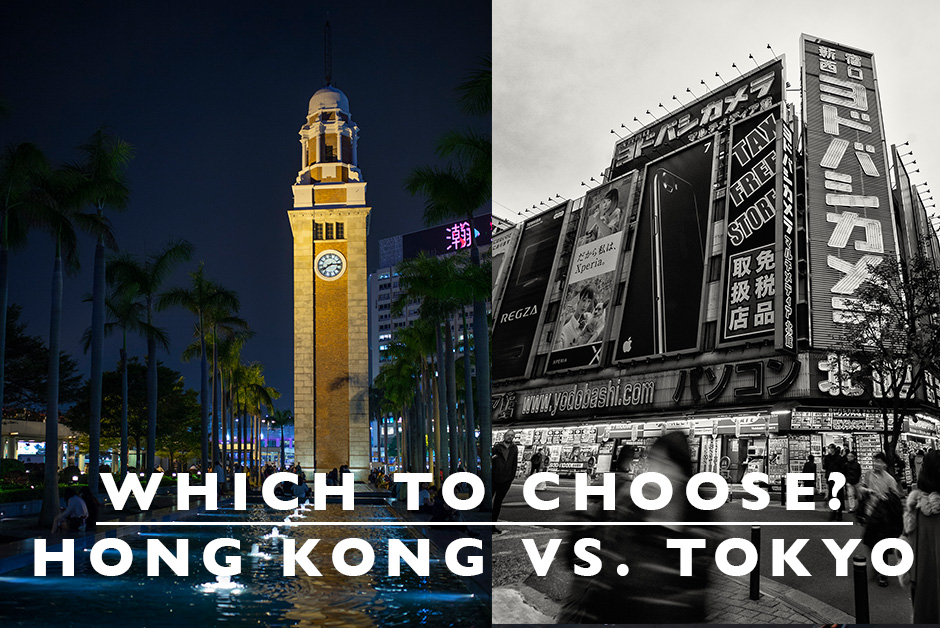 I often get the question, if you had the choice to travel to place A or B, which would you choose?  Or do you think I'd like place A or B better?  And to answer that question, it really depends on the destinations you're looking at choosing between.  There are some cities that many people try to choose between if you only have one opportunity to head somewhere so if you end up having to make that choice, here's how I'll best help you decide in this new Land of Marvels series.
So, you're headed to Asia and you're wondering if Hong Kong or Tokyo would be a better choice for you to explore and base yourself?
Well… both are great options to get the feel of some of Asia's famous destinations but if you can only pick one, here's my best information to help you choose!
Choose Hong Kong if you…
Want amazing Dim Sum – the city is famous for its Dim Sum and dumplings!
Are looking for a hub on the mainland continent of Asia – Hong Kong offers a hub on mainland Asia that is easy to get anywhere from there.
Want amazing skylines – the horizons of tall buildings all over the world have nothing on Hong Kong.
Are looking for an International community – due to Hong Kong's history, the city is very international from people all over the world and houses a large expat base
Want amazing shopping – Hong Kong has every type of shopping you could want from street markets to high end couture
Want a vintage vibe – the city definitely has new modern areas, but it's the vintage old school Chinese areas that are the best in Hong Kong
Are looking for warmer weather year round – Because of its location, Hong Kong stays fairly warm year round but can also get really humid.
Choose Tokyo if you…
Want some of the best food of your life – I live on Ramen when in Tokyo but all the food in Tokyo is out of this world amazing.
Like clean, organized cities – Tokyo is the epitome of organized and is one of the cleanest cities I've ever traveled to.
Are looking for easy transportation – the Subway and Train systems in Tokyo and throughout Japan are some of the best in the world and as big as Tokyo is, it's super easy to get around.
Love color – Many neighborhoods in Tokyo are full of color from huge outdoor TV screens to colorful signs up and down the buildings everywhere you look.
Enjoy new cultures – The Japanese people and culture is one of my favorite things about Tokyo!
Want an easy flight from the West Coast of the USA – You can be in Tokyo in a matter of hours on a direct flight from the West Coast of the USA and is an easy destination in Asia with a relatively easy hop across the Atlantic.
Like to bring home souvenirs – Tokyo has no shortage of amazing hand made goods to bring home as beautiful souvenirs.