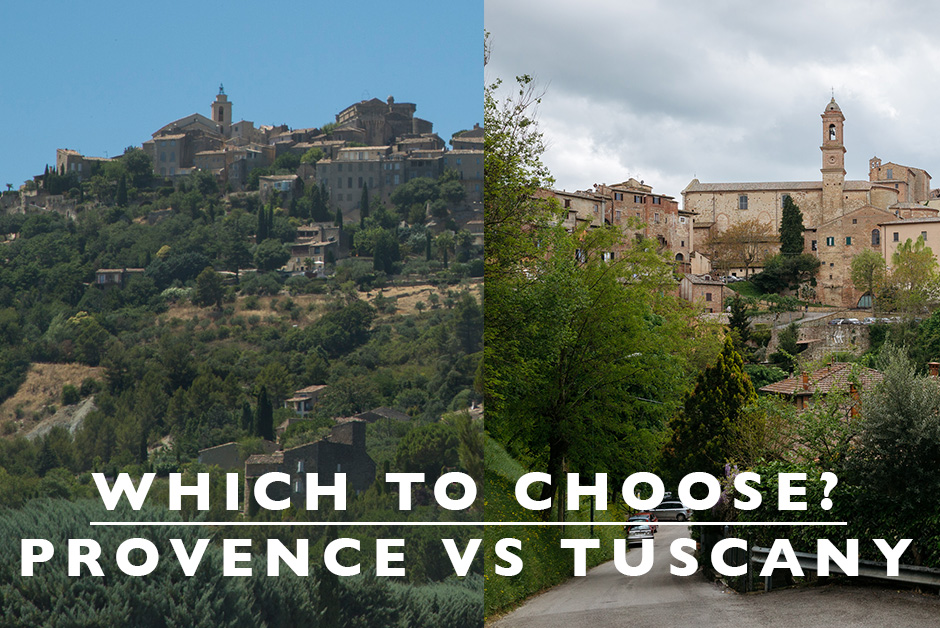 I often get the question, if you had the choice to travel to place A or B, which would you choose?  Or do you think I'd like place A or B better?  And to answer that question, it really depends on the destinations you're looking at choosing between.  There are some cities that many people try to choose between if you only have one opportunity to head somewhere so if you end up having to make that choice, here's how I'll best help you decide in this new Land of Marvels series.
So, you're headed to Europe and you're wondering if Provence or Tuscany would be a better choice for you to explore small towns and rolling hillsides?
Well… both are great options to feel like you've been transported to a movie, but if you can only pick one, here's my best information to help you choose!
Choose Provence if you…
Want to see the purple lavender – Provence is famous for the fields and fields of lavender in the Summer months that turn the hillsides purple!
Like little street markets – you can't go wrong wandering little French markets and buying all the fresh food.
Want tiny little towns with colorful shutters – the tiny little Provencal towns that dot the countryside are full of stone buildings with colorful shutters that look straight out of a movie set.
Love croissants and all French pastries – you'll never taste anything better than a fresh croissant straight out of the oven in a tiny little bakery in France.
Want great antique shopping – Many of the tiny towns in Provence have incredible antique shops!
Want a French feel – Obviously being in France, Provence feels very French.
Are looking for an escape from reality – Provence is one of those places that totally transports you away from anything that feels routine and normal.
Choose Tuscany if you…
Want some of the best food of your life – Italy is world renowned for its amazing food and in Tuscany, you'll find incredible offerings.
Want rows and rows of Cyprus Trees – We've all seen the tried and true Tuscan Instagrams.
Want to feel in the middle of nowhere – Tuscany isn't all that far from major cities like Rome and Florence, but out there in the rolling hillsides, it feels like your miles and miles away from everywhere.
Love history – With tons of tiny old, old, old Italian towns and villas dotted through Tuscany, you'll feel as though you've stepped back in time.
Like Churches – The little Tuscan towns are filled with churches, I mean, it is Italy after all!
Want to stay close to Italy's main hubs – You can be in Tuscany in an hour just outside of Florence or just about 90 minutes outside of Rome… if you want to stay close to the major cities but still get a feel of this beautiful area, it's super easy and close!
More from this series for Which City to Choose.