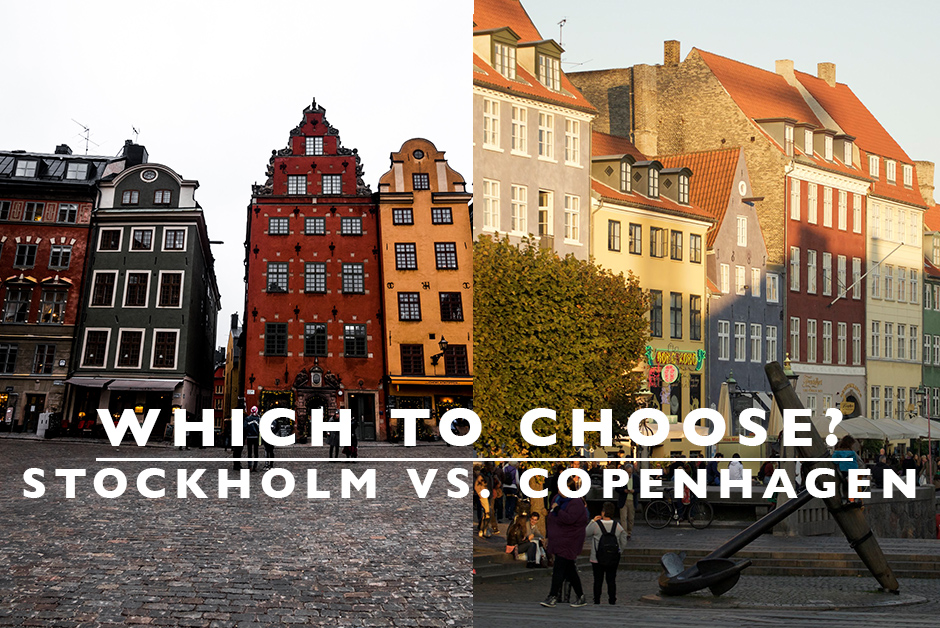 I often get the question, if you had the choice to travel to place A or B, which would you choose?  Or do you think I'd like place A or B better?  And to answer that question, it really depends on the destinations you're looking at choosing between.  There are some cities that many people try to choose between if you only have one opportunity to head somewhere so if you end up having to make that choice, here's how I'll best help you decide in this new Land of Marvels series.
So, you're headed to Scandinavia and you're wondering if Stockholm or Copenhagen would be a better choice for you to explore and base yourself?
Well… both are great options to get the feel of Scandinavia but if you can only pick one, here's my best information to help you choose!
Want a more affordable base in Scandinavia – everything is way cheaper than Denmark!
Are looking for a more central city layout – we found everything was located closer together in Stockholm
Love cinnamon rolls – hand over the cinnamon rolls and everything sweet!
Like to eat – the food in Stockholm was some of my favorites – hello Swedish meatballs
Want to feel chic – Swedish locals are some of the chic-est you'll come across
Want ease of language – everyone speaks amazing English
Are looking for colder weather – Stockholm is a little farther North, so if you're looking for chilly weather – this is your spot.
You don't mind spending money – the famous Danish city is one of the most expensive in the world.
Want a more Central European base – the city is closer to Central Europe for ease of travel
Want ultimate Scandinavian design – sleek design and simple architecture will light the way
Want to bike around – everyone, I mean everyone, bikes everywhere in Copenhagen
Like the open water – while both cities are on water, Copenhagen feels more like on open ocean
Don't mind walking – while the city is totally walkable, things are a bit further away from each other
Like seafood – Copenhagen loves its fish!

More from this series for Which City to Choose.