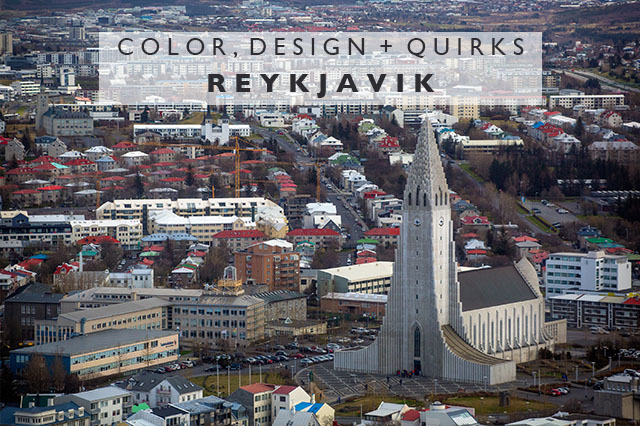 On this most recent trip to Iceland, we spent about a day and a half in Reykjavik, Iceland's capital and largest city.  While last time we based ourselves in Reykjavik, this time we spent only one day and night there at the beginning of our trip and then a half day at the end before flying out.  The city is always interesting to visit and has so many unique qualities so we were excited to visit again and spend some time there on this last trip in May.
While Reykjavik isn't really a large city, it definitely has everything you need.  The main downtown area is cute and colorful, with Scandinavian looking architecture and bright colors, filled with little streets of restaurants and shops.  Reykjavik is a quirky city too with sculptures here and there and interesting buildings as you wander around.  And while we didn't spend as much time in Reykjavik as we did on our first trip to Iceland, we mentioned numerous times how different it looks and feels in Spring than it did in the middle of Winter previously.  Everything felt more alive, brighter and lighter than it did in the snow and darkness of Winter.  When traveling to Iceland, Reykjavik definitely holds its own as a spot to visit against the majesty of the countryside.  So spend a day or two here (or more!) and enjoy the color, design and quirks of Reykjavik.
Don't Miss in Reykjavik:
-Check out Cafe Paris or The Laundromat Cafe for breakfast spots.
-Don't miss pizza at Pizza Royale (Funny story about this place: on our first trip to Iceland we were starving at midnight one night due to jet lag, so we wandered around to find this place and had amazing pizza there.  On this second trip, we wanted an early night since we had to get up early to drive North, so we grabbed takeout pizza from here and brought it back to our hotel… so good!)
-Check out buildings like the Harpa and Hallgrímskirkja Church – famous sites in the city.
-Wander around "The Pond" which freezes over in the Winter but is beautiful in the Spring/Summer time with ducks floating along.
Check out our Iceland Travel Guide in the Land of Marvels Shop for only $5!