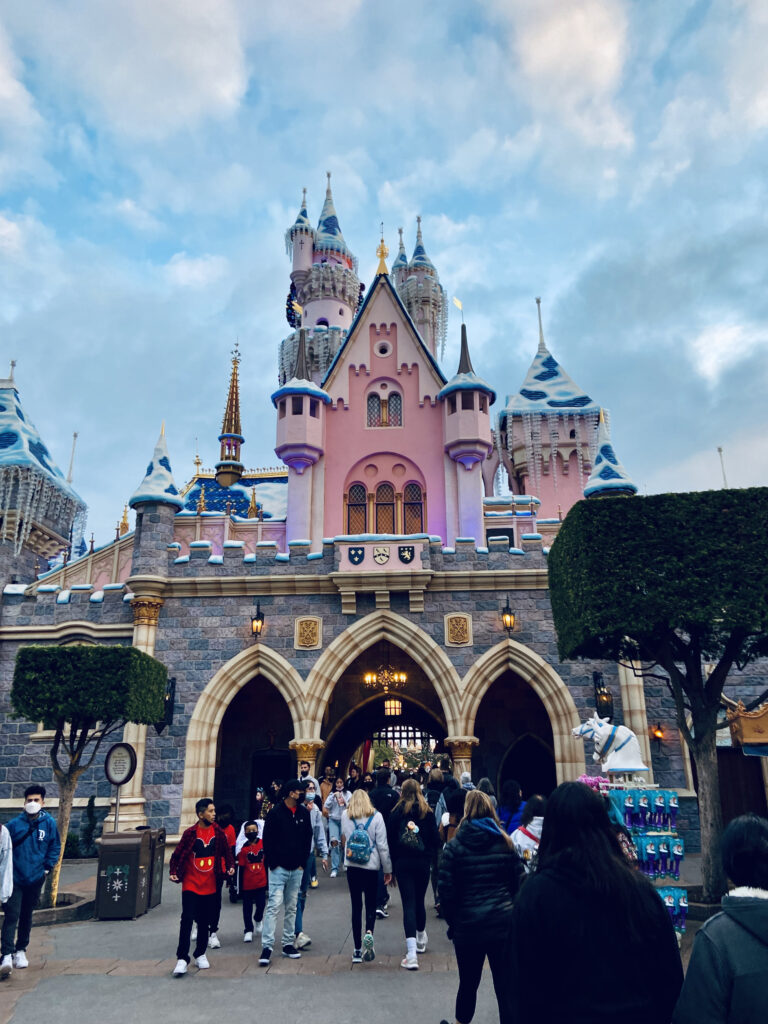 While in Pasadena for a couple weeks over the Christmas break staying with my parents there, we decided to do a day trip to Disneyland.  As our Christmas presents to each other, Nick and I bought our tickets back in October as the park is selling out months before certain dates.  We've been to Disneyland several times before but this was our first time back post-COVID shutdowns and today I'm sharing our daytrip to Disneyland from LA and everything you need to know if you are planning on heading there soon!
LOVE
The First Hour of the Day – We arrived at the park around 7am, parked and then walked to the main gates.  They let everyone in at 7:30am, however then you have to wait for the rest of the park to open at 8am.  Though once through at 8am, that first hour of the day was the best in terms of wait times and being able to do lots of rides.  In the first hour we did Indiana Jones, Big Thunder Railroad, the Starwars Smugglers Run ride and Pirates of the Caribbean.  All the rides were short waits during that time and it really was nice to knock so many out without having long lines like the rest of the day.
The Food – While you definitely pay a premium for food in the park, our food all day was actually really good!  We had a churro in the morning, lunch at the Blue Bayou (which is in the Pirates of the Caribbean ride) and then beignets for a snack in the afternoon.  Before we went, everyone was telling me you had to have reservations for meals and we did have one that we ended up canceling, but in reality, most restaurants had tables for walk-in's so that didn't end up being a big deal.
Easy Parking – For how many people come to Disneyland, the parking situation is pretty impressive.  It's so easy to find parking and then the signage is great to get to the park.  Overall, the experience entering and leaving the park is pretty simple and easy.
DIDN'T LOVE
The Cost – It's no joke how expensive it is to go to Disneyland these days, even just for the day without even having to have a rental car or hotel as we drove in from Pasadena.  We bought hopper-tickets (which honestly I wouldn't do again – after we've been to California Adventure a couple of times, I think I'd just to Disneyland the next time we go) and they were $200 per person for 1 day.  Then we pre-bought parking which was $25 and a little cheaper than if you pay that day.  Plus all the food for the day and the cost really adds up fast.
The Wait Times – The morning was great during our visit and the wait times weren't bad at all, mostly under 30 minutes for most rides.  However, once we got to around 11am, everything really picked up and the wait times were really long for the rest of the day.  Most of the main rides were easily 60-90 minute wait times which I just think it is a little excessive to stand and wait for a 5 minute ride.
Using the App for Everything– So now at Disneyland, everything revolves around their app.  You use it to get your lightning passes (more on that below), you use it to check wait times and you use it to make reservations, mobile orders and virtual queues for major rides.  Honestly, I didn't love having to always check the app instead of just enjoying the day on the ground in Disneyland.  It felt overly complicated and almost like you had to plan out your whole day in advance instead of just enjoying the park.
NOTES TO KEEP IN MIND
Go Early.  As I mentioned above, that first hour of the day was the best in terms of wait times and having ease to move around and get on a bunch of rides.  After that, it got super crowded.  I'd say be there when the park opens at 8am to really take advantage of the first couple hours.
Spend the money on Lightning Passes.  On the app, you can buy lightning passes for your whole party and they are $20 per person.  While that can add up, it's definitely worth it as you get to skip most majorly long lines.  The only downfall is that you can only have one lightning pass booked at a time, so you have to be a little strategic about how you use it.
Plan what your priority rides are.  We hadn't been to Disneyland in years so we wanted to do a lot of rides yesterday, unfortunately, we didn't end up getting to do all the ones we wanted because of time.  I think the best plan for Disneyland, if you've been before, is to strategize a bit and plan out what your priority rides are.  Then you can plan you day around that and make sure you hit everything.  Nick really wanted to do the new Star Wars ride but the waits were just so long all day long so we didn't end up getting to do it.  The other one I kind of wanted to do was Space Mountain, but again, the wait times were just crazy long all day and we opted out of doing it.  Figure out what your must-do's are and then work from there.