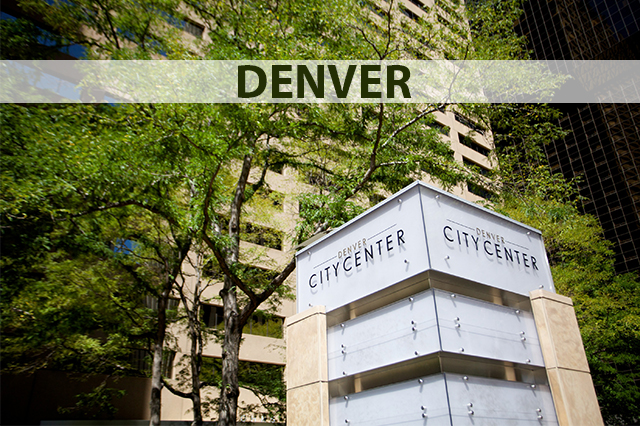 I'm in Seoul, South Korea currently for work but today I'm reminiscing about our quick weekend trip to Denver a few days ago. In August Nick and I discovered we needed just a couple thousand miles more to make our MVP status again with Alaska Airlines, so we jumped on Alaska's Fall fare sale and decided to check out a city thats been on our list for a while. So…we ended up spending a day in Denver and really enjoyed it.

We started our quick trip to Denver with a morning walk through the City Center to meet friends in the area for breakfast. On a Saturday morning, we were quite surprised with how quiet this part of the city was, though it did seem to be mostly business buildings, we were surprised that the majority of this part of Denver would only be busy during the work week. In Portland, our downtown is busy all the time and merges the live/work scenarios, so I'm always surprised when we visit other places that still have such a divide.
We had breakfast with friends, then walked up a few blocks to the Civic Center Park where the Capitol building and Denver USA Mint buildings are located. Along with a couple small parks and beautiful old architecture, we spent some time exploring. Walking a few more blocks, we came upon the Denver Art Musuem, complete with large sculptures of various things and took in the interesting architecture of the museum and surrounding areas.
We spent the rest of the day exploring other areas of Denver (more to come on that tomorrow) but at sunset we decided to head back up to this area, as Nick wanted a sunset shot of the large Colorado Capitol building with its classic architecture. We grabbed the Free Mall Ride bus (an amazing perk of Denver) and took it all the way up to the Civic Center Park. We spent a bit of time enjoying the cool evening and the sun setting over the city while Nick finished up his photos and we headed back to our hotel.
While this wasn't my favorite part of the city, it was definitely worth seeing and experiencing. The high rises in this part of Denver are so different than the areas like Larimer Square and LoDo (which I'm touching on tomorrow), that the contrast is interesting to experience and explore.