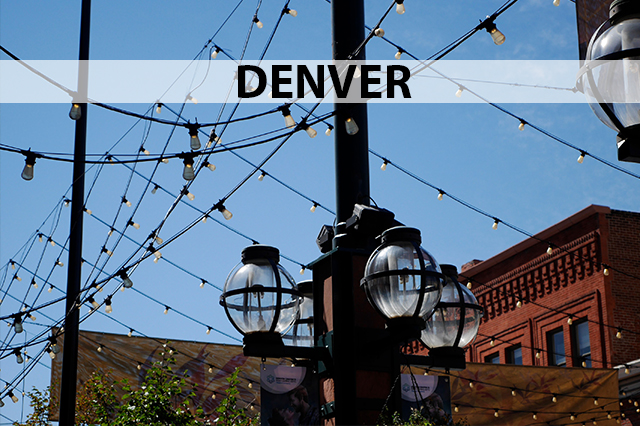 After spending the morning in the city center of Denver, we ventured down to Larimer Square and LoDo. Larimer Square is a really cute few blocks of Denver with amazing restaurants, strings of lights hanging over the streets and renovated brick buildings filled with character. We wandered the area and decided to stop for lunch at Osteria Marco. I had read about this restaurant before going, but wasn't sure our schedule would permit us to get to eat there. It ended up perfectly for a late, leisurely lunch while we were in the area and it was hands down some of the most delicious Italian food I've ever had. Order the burrata, the spinach salad and a homemade pizza and you won't be disappointed!
After lunch we headed a few blocks further to explore the LoDo area (nickname for Lower Downtown) and both of these spots were my favorite areas of the city. LoDo reminded me a lot of Portland's Pearl District, an area where they took old warehouses and renovated them into lofts and townhouses, complete with restaurants and shops on the ground floors. While LoDo has a much more "Western" type feel than Portland's Pearl, we really enjoyed walking around the area and taking in the brick buildings and Denver's beautifully renovated Union Station. The area was bustling on a Saturday afternoon, restaurants packed and lots of people out enjoying the nice weather.
We finished the evening with dinner at Cholon Bistro, another must-eat spot in Denver. The Asian fusion restaurant was delicious and while we were entirely too full after our meal of wanting to try everything, it was well worth it! As the sun started to set we jumped on the Free Mall Ride bus again and rode it up to Civic Center Park as I mentioned yesterday, then headed back to our hotel for an early night in, in preparation for our early flight home the following day.
Overall I really enjoyed seeing Denver and having a day to just wander around the city. I really liked LoDo and Larimer Square and would focus more of my time there next time, but overall it was a great weekend trip and I'm happy to add Denver as a place we enjoyed exploring!