We first ate at Giada's Las Vegas restaurant a few years ago and loved it!  Her take on modern fresh Italian food is wonderful and so we had to return during our Foodie Weekend escape in Las Vegas this time around.  We went for dinner on a Saturday night and had a great time!
LOVE
Arugula Salad – One of the standouts of our meal was the Arugula Salad that we started with.  Complimented with a light citrus dressing and incredible candied lemons, the salad was one of our favorite dishes that we tried.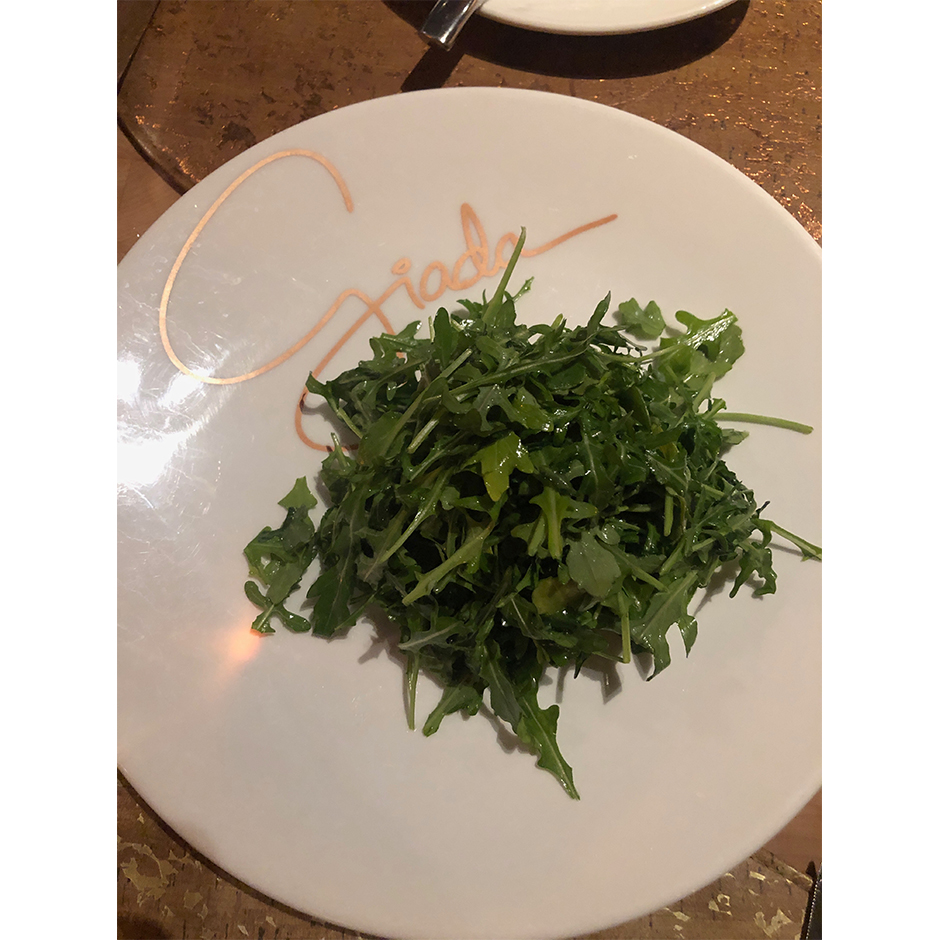 The Staff – The hostesses and our waiter were excellent throughout our entire experience.
The Design and Interior – The interior of the restaurant is really lovely in terms of the design.  It feels like a modern Italian spot, which is exactly the vibe you get from Giada in everything she does.  It's light and comfortable and doesn't feel over the top like a lot of the restaurants in Vegas.
Punctual Seating – We had a reservation at 7pm and were seated right at 7pm, not a minute later.  They were really punctual which was really nice, considering the restaurant was pretty crowded when we were there.
Accommodating for No-Dairy Requirements – As an Italian restaurant, a lot of items obviously have cheese but they asked at the beginning if we had any allergies or food sensitivities and I told them that I'm dairy free.  Our waiter went above and beyond suggesting alternatives for anything that included dairy.  For the Arugula Salad that we started with, they brought the cheese on the side so Nick could enjoy it, leaving my salad dairy free and were really helpful with that requirement the entire meal.
DIDN'T LOVE
Mostly seafood on the Menu – I had the scallops for my dinner and they were excellent, however looking at the menu, the majority of items are seafood which is harder for Nick as he doesn't eat a lot of seafood.  If you don't love seafood, this might be harder for you to find something as a heads up.
NOTES TO KEEP IN MIND
Make a reservation – We made a reservation through Open Table and it was easy and efficient.  We were seated right at our reservation time and I would highly recommend a reservation as this restaurant does get really crowded at peak times.
Headed to Las Vegas?
See more of my content on Las Vegas.