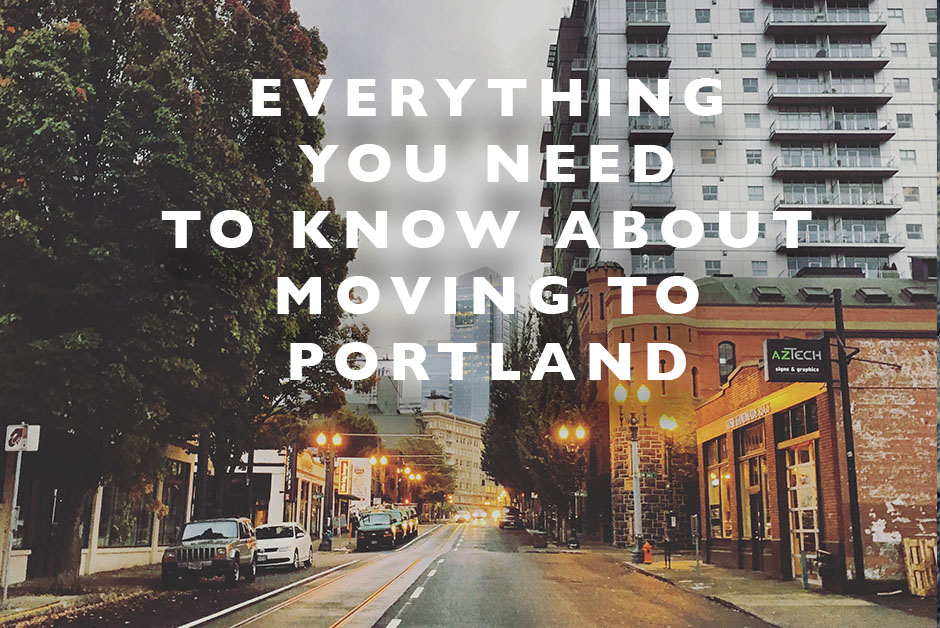 A while back when I put out a survey for my readers, I had a couple people ask for more posts on Portland and in particular on moving to my home city.  And while I feel like this post could be five million words long because there is so much I could share, we'll try to keep it short and sweet with only basic necessary information.  So if you're considering moving to the Rose City (like thousands of other people – seriously, Portland is booming right now), then here are my best tips and everything you need to now about moving to Portland.
Real Estate is really expensive in terms of our size and it's often hard to find enough housing.
One of the first things to note if you're considering moving here is that we're having a major real estate boom here in Portland.  Real Estate to buy is really expensive for the size of the city and especially in the city center, you'll pay a steep price for housing.  I hear horror stories often of people looking to buy a house or condo and people are bidding way over the asking price and you're going up against 3 or 4 other offers.  When we sold our one bedroom condo a couple years ago at the heigh of the market at the time, we had 5 offers way over asking price within 24 hours of listing.
And if you're looking to rent, there are often waiting lists for apartments because we don't have enough housing for as many people are moving here.  The up side to this is that there is basically a new apartment building going up on every block at the moments so we are trying to accommodate the housing needs of everyone moving here, but it can be an uphill battle to find housing at the moment.
We have a really strict Urban Growth boundary in the city center of Portland.
One of the reasons for our housing shortage is due to our really strict urban growth boundary here in Portland's city center.  Though, this actually is a really good thing and one of the reasons Portland hasn't ended up being a massive sprawl like LA, because we're only allowed to build out so far from the city center.  It makes it more livable and a prettier city in the long term.
The city is broken up by the Willamette River and then cross roads divide sections of the city in quadrants.
The Willamette River splits the city into what we call the West Side and the East Side.  The East side is lower buildings and a lot more residential neighborhoods while the West side is the City Center and Downtown.  Within the Downtown/City Center section of the West Side, major roads basically split the neighborhoods into fours: North of Burnside and East of the 405 freeway is the Pearl District and Old Town, North of Burnside and West of the 405 freeway is NW and Nob Hill, South of Burnside and East of the 405 freeway is Downtown and South of Burnside and West of the 405 freeway is SW and Goose Hollow.  Each neighborhood has a very distinct feel and just crossing these roads you'll know immediately you're in a new neighborhood.
We have an incredible food scene here.
We take our food seriously here in Portland.  Not only do we have an amazing food scene and incredible local restaurants, we also go above and beyond for farm to table and organic foods here in the North West, so be prepared for healthy eating.  There are an endless amount of local restaurants in Portland serving every type of food you can imagine and the choices are endless!
Everyone is moving here… no but seriously.
Thousands of people have moved to Portland over the last handful of years and you can definitely feel it.  After living here for 12 years now, I can honestly tell you, Portland is way more crowded than ever before.  It's a really livable city and while expensive for our size, still way cheaper to live than say San Francisco or Seattle.  And truthfully, I can't blame people for wanting to move here, it is my beloved home city after all!
It doesn't rain as much as everything thinks, but the Winters are cold and gray.
One of the things everyone thinks they know about Portland is that it rains all the time here.  And while yes, we do get a lot of rain and as I write this it's pouring buckets outside, it isn't as rainy as you may think.  However, we do have pretty long long, cold and gray Winters so if that isn't your thing, I'm not sure Portland is the place for you!
Headed to my home town of Portland?
Check out our Portland Travel Guide in the Land of Marvels Shop for only $5!