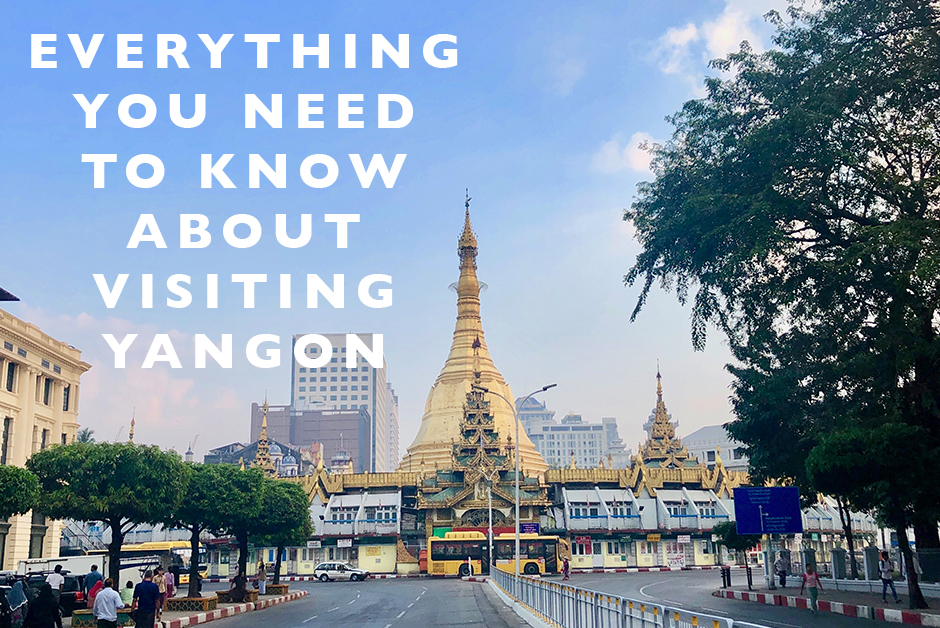 I fell in love with Myanmar on my recent trip to Yangon and while I did a lot of research before my visit, I was still blown away by the city and found very quickly that a lot of the information I had read was already out of date.  Yangon is changing rapidly and in that change, the city is moving forward very quickly.  Granted, if you are going to other areas of Myanmar, you'll most likely find it very different than Yangon but if you're headed to the largest city in Myanmar, here's everything you need to know about visiting Yangon.
You'll need a visa to enter the country.
Myanmar requires visas for most nationalities to enter the country of Myanmar.  As an American, I'll tell you the steps I took for my visa but if you're coming from a different country, be sure to do your own research for requirements.  There are two ways you can get a visa for the country: online before your visit or visa on arrival.  I am not entirely sure if you can do tourist visas on arrival, but I do know that you can do work visas on arrival with the proper documentation.  I opted for the online visa and I applied for it a couple weeks before my visit.  I went through this website and I had my emailed visa within 3 business days.  The process was super easy and efficient.  When you arrive in Myanmar, you'll go to the Foreigners line and they'll just scan your visa (make sure you have it printed out) and you'll be on your way.
The Water Issue + Risk of Food Poisoning
Like many places in the world, it's still not safe to drink the water in Yangon and Myanmar in general.  Stick to bottled water during your trip and you should be totally fine.  As far as the risk of food poisoning, it's generally high in this part of the world so take precautions.  Don't have tap water or ice in your drinks if you can help it (though I did have several iced drinks from reputable restaurants and was totally fine).  Try not to eat salads or foods that would have been cleaned in water and stick to hot foods cooked fresh whenever possible.
Also, in case food poisoning does strike, be sure to bring both Imodium and Pepto-Bismol tablets just in case!
Sidewalks are prevalent almost everywhere, but watch where you step.
I walked a lot while in Yangon and there are sidewalks almost everywhere which is a great, particularly for this part of the world where often you'll be walking in the streets.  However, you'll want to really watch where you're going as there are spots where the concrete is broken or missing and it would be easy to twist an ankle.  I never had an issue, but just watch where you're going which is advice I'd give to you for most places in the world.
Taxis are super easy to use and are super cheap.
I took taxis everywhere, all over Yangon.  Before my visit, I had read that most people use Grab, an app similar to Uber that's popular in SE Asia.  However, as I was keeping my phone on airplane mode, I decided to just hail taxis the old fashioned way when I needed them and that worked totally fine.  There are taxis everywhere and you'll always be able to find one.  Most of the taxis I took were fine for a short drive, though most didn't have AC and with only the windows down to ventilate, I wouldn't probably take them a super long distance.  They were however really cheap, costing only about $3 or 5,000 kyat for a 15 minute ride.  Most of my taxi drivers spoke at least a little English, some more than others, but they were always able to understand where I was headed. 
You will need to negotiate a price up front though as they don't use meters.  I used Grab in my hotel to look up how much the price would be for certain destinations to see an approximate amount and then when my hotel would hail me a taxi when I was leaving, they'd help me figure out an appropriate amount.  I then used the amount I paid driving to that destination to figure out how much my ride back to the hotel should be.  Most of my rides were around 10-15 minutes and they cost anywhere from 3,000-5,000 kyat, depending on traffic and time of the day.  I will say that most of the taxi drivers picking me up at the hotel charged me more than those I caught out and about in the city as I'm sure they figured they could get more money from me if I was staying at a high end hotel.  I didn't mind paying a little more as they were so cheap anyways, but it's something to be aware of.
Locals are friendly and won't hassle you.
One of my least favorite things about several Asian countries is how they try to hassle you to come into their shops or take their taxi.  I had none of that in Myanmar and in fact, it was the opposite. Everyone was very nice and greeted me warmly as I wandered around.  The Burmese people are incredibly friendly and love Westerners.  I had multiple people say "good morning" to me as I wandered around downtown and offered a kind smile.  Overall, the people were lovely.
I will also add that while I went into this trip fully expecting not many people to speak English, I found almost everyone spoke a little bit of English and I had no issues with language barriers on this trip!
You can pretty much buy any American product you might need at the Yangon supermarkets.
I wasn't sure what types of items you'd be able to get in Yangon as the country has been closed off to tourists for so long until recently but I found that the import business is alive and well here in Myanmar.  CityMart is a chain supermarket all over Yangon and is basically an American supermarket.  They even had Oreos and Norwegian salmon…. so yea, you can get anything you need from the West if need be.
Exchanging money is an interesting experience.
First off, you can only get Myanmar kyat currency inside of Myanmar so you'll have to wait until you arrive to exchange money.  I had read before my trip that they will only take the crispest of USD $100 and $50 bills to exchange.  I brought with me (2) $100 bills, super crisp and new from my bank back home and (5) $10 bills.  You'll want to exchange your money at the airport on arrival and they ended up not taking one of my $100 bills, saying it was a weird color.  Ok…. In the end, they exchanged (1) $100 bill and my (5) $10 bills just fine and that was all I needed (actually more than I needed) for my 3 days in Yangon.  I ended up only spending about USD $50 for 3 days for taxis, entry fees to pagodas and food.
Credit Cards
Another thing I had read a lot about before my trip was that nobody in Yangon would accept credit cards.  That wasn't an issue for me at all as everywhere I went had signs that they accepted at the very least, Visa cards.  Some also accept Mastercards.  I ended up paying for most things in cash anyways, but I usually do that when I travel regardless of where I am.  In the end, I'd say still bring USD to exchange into Myanmar Kyat upon arrival into Myanmar but your Visa credit cards should work just fine too.
Mosquitos
I had read a lot of blog posts about people lamenting about the mosquitos in Myanmar.  While in the city of Yangon, I didn't have a lot of issues with them, I did coat myself in this mosquito repellent lotion, a staple that I found really useful a few years back when I went to Peru.  It worked for me in Yangon too, especially around Inya Lake, where most of the mosquitos I encountered were.
Power Outages
Another thing I read about a lot in Yangon and Myanmar in general is that their power grid still suffers from rolling blackouts at times.  I did have the power go out at one point while at my hotel in Yangon, but it kicked back on in about 30 seconds which I'm assuming was due to the hotel having generators.  It's good to know that even as the country progresses forward, even at 5 star hotels, you might still have a power outage or two while there.
Mingalabar
This phrase to greet people, pronounced "min-ga-la-bah" means "auspicious wishes" and will be heard all over.  It's wonderful to be able to say it back to people or to greet people while out and about and the locals will love your effort so practice it before you go.
Political Situation and Safety in Myanmar
I didn't know much about Myanmar before my visit other than the situation that we've seen a lot on Western news channels about the conflict between the Burmese and the Rohingya people there.  And while I won't pretend to be an expert on the situation, I believe the conflict is still ongoing and is a very sad situation from every perspective.  I did find though that the more I read about it and researched it, the viewpoint that we're getting in the Western news isn't entirely accurate.  This Youtube video offers a great informative view of what's going on if you're interested in learning more.  While that very sad conflict is ongoing, it's happening far from the main cities of Myanmar and as tourists, the conflict won't affect your safety in the country.  The country is actually very safe in general and as a solo traveler, I never felt unsafe during my time there.  I walked around alone and took taxis alone and had zero issues, in fact, I felt a lot safer than I have in many Western countries.
Looking for more information on Myanmar?
Read all of my posts on Myanmar.