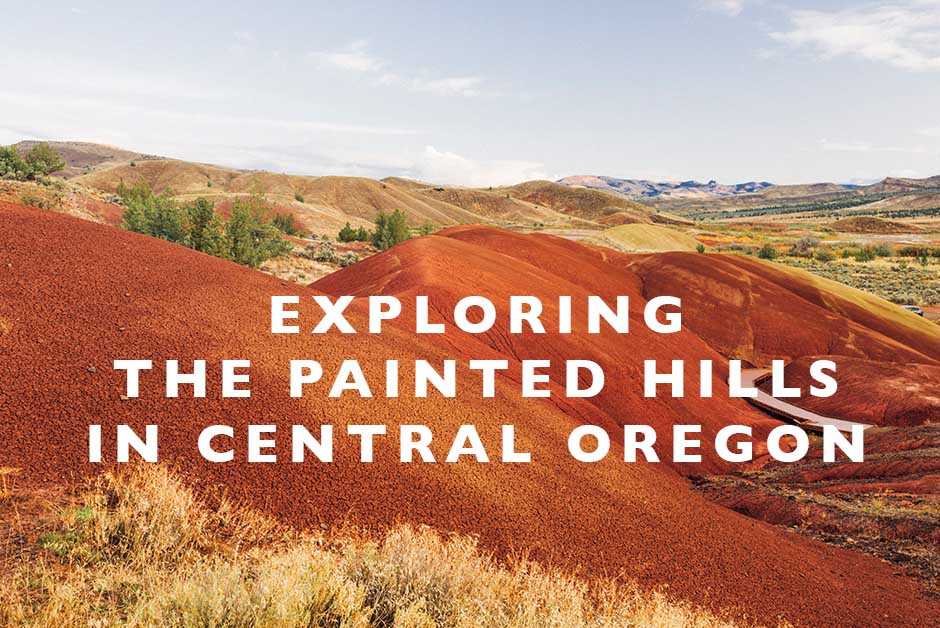 We don't get over to Central Oregon very often and it's a place in my home State that I kind of forget about, but is still an area that really has so much to offer.  We were in Sunriver, a resort area South of Bend, for a family vacation a couple weeks ago with Nick's family and while there, I knew I wanted to check off a place that's long been at the top of my travel list: The Painted Hills.  The Painted Hills have been on my list for so long but we've never been able to make it work when in the area until this past trip.  So one morning at sunrise, Nick, his brother and I drove the 2 hours from Sunriver over to The Painted Hills to explore and it was well worth the trek.
The Painted Hills are rolling hills of rainbow colors: reds, oranges, golds and greens.  The landscape near them is beautiful as well, with vistas and gem-colored high desert foliage.  This area is near the John Day Fossil Beds and boasts an amazing array of landscapes well worth seeing in Central Oregon.  If you can make it to this area while in Central Oregon, it really is an amazing site to see.
Tips for Visiting The Painted Hills
Go at Sunrise or Sunset – Sunrise will be quieter and you'll probably have it to yourself and it's when we visited.  But I've also heard sunset is gorgeous here.  I would suggest one of these times though just to witness the magic of the landscape at its best lighting.
The Painted Hills Lookout will be first as you drive into the area.  We used Apple Maps to get here and once we arrived in the general area, the map told us to go a different way than the signs did – follow the signs for the Painted Hills and it will lead you right there.  Once you've seen the view from above, continue driving a short bit down the road to The Painted Cove.  Here you'll be able to walk the short 0.4 mile trail inside some of the hills and it's worth doing.