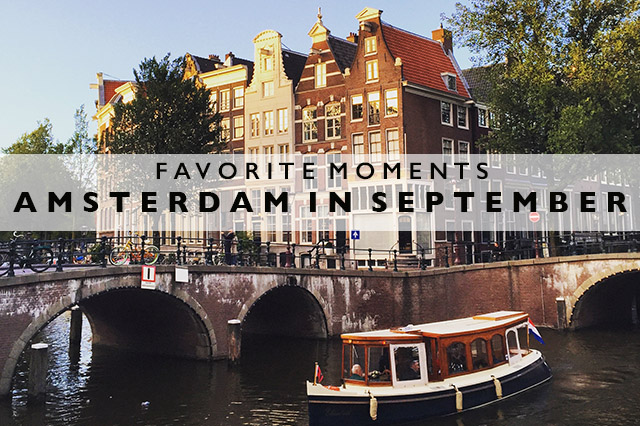 When we return from a trip, I love remembering those special moments that made our getaway that much more unique and memorable.  This long weekend to Amsterdam was full of special memories, but some will remain as my favorites for one reason or another.  Traveling is all about those special moments, and savoring them so that we remember what is so special about our beautiful world!
Watching the Sunset along the Canals and then being poured rain on.
Last time we were in the city, we didn't really see much of the canals after dark for one reason or another.  So this trip, on our first evening in Amsterdam, we really wanted to see the canals and bridges light up against the dark city as I've seen in so many other amazing photos.  So we headed out as the sun was beginning to set and found a bench to wait on as the colors started to light up the sky.  It had been gray and rainy all day, but just at sunset the sky opened up and gave us a pretty gorgeous sunset.  Although our joy was short lived, as literally 2 seconds later dark gray clouds filled the sky and opened up to pour rain on us.  We decided to go eat dinner and come back to wait out the rain, but it was such a funny moment, all of a sudden in the middle of a downpour.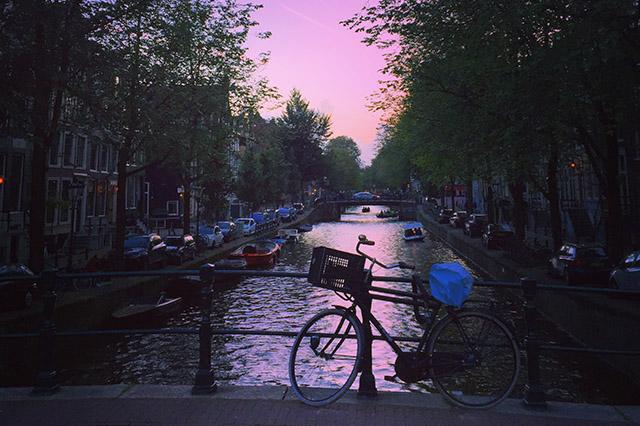 Finding a tiny alleyway with no one around.
One thing I love about Europe in general are the cute little alleyways you'll find all over.  In Amsterdam, there are tons filled with gorgeous row houses and they are quiet and empty.  We found one in particular while wandering around and stopped for a bit there to take photos and just take it all in.  I love finding quiet spots in the middle of a busy city to just stop and really enjoy your surroundings.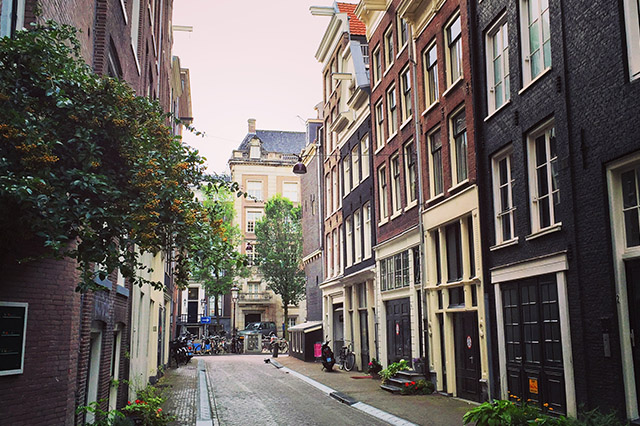 Seeing the canals and bridges all lit up at night.
As I mentioned above, this was one thing we really wanted to accomplish on this trip and we did!  After dinner and waiting out the rain, we returned to the specific bridge we wanted our photo from and Nick ended up getting a gorgeous shot of the bridges and canals all lit up against a dark evening in Amsterdam.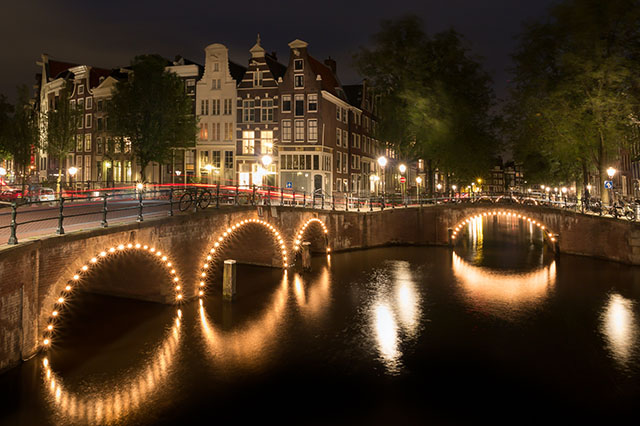 Sitting on the edge of a canal, eating waffle cookies.
On our last day, we spent a good part of the afternoon just wandering and finally ended up sitting on the edge of a canal, watching the boats go by and eating waffle cookies.  It was cool and gray, sprinkling slightly here and there, which was exactly the weather we had hoped for and such a wonderful memory, sitting with Nick just watching the world go by.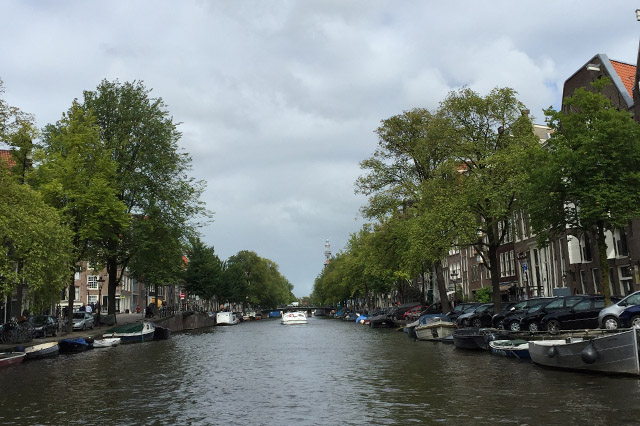 Traveling to The Netherlands?
See all of my posts on the country!