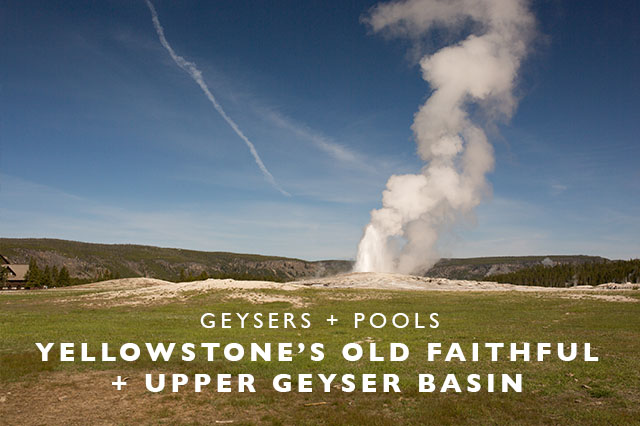 To be really honest with you, I don't really care much for geysers.  In truth, I kind of feel like once you've seen one geyser, you've seen them all and after seeing some in Iceland over the years, Yellowstone's geysers didn't really do it for me.  However, Old Faithful is such a famous one that we felt like we should at least try to see it while there.  The first day when we arrived, it has just gone off and was projected to go off about 90 minutes later.  We didn't really want to sit around and wait for it that day and left saying, too bad.  The following day we happened to pass by the exit for Old Faithful again and figured, why not, let's try it again.  We literally parked, got out of the car and it started going off right as we were walking up which was pure luck but really cool to see!
Around Old Faithful there is a lot more to see as well in the Upper Geyser Basin, including the famous Morning Glory Spring and lots of other geysers and hot springs.  You'll walk a bit to get to these, but they are well worth the visit as well!
Tips for Old Faithful and Surrounding Areas at Yellowstone
-The parking lot is huge here and it's a whole little village but there is a parking trick.  Most people circle around and try to park in the huge open lot, but if you go right up to the lodge there is a ton of open parking.  We arrived in the late afternoon the first day and had to park super far away, only to walk up to the lodge and see all the open spots.  So the next day we pulled up there and parked right away.  So drive to the lodge and park there.
-There is seating around Old Faithful so you can wait.  Or you can walk around the other geysers and hot springs here.
-Morning Glory Spring is also here at Old Faithful and takes about 2 miles-ish to walk to from Old Faithful itself.