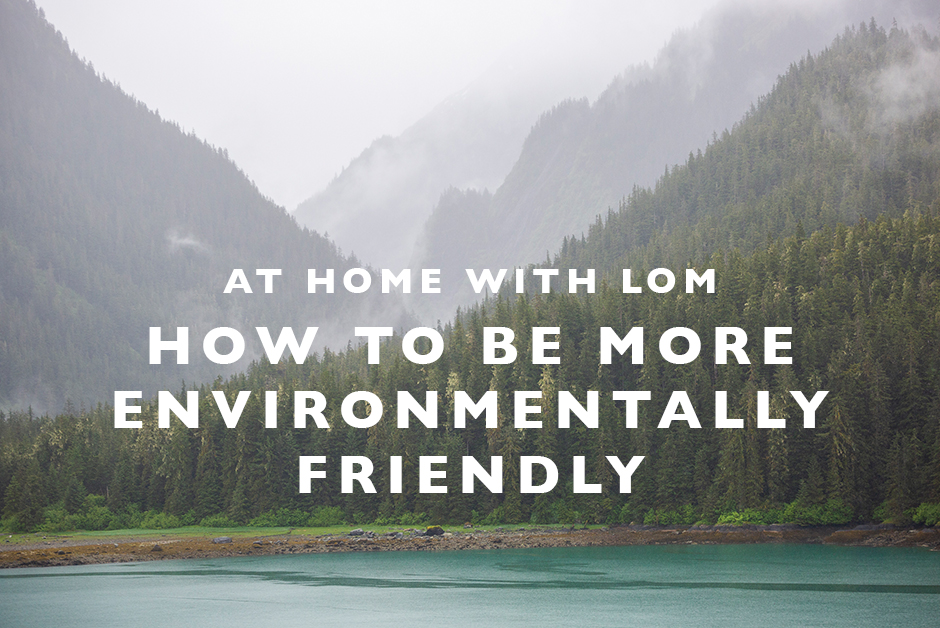 This year has changed our lives in so many ways.  COVID-19 turned our worlds upside down, I personally dealt with loss and the fight for equality is now front and center again (which it should have been always) with BLM protests around the world with millions of people in the streets.  I don't think many people could say that they won't move on from this year without being profoundly changed, in more ways than one.
And while everything above has changed me profoundly, I've always worked to change a lot of my habits this year to be more environmentally friendly too.  So many of the issues I listed above also directly coincide with issues related to climate change and protecting this planet we call home.  So while we're all making so many life changes this year, it's worth noting how we can be more environmentally friendly at home too and change our attitudes about what we can do in our personal lives to help the planet for the long road ahead.  Here's how to be more environmentally friendly at home and what you can do to make a big difference in your own home.
Move on from ziplock bags
I made the switch last year from using Ziplock bags in my home to using only reusable bags and containers for food.  I purchase these from Amazon and they have totally changed my habits for food storage for the better.  They are dishwasher safe and come in a variety of sizes for whatever you might need.  Using ziplock bags is so bad for the planet because all that plastic gets thrown away and ends up in landfills or in our oceans.  Making this switch can be a great start to being more environmentally friendly at home!
Use reusable bags for everything
I've done this for several years now, but by using reusable bags whenever you go to the grocery store or any retail location, you are saving a lot of plastic bags from getting into the world.  Here in Oregon, we've banned the use of plastic bags in general which definitely helps, but even if your state has done the same, paper bags still take a lot of resources to make and if you can bring your own reusable bags, that's the best environmentally friendly option possible.
One of my favorite things to do is to buy cool reusable bags that I see while traveling, that way you're excited to use them at home and our bags always remind us of some of our favorite trips and destinations!
Switch to Reusable Straws
I like to drink things out of straws and have my iced coffee every morning in a glass with a straw.  So in an effort to be more environmentally conscience a few years ago, I switched from using plastic or paper straws that need to be thrown away to reusable glass straws that I can wash in my dishwasher and I've never looked back!  Whether you prefer metal or glass, there are lots of great options out there that will make a huge difference overtime whenever you use a straw at home.
Compost!
Here in Portland, we are lucky in that many of our neighborhoods offer compost bins for pickup every week through our garbage and recycling company.  Everything goes in our compost bin including all paper towels, paper napkins and all food scraps, even meat and fish.  Because of this program and because it gets picked up weekly, after compost and recycling, we barely even have a bag of garbage per week.
When you put food scraps in plastic garbage bags, even though it will eventually decompose in a landfill, it will take so much longer because it's within plastic.  If you can eliminate that and compost food waste instead of throwing it away, it makes a world of difference.  I know not every city has a compost program, but if you can make a small compost bin in your backyard or look into options locally where you can drop off food waste, it can help tremendously in the long run for our planet.
I use this compost bin in my kitchen before taking it out to the compost bin outside.
Recycle everything
I've noticed in the past couple of years that more and more containers are recyclable and that's great!  We're again lucky in Portland that almost every type of recyclable container is welcome in our recycle bin, which is picked up weekly (our garbage is actually only picked up every 2 weeks because between compost and recycle, those are always way fuller than our garbage bin).  I know different cities have different requirements for what can be put in recycling, but there are also a lot of recycling programs out there that you can utilize for anything that might not be allowed in your curbside recycle bin. It really is amazing when you make an effort, how much can be recycled out of our daily lives.
Install a modern thermostat to control HVAC
If your home has centralized air and heating, installing a modern and tech-friendly thermostat to control your HVAC system can be a game changer in energy savings and ultimately cost savings for you.  We installed an Eco-Bee thermostat into our house when we added AC after moving in and it's been amazing.  Basically it can be set to monitor the system to stay within a temperature range and a schedule so that excess energy isn't wasted trying to keep the house a certain temperature.  It saves you money and saves energy which helps the world…. win win. Plus you can control these modern thermostats from your phone too as well as setting it on vacation mode while you're gone so that it saves energy that way too.
We use the EcoBee Thermostat and love it!
Eat more plant based meals
One of the huge issues in our world in terms of climate change and global warming are our farming practices, specifically our meat industries.  Now, I'll be the first to admit, I would have a hard time going completely vegetarian and due to my low iron levels, health-wise, I do need to have meat in my diet.  However, I made the commitment this year to add in at least a couple nights per week where we do plant based dinners and the majority of my lunches are plant based.  Just by making a change for 1 or 2 nights per week to go plant based in your food, can make a world of difference.  It's also generally healthier for you and generally cheaper too.