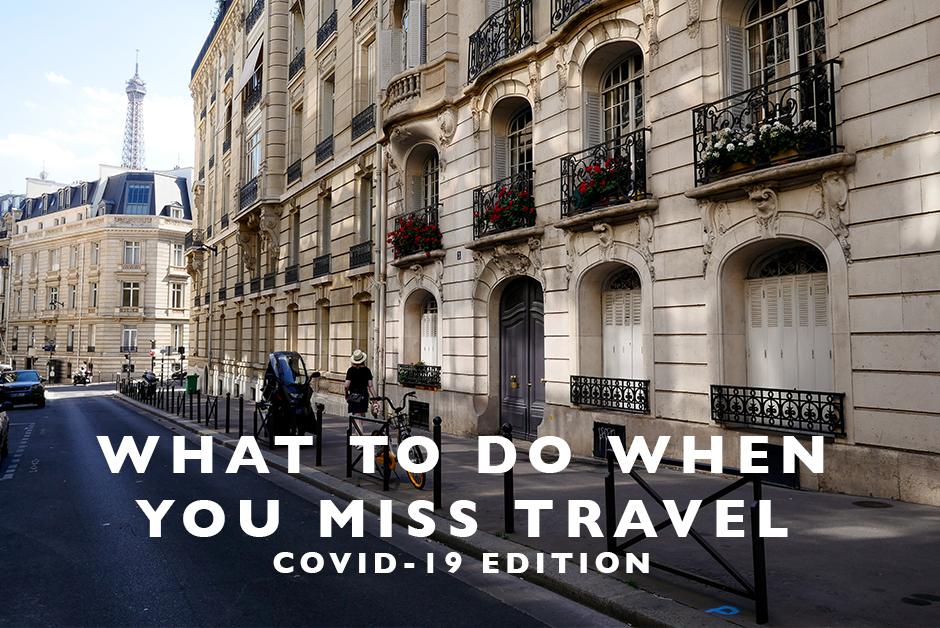 A few years back I wrote a post on what to do when you miss a place, when you can't travel but you miss a place you love so badly that it hurts.  It's still one of my top posts on Land of Marvels all these years later and I thought it might be worth re-visiting this topic, particularly right now during COVID-19.  Many of us that have been traveling for years were suddenly halted indefinitely in our future travel plans due to the spread of the coronavirus.  Trips on hold, plans canceled and no idea when we'll be able to revisit our favorite places.  So while we're all cooped up at home right now or at least confined to our geographical locations, here's what to do when you miss travel and what to do when you miss a place, this time, COVID-19 edition.
Revisit Old Photos
I've been making it a habit to go back through and look at my old photos from places I miss lately.  I'm particularly missing Paris so I've been making the rounds through my photo library from all our trips there and reminiscing on the memories.  Photos can be really powerful to evoke memories and especially right now, without knowing when we'll be able to travel internationally again, sometimes, a photo is all you need to just see a place you love.
Make Your Desktop Picture an Image That You Love
Early on in isolation, I changed the desktop picture on my laptop to an image that Nick took last Summer in Paris (the same image I used above).  I am walking ahead of him on the other side of a typically Parisian street with the Eiffel Tower in the background and I can't tell you how happy it makes me to open up my computer in the morning and see it.  Just the idea of seeing that image and remembering being there, to go back and remember how it felt to walk those streets, the sights and scenes. Just this one change made a huge difference for me daily.
Cook "Travel Meals"
Early on in isolation, I was really missing travel as we canceled trip after trip.  So to remedy some of the sadness I was feeling, I made a meal plan for the week and each night we made a dinner from a different location we love around the world.  Italy! Paris! Japan! Spain! Mexico!  I cooked things from all the places we love and it really was so fun and felt like an adventure, even at home.
Find an Easy Pick-Up Food that Reminds You of a Place
While we've been eating at home the large majority of the time, one weekend a few weeks ago, it just hit me that I really wanted a croissant.  Out of the blue, I felt this longing for France and a croissant was an easy pick-up option that I could get locally in Portland.  We ran down to our French bakery, St. Honoré, and got croissants and a baguette and it really did make all the difference, even with just such a simple thing.
Watch Movies that Will Transport You
Movies can take you on a visit to your favorite place better than almost anything else.  I've been watching movies and tv shows that transport me to places I love.  Midnight in Paris, Under the Tuscan Sun, Monte Carlo… even the cheesy ones still have great scenery!
And if you want to revisit my original post…