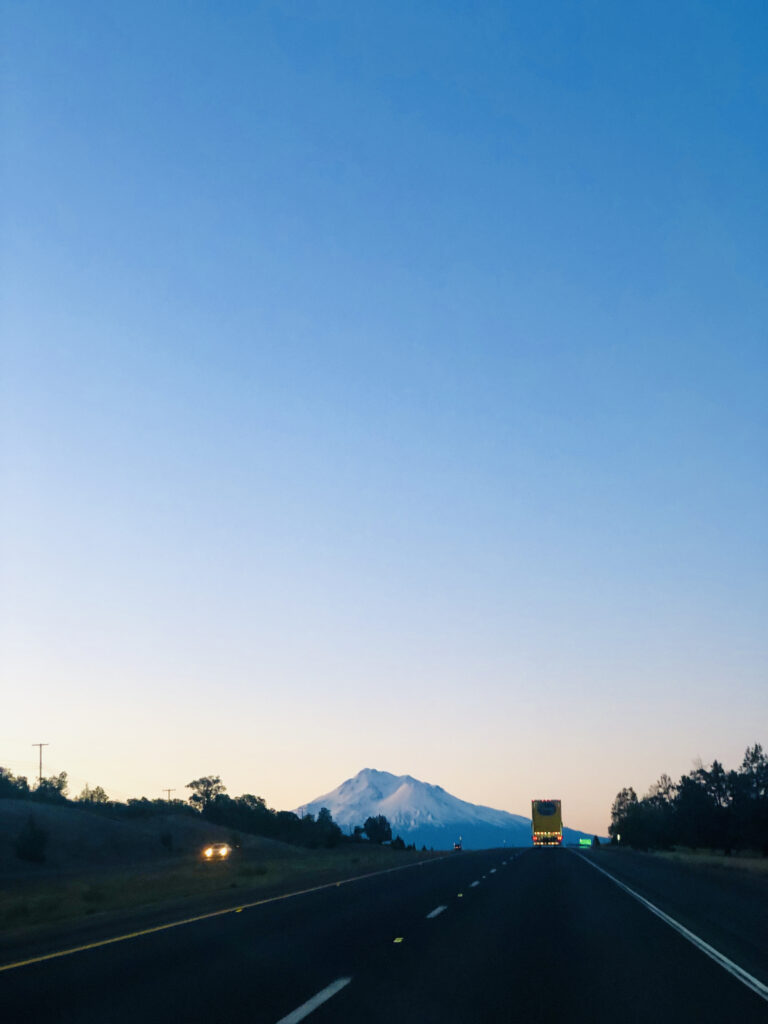 Since my parents moved to the LA area in late May of 2020, Nick and I have taken full advantage of having them back on the West Coast by driving to see them.  Especially with COVID, it's been really nice to have the option to drive to see them now instead of having to fly 6 hours across the ocean to Hawaii, which right now, wouldn't be possible anyways because of Hawaii's strict quarantine.  Since they moved in May, we've done the drive from Portland to LA twice now and as everyone is looking at different road trips to take during the age of COVID instead of flying, I'm sharing how to road trip from Portland to LA in a day and how to make it work!
To start, the drive from Portland to LA direct is about 14 hours, and while that may seem like a really long time to be in the car, I have to say, it does go by pretty fast actually!  We've found that the best way to do the drive is to break if up in sections and make stops within each of those sections for meals or exploration.  Since we're usually up early, we've found that it's easier for us to get up super early and get on the road (we leave about 4am), versus driving later into the night, but figure out what would work better for you.  Here's what we've found is the best way to break the roadtrip up and make it the easiest to drive from Portland to LA.
Drive Portland to Southern Oregon
Nick's family is in Southern Oregon, so we've made stops there to break up the trip a bit.  But even if you don't know anyone there, this 4.5 hour drive from Portland to Southern Oregon can be a nice place to stop.  During this part of the drive you'll leave the city of Portland, drive through farmland and mountain top passes to get to the Southern part of Oregon.  Explore the little town of Ashland, right before the California border, as you head South and use this as a good time to fill up your gas tank.
Drive Southern Oregon to Sacramento
This section of the drive is about 5 hours and will take you through farmland, vineyards and orchards to your heart's content.  It's fairly flat for this stretch of the highway and an easy part of the drive.  There are lots of towns to stop at during this stretch but if you have time, Sacramento is actually a really cool city to explore a bit.
Drive Sacramento to LA
From Sacramento, the last stretch of the drive will take about 5 hours with minimal traffic.  Leaving Sacramento, you'll go through Stockton but after that, this stretch is pretty sparse along the route to LA.  As you leave the Stockton area, be sure you've filled up with gas, gotten some food and used a bathroom as you'll go miles and miles during this stretch without anything around.  Once you make it a few hours past Stockton, you'll hit a few small towns before the Grapevine, a windy stretch of road that inclines you through the Tejon Pass, a section of the I-5 that you'll drive through before making it to the other side of the mountains into the LA Area.  The Grapevine can be gorgeous to drive through in the late Spring, when in May, the hillsides are covered in purple and organs wildflowers but it can also be treacherous in the Winter, so be sure to use caution when driving through.
Once you make it to the other side of the Grapevine, you're basically in the North LA area.  From here, you can take all sorts of routes and see all different places in Southern California.  Even though a roadtrip from Portland to LA in a day is a long one, it's totally doable and doesn't actually feel super crazy long.  So next time you want to head down to Southern California, especially during COVID, driving from Portland to LA in a day might not be such a bad idea!
Headed to Los Angeles?