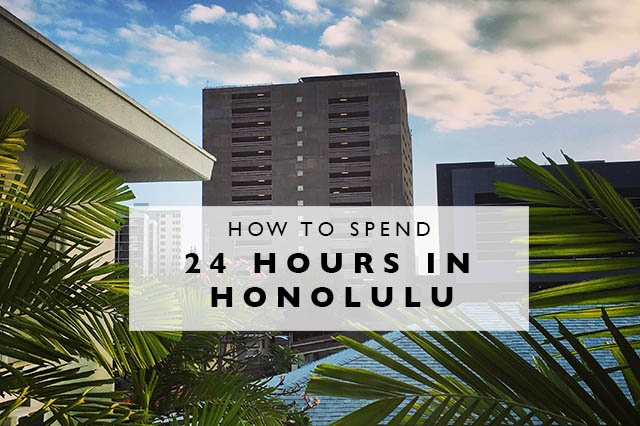 So you only have 24 hours to spend in Honolulu…. whether you're just passing through en route to another island or you're headed to Asia from the US, Honolulu is a very common stopover city.  I often do 24 hours in Honolulu for work, flying over one day and home the next, but as a tourist, there is still a lot to see and do in the famous capitol of the Hawaiian Islands in just 24 hours.  So if you have to stop over somewhere en route through the Hawaiian Islands, here's how to spend 24 hours in Honolulu!
Head to lunch at the Shorebird in Waikiki
Most flights from the US get into Hawaii around 11am or shortly after because of the time changes, so take advantage and grab lunch at a spot right on the beach with gorgeous views of the Waikiki strip and Diamond Head.
Spend your afternoon shopping at Ala Moana Center
After lunch, head to Ala Moana Shopping Center for an array of some of the world's best shopping.  They pretty much have everything now and the mall is giant.  So wear your walking shoes, you'll be doing a lot of it here.
OR at the beach in Waikiki
If shopping isn't your thing, spend the afternoon at the Waikiki beach.  My favorite spots are down near the Hawaiian Hilton end, where it tends to be less crowded and has stunning views of Diamond Head.
Dinner at Signature in the Ala Moana Hotel
Splurge on a memorable dinner at Signature, a restaurant high on the top of the Ala Moana Hotel.  The views are so worthwhile here, with panoramas out over the ocean, up to Manoa in the mountains and all of Waikiki.  Try to eat near sunset and you won't be disappointed!
Wake up to see the sunrise over the harbor.
One of my favorite spots to see the sunrise is in the Harbor area of Waikiki near the Hilton Hawaiian Village.  With views out over Diamond Head as well to the East over the harbor, the sunrise colors are gorgeous most days and well worth waking up for them.
Grab an aca'i bowl for breakfast with local fruit.
Before heading back to the airport, grab an aca'i bowl with local fruit on top and enjoy it on an empty beach before everyone else is up and about.  Then grab a cab to the airport and head off on your next adventure!