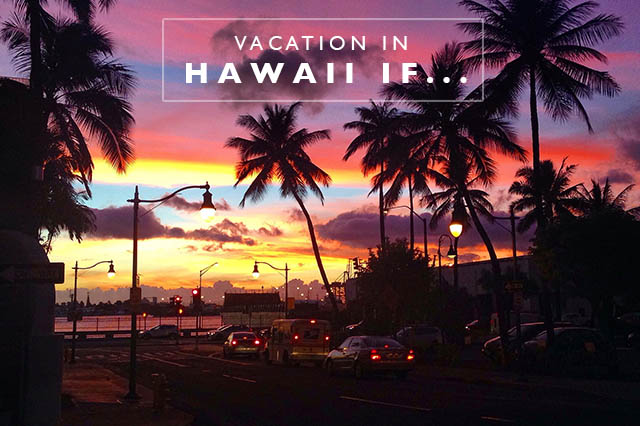 Hawaii is one of those places that people either love or hate.  It's a place that definitely has a different set of guidelines than other US destinations, a place that has its own culture, its own very unique vibe.  So if you are thinking about a vacation in Hawaii, here's what you might want to think about before booking those (often very pricey) tickets!
Vacation in Hawaii if… you love the beach.
You'll get lots of beach time in with a vacation to Hawaii.  But keep in mind that millions of other people want this too, so the tourist beaches are very overcrowded.
Vacation in Hawaii if… you're trying to escape the cold.
Hawaii's temperatures stay pretty steady above 70 degrees F all year, with of course some random days in there that might be colder.  But for the most part, you're always going to get warm weather in Hawaii.  Also keep in mind though that Hawaii actually gets quite a bit of rain, so while it might be a warm rain, you might get a few days of rain at any given point mixed with sun breaks.
Vacation in Hawaii if… you loved a laid back vibe.
Hawaiian time is a true thing and the laid back vibe is alive and well in the Islands.  So if you want to not worry about doing anything on your vacation, Hawaii is your spot.
Don't vacation in Hawaii if… you don't like the sun/heat.
I have a hard time with extreme heat or intense sun due to my light skin tone and Hawaii is often pretty harsh for me.  So if that's you, Hawaii might not be the spot for you.
Don't vacation in Hawaii if… you want a cheap vacation.
Hawaii may be a number of things, cheap is not one of them.  Prices are already high and getting higher in the Islands for all things tourist-related.  Actually it's expensive for locals too, but tourist areas are through the roof on pricing.  When my parents come to Oregon (they live in Honolulu) and we go out to dinner, they are always shocked at how cheap it is to eat here rather than in Hawaii.  It's much noticeably higher, so don't travel to Hawaii if you're on a strict budget.
Headed to Hawaii?
Check out our Oahu Travel Guide in the Land of Marvels Shop for only $5!