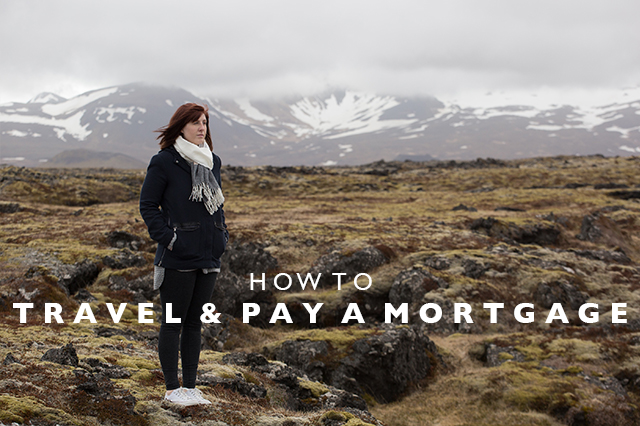 Nick and I travel a lot.  If we're not a plane each month, it's a rare occurrence.  And whether it's for work (which is a lot of the time) or pleasure, travel is a huge part of our lives.  Some of that has come from our own choices but some of it is also due to circumstance and professional work.  90% of my work is still in Hawaii and Korea, so travel and time zones are still a huge part of my daily life for work.  We haven't let our busy lifestyle of travel keep us from other things though either, like owning an apartment and having a mortgage.  I know it totally depends on circumstance, but for the majority of people out there it's entirely possible to travel and be able to own a home and have a steady home life too.  So here are my tips on how to travel and pay a mortgage!
Don't live outside of your means.
This I think is one of the biggest things to conquer.  So many of us spend way more than we make, or buy that big house that we can't afford.  Living within your means is the first step to being able to conquer travel and a mortgage.  It's so important to not get in over your head.  We still live in our little 500 sq. ft. apartment and while we love it, we could definitely have gone bigger over the years.  But we didn't because our mortgage is small and we're perfectly fine for the time being in a smaller space, which gives us a lot of extra money to travel. Figure out what you can afford, and don't try to push that limit.
Manage your priorities.
Having a lot of travel in your life is all about priorities.  For us, it's one of the top priorities so we spend our time, energy and money making it work into our lives.  If your priority is a big house, kids and a dog, then you might not be able to add travel into that mix too.  It's about figuring out what you want in your life and working your budget out around those priorities.
Take risks.
I'm a big believer in following my heart and taking risks when they feel right.  Whether that means jumping at an opportunity (even if it might cost more than you expected) or researching something to take a risk on, I think that when you have your priorities set and a budget examined, you can afford to take more risks.  Whether that means investing money to make a profit or jumping at a trip, taking risks is part of growing.
Find extra ways to make income.
Many might not realize this, but I have 3 solid jobs plus this blog and Nick has a full time job plus his side photography work.  We both work a lot and there are many nights when we're both on the computers getting stuff done to get ahead.  We work hard, but we know that any of that extra income can fund the things we love in our lives like travel.  There are always ways to make more money to put toward life expenses like a mortgage and extras like travel; look into tutoring in your specific field, teaching or opening your own side business.  There is a world of possibilities out there to make more money, but you have to be willing to work hard and to know that it might make your life a little crazy for a while.