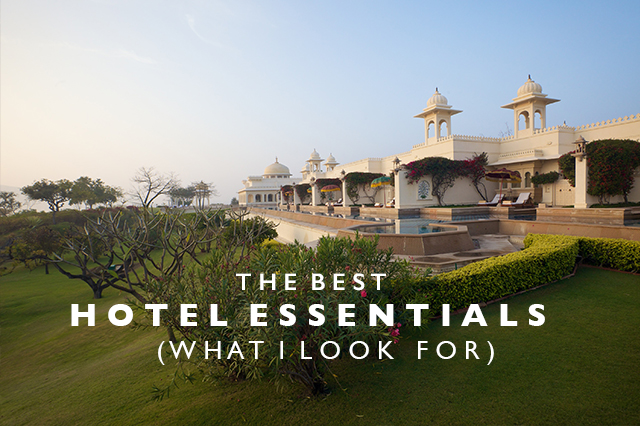 I've stayed in a lot of hotels.  Traveling since I was a kid, I've spent probably hundreds, if not thousands, of nights around the world in hotels.  And as an adult traveler, I really like a good hotel.  I'm not one of those people that says "you barely spend any time in your hotel, so it doesn't need to be nice."  I actually do like to spend time in my hotels when traveling, whether it's a really long peaceful night of sleep after a super long flight or a mid-afternoon nap after a morning of exploring.  Nick and I tend to pick boutique hotels over large chains as they most often are more unique and offer a quality experience as opposed to just huge cookie-cutter chains.  So when we are booking a trip, the hotels are often a huge part of the experience for us and often one of the first things I look for in a location.  So what do I search for?  What do I look for in a hotel?  Here are the best hotel essentials that I look for when booking hotels for a trip.
Welcoming staff at check in.
While you can't really know this until you arrive, I read TripAdvisor reviews of all hotels I'm looking at booking. As soon as I have a shortlist of hotel options, I head over to the reviews.  I look for things like "welcoming staff" or "staff was really helpful."  If you see those things, that's usually a good sign.
Cool aesthetic and design.
As an interior designer by trade, I love a well designed hotel.  I tend to lean towards more modern designs with an eclectic feel, so photos of the hotel are really important when I'm booking.  I pass over a ton of hotels purely based on their photos online (I specifically like hotels.com for this reason as they show large photos of the property.)  A cool design and aesthetic is really important to me when booking a hotel, so take a look and see if it fits your style.
Space to roam.
While a lot of city hotels we stay at are pretty small, I do love a spot that we can explore or roam around.  Particularly when booking a trip for a "relaxing" few days, I love a hotel with large grounds or cool spaces to explore.  I particularly love the Oberoi hotels for this very reason; their hotel grounds are often incredibly vast and gorgeous.  It's nice to be able to get out of your room and explore, even if you're staying on the hotel's grounds.
Good bed and pillows.
This is another thing I look for in the TripAdvisor reviews.  A good bed and pillows are really important to me when I travel.  After a long day of exploring, the last thing I want is an uncomfortable bed.
Efficient cleaning service.
One of my biggest pet peeves around the globe is when my room isn't cleaned well.  The last thing you want to see upon arrival are the last person's hairs in the shower or spider webs on your ceiling.  I look at the reviews for this one, but it's often just one thing you have to hope is ok and wait and see.  But this has often been a make or break item for me when thinking of returning to hotels for a second stay.