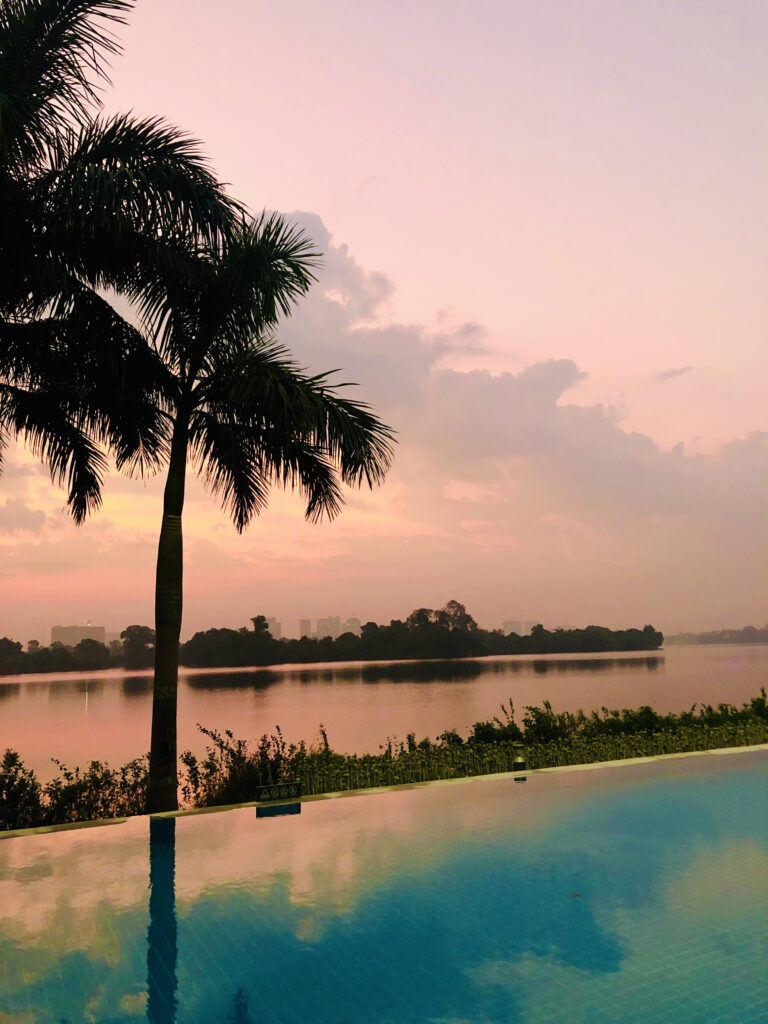 Over the last week, news out of Myanmar has emerged that the military has overthrown the democratically elected leaders running the country and detained a large handful of leaders and activists.  Now let me back up for a moment, Myanmar, formerly Burma, is a country in SE Asia that not many people know much about in the Western World.  And before visiting, I knew little to nothing about it either but as news started filling my Twitter timeline last weekend about the coup, I have found myself thinking about the country every day this week and I think it's worth sharing my thoughts here today.
A little over a year ago, I landed in Yangon, Myanmar late at night.  After a few hours of sleep, I woke to the most brilliant purple and pink sunrise over Inya Lake behind my hotel that started a morning of exploring in a country that I would soon fall in love with.  My dad was looking into a potential job opportunity in the country and I tagged along on their trip to explore a country that I had never been to.  Upon our landing in Yangon, my parents went off with the people that were interviewing my dad, whisking them off on a 3 day adventure visiting other cities and spots around the country.  I stayed behind in Yangon by myself, exploring on my own for 3 days before meeting up with them on the last day to explore the city that by that point, I had fallen hard for.  Of course this was all before COVID, but my days alone in Myanmar were my last adventure before the world basically shut down and I think back to those moments now with such a fondness, remembering the way I felt so free, the way people smiled at me in the street and greeted me with "Mingalabah," the way it felt in the back of a taxi speeding through the city, windows down and the wind in my hair, an intoxicating culture racing by.  I remember the Burmese people I came to befriend at my hotel that I introduced to my parents when they returned to Yangon and couldn't believe I had met so many people in just 3 days.  From the young boy that helped me plan my days, so excited to have me experience the places in his home city and then helped me get a taxi early in the mornings, just as the sun was rising and no one else was around, to the server that sat me every morning at breakfast and asked me what I had planned for my day and offered suggestions on what to see and explore, so excited that I was so excited to see Myanmar.  Or the tour guide taking a group of us around the old parliament buildings in Yangon, telling us about the country's history, proudly exclaiming that they had finally made it to a democracy after years and years of military rule.  I'll never forget her face, she was so proud of her country, so proud that the people of Myanmar finally had a voice in their futures.
And so here today, that is why I think this post is warranted.  I acknowledge that I have a limited knowledge of the political situation going on in Myanmar and there are a million things that go into issues in other countries that we, in the West, have no business getting involved in.  I know that things like this are happening all over, all the time.  In fact, my own country had an attempted coup or insurrection or whatever you want to call it, just a month ago.  I get that I don't know all the facts and I'm just an outsider, but at the end of the day, I haven't been able to get Myanmar out of my mind.  The people I met there, the pride on their faces for their country and the hard-fought years to gain independence and democracy.  The progress made in just a few short years to connect to the rest of the world.  And have they been perfect? No.  The crisis and genocide of the Rhohingya has been happening for far too long and it's horrific.  Has Myanmar progressed perfectly along the way?  No.  Their people are still very much segregated from the rest of the world and the amount of people that live in the country in poverty is not good.  But here's the thing, the millions of Myanmar citizens aren't the ones causing those problems, they are beautiful, kind, welcoming people that just want their country to be better.  They know they have issues to solve and they know that there is much work to be done.  That's perhaps why reading the Twitter feeds of people on the ground in Myanmar and thinking of those lovely people I met on my travels there is hitting me so hard.  They are just trying to get through their days, just trying to use their voices to make a difference, just trying to live a happy and fulfilling life.  Under military rule, now again, that most likely won't happen.  Under military rule, Myanmar will lose the progress made under their fragile democracy these past several years.  They will lose access to the world and the poor will get poorer and the rich will get richer.  Those ordinary people that I grew to love in Myanmar, they deserve to live in a place where their voices are heard, not where they are silenced by fear.
Would I be writing this today if this were happening somewhere else?  Maybe not.  But that's the thing, this is why travel is so important, why it's so important to witness new places with your own eyes, to meet people from different walks of life, to gain an understanding of other countries and their histories.  I know the world is messed up, my own country is ripping apart from the seams as we speak.  But empathy doesn't need to only be directed at one thing.  I can raise my voice and try to help my own country as well as stand for the people in Myanmar.  I can use my voice for places I've seen, people I've met and help others to understand that might not have had the opportunity to see these places or to help others understand what exactly is happening.
And so, I guess I would just ask to keep the people of Myanmar in your thoughts and if you have the power to do something, please do.  We are all citizens of this beautiful world and just by lifting our voices, we have the power to make a difference.