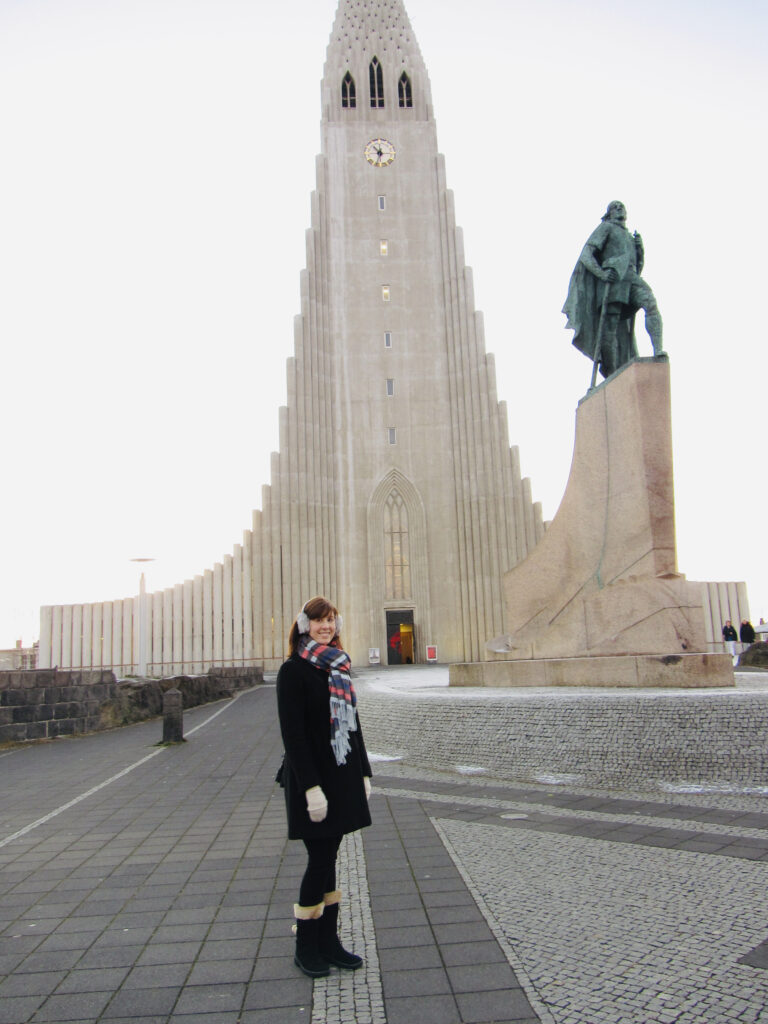 We ended our time in Iceland on a high note, exploring Reykjavik on our last day.  We left early afternoon for the airport, but before then, we used our last morning in Iceland to explore more of the town around us (since we'd been out in the country the previous couple days).  Reykjavik was definitely different than I had expected and while most of it was very sprawled and industrial, the little "downtown" section had some cute areas with the colorful "Scandinavian" type style buildings I was hoping for.
We walked all around the main section of Reykjavik, then up to the Hallgrimskirkja Cathedral, which stands up on a hill with architecture meant to mimic the Icelandic landscape.  It was a pretty spectacular architectural site and we ended up there right as the sun was rising and the sky was all shades of gorgeous colors.  From there we headed down the hill on the main road through town to the "Pond" which happened to be frozen over.  While it made me incredibly nervous, people were riding their bikes, playing soccer and ice skating on it, so we wandered out on the ice for a while (Nick farther than me).  We enjoyed the local scene and then took a little break at a bakery with some hot chocolate and free Wifi and then headed back to our hotel to head to the airport.

Reykjavik was all in all very different than I had envisioned but we still very much enjoyed the main area of town.  Overall, our trip to Iceland was very memorable and we hope to go back sometime in the future at a different time of year to see the landscape differently.  There were many moments that I will forever remember as some of the best travel experiences of my life so far and this was a trip that touched me very differently than our usual travels, some for good and some for bad, but at the end of the day, I am so thankful and proud to have marked Iceland on my list of travels and its beauty will remain in my mind for a long time.



Headed to Iceland?