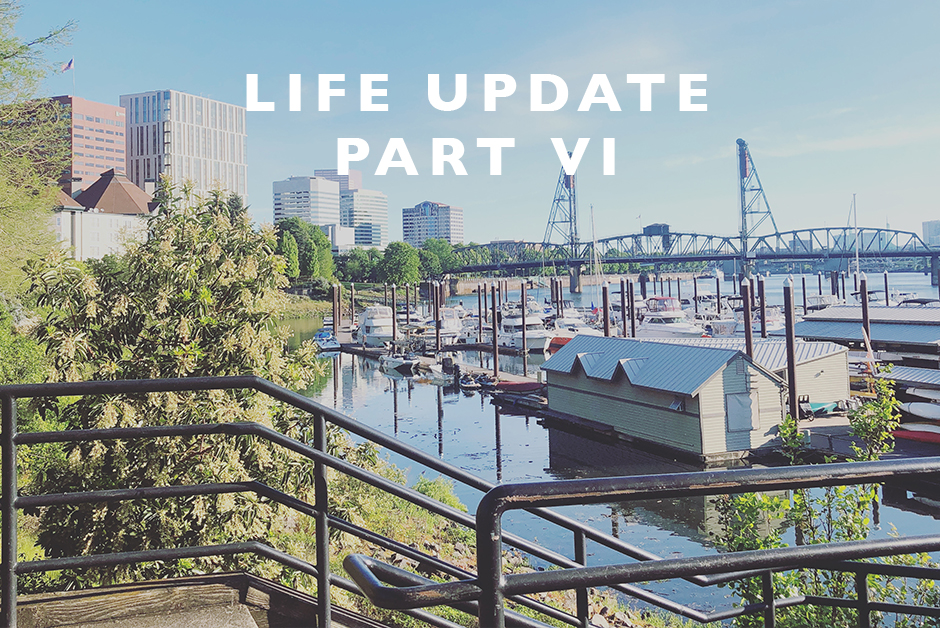 Here we are, 70 some days into our new normal of COVID-19.  Honestly there are so many days that I can't quite believe this is all real.  Our world changed so quickly and our new normal is, unfortunately, here to stay I'm afraid.  Masks, social distancing and staying at home are the realities we're facing and while so unreal at times, it's so important that we figure out a new way to exist, to keep ourselves and our loved ones safe.  International travel too, I'm afraid, is off the table for a while and our schedules have been obliterated for the next months ahead.  But we're safe and healthy and that's what matters right now so I'm letting you know what I'm up to with another life update and what's on the horizon for Nick and I!
Life + Everyday
We've been staying home since the beginning of the lockdown orders and both working from home for months now together.  It's actually gone pretty well and it was an easy transition to have us both working from home.  I've been working from home for 10 years now but it was easy to adjust when Nick was home all the time too and we've been enjoying the time together.  I've been cooking almost everyday (we've only done takeout a handful of times) and enjoying my garden and our house during all of this.  It's given me a new perspective on our home and I've done quite a few DIY projects during this time too, but more on that below.
I've also been working on a few projects for my Design Company and started offering a few new interesting services that you might be interested in checking out:
Travel
After canceling all of our trips from March on, travel was taken off our schedule for the first time ever.  We did however get a change of scenery by driving straight from Portland down to Southern California where my parents recently moved.  As they had to move in the middle of a pandemic, a lot of things were off the table for them to get help re-locating from Hawaii, which is a headache in itself, moving across the ocean.  So we decided to help them out and isolate with them for a couple of weeks to help them get settled.  We filled our car with a lot of things that my parents couldn't get in Hawaii prior to moving and things that they won't have access to until their shipment arrives in a couple weeks and headed down the I-5 on a weird COVID-19 road trip.  We stopped for the night and stayed at Nick's parents' empty house in Medford (5 hours from us) while they aren't there and then continued on driving straight to Southern California in a day.  We're here currently and will be here for a while to help them get settled as well as isolating with them at their house here.
While this is in no way a vacation or really travel as I would count it, it's definitely been nice to get a change of scenery even if it means we're still not really leaving the house much or doing much of anything except unpacking and helping my parents get settled.  But it is nice to spend the time with them and stay safe all together.  I'm not sure when our next actual trip will be but we're taking it day by day and staying healthy, that's the most important thing right now.
House Renovation
Before we drove down to Pasadena, we've been doing a few projects here and there around our house.  I painted the kitchen and bathroom flooring downstairs, finished projects in our garden and worked on some general maintenance things I've been meaning to do for a while.  We don't have much more in renovation plans scheduled coming up anytime soon other than some exterior painting of window frames that I'll do this Summer and random garden upkeep.
As we move more into these uncertain times, stay safe and healthy everybody!