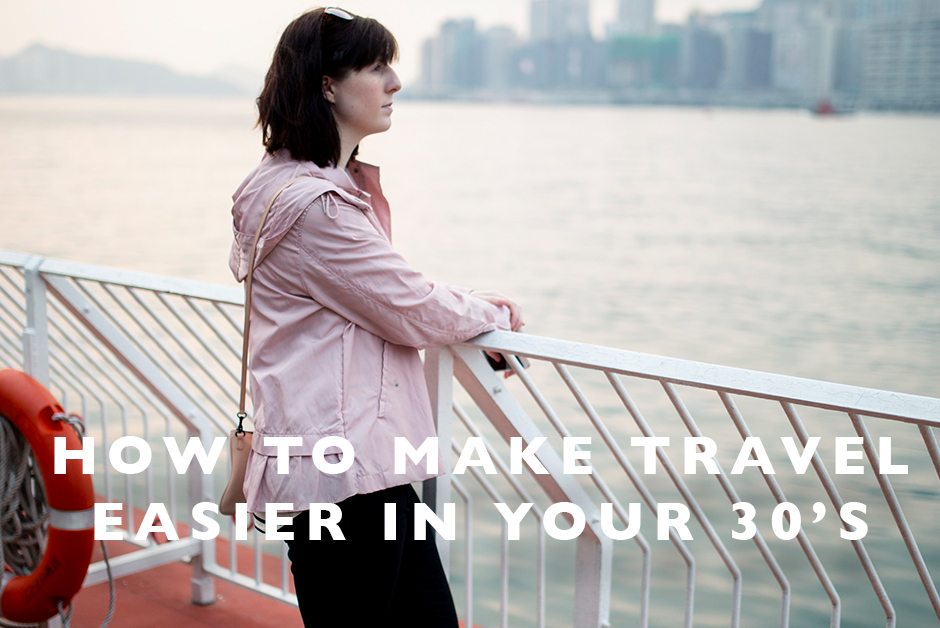 Ok I'm going to be honest today – while traveling around the world may look glamorous, it's really not. And while I travel a lot and I absolutely love it, Nick and I have noted many times in the past few years that as we get older and travel more, it gets harder with each passing year.  Travel is exhausting, it takes you out of your comfort zone, it puts your brain on overdrive and alters your internal clock.  While I could go on and on about the amazing affects it has on your body and life, it definitely also has some negatives on our bodies physically  and that's just the honest truth.
As I've gotten older and into my 30's, I've realized that now is the time to make travel a little easier on my body and schedule and while I'm definitely not giving it up, I've spent the past year figuring out how to make travel easier in your 30's and how to make it just a little more comfortable so that all those amazing things that travel gives us don't do harm to ourselves in the process.  If you're feeling the same way – you love traveling but hate the actual process of traveling, here are my best tips for making it easier!
Upgrade your Flight
The best way to make the act of traveling easier is to upgrade your flight.  And no, that doesn't mean you have to have millions of dollars to be able to fly around the world in lie flat business class seats!  We've started really strategically using points to fly at least one way of our International trips in business class lie flat seats.  We realized that the amount we fly, it was getting really hard on our bodies, especially on long haul flights, to sit in economy seats and it wasn't doing us any favors when we arrived somewhere totally exhausted and our backs hurting.  Using points to pay for business class seats is the best way to go and I'm a big fan of the Alaska Airlines points program to book international flights on points (hello Japan Airlines from Tokyo to Honolulu for only $52!).  Figure out a way to make points work for you and I promise, you'll arrive so much more refreshed!
The other way to do this without using points is to always upgrade to Premium Economy and just pay for it.  Every airline is different in what they call their Premium Economy and while on some you're not getting that much extra, I'll tell you every tiny little bit counts, especially on a long haul flight.
I share lots of Travel Tips about how to get better deals on flights and upgrades all the time so be sure to follow along!
Upgrade your Hotel
I've never been one to skimp on hotels as I know when I'm traveling I want to be comfortable and get a really good nights' sleep so I can fully explore to the best I can during the day.  But as we've gotten older, while we might have spent a night or two at a cheaper hotel to save a little bit of money, now it's a priority to have a great hotel with a great bed that we can relax in.  Our trips are often go, go, go… so we need to prioritize a good hotel that offers us some rest and relaxation while we're in our room.  I promise, you'll feel so much better physically for your days of exploring if you have a good hotel and bed to sleep in at night!
Function over Fashion
I still love packing for trips and really enjoy the forethought that goes into what I'll wear in a specific destination, but as I've gotten older, no longer do I bring the shoes that will give me blisters no matter how cute they are, no longer do I bring light clothes because they look good even when I know I'll be freezing.  Function over fashion is the name of the game now, and not to say you can't still have cute outfits, but I'm going to be comfortable over anything these days.  You'll enjoy a place more if you aren't wincing from blisters or shaking from the cold, I promise!