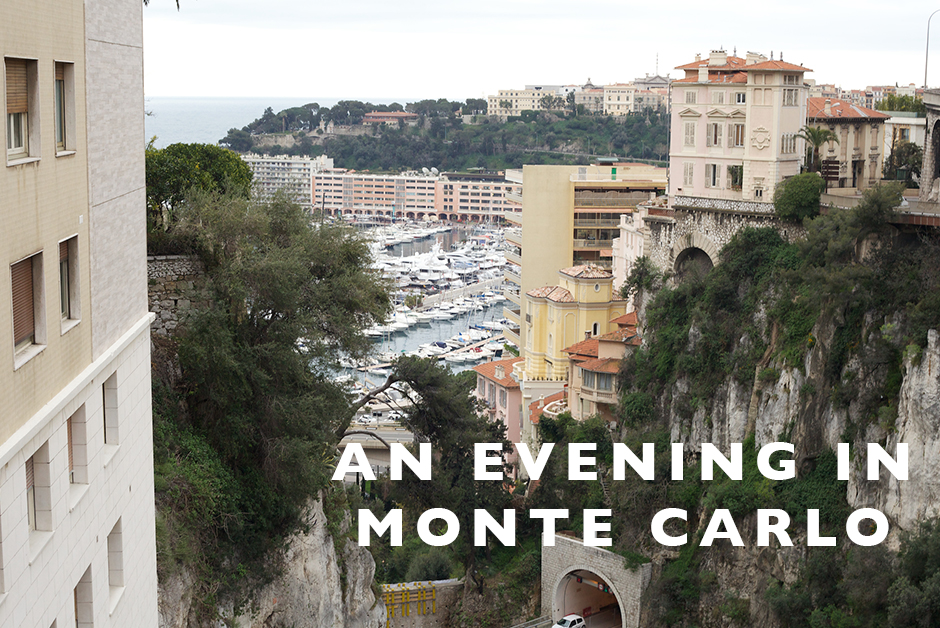 While we were in
Nice,
I really wanted to check out Monaco which is only about a 15 minute train ride East.  I didn't really know what to expect with Monte Carlo and in the end, I'm really glad we went, even if it was just for the evening.  We took a taxi from the train station (a process in itself, since you aren't supposed to flag taxi's down in Monaco, so you have to call from a taxi stand and needless to say, my French came in very handy with this process.)  We headed toward the Hotel de Paris since that's such a landmark and I didn't really know any other landmark at the time to tell the taxi driver.
We walked around the grounds of the Hotel de Paris, the Casino and the hotel and took in the ornate architecture and the expensive cars driving around the area. After that, we wanted to have a nice dinner in Monte Carlo, so we headed downhill toward the water from the Hotel de Paris and ended up eating at the Meridian Hotel Monaco for dinner. Their restaurant was lovely, with views out over the Mediterranean and the food excellent. Had I the opportunity to do this over again, I would have picked a specific restaurant in Monte Carlo that we wanted to go to and to know the hours, because most of the restaurants we passed didn't open until 8pm.  But all in all, we had a nice dinner and evening walking around Monte Carlo.
I know this isn't peak season for the principality, but I was really taken aback by the almost eerie quality of Monte Carlo.  It appears as such a cosmopolitan city, with it towers lining the mountain edge, but in reality I think it's a city that's half empty most of the year and that definitely showed while we were there.  It was an interesting experience and not a place I'd rush back to but a place I enjoyed seeing. I'm sure too that during the warmer months it's probably a much more magical setting and I think that would be worth experiencing too sometime.