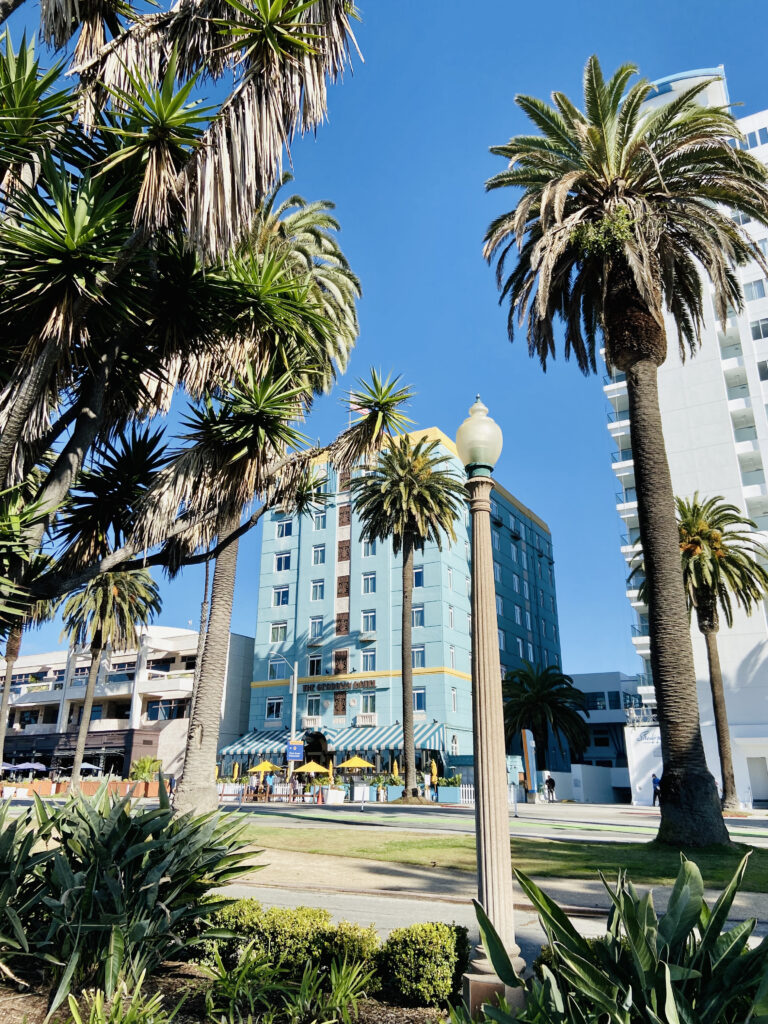 Since my parents moved to Pasadena, California in May of 2020, Nick and I have spent a good amount of time in SoCal this past year.  In the past, I haven't been a huge fan of Southern California but after a lot of time spent there this past year, I've found that there are so many beautiful places in the state of California.  While I still have more to explore in California in the years to come, here are my 10 favorite places in California from the places I've explored so far!
Pasadena
While SoCal has never been my favorite part of California, I've grown to really like Pasadena, where my parents now live.  It's green, quiet and has beautiful views of the San Gabriel Mountains.  I'm really looking forward to exploring more of Pasadena in the years to come and enjoying more of the restaurants that have been closed due to COVID.  Pasadena feels entirely removed from LA proper and I love that it feels simultaneously so far away but is still so close to explore Los Angeles too.
Napa Region
The area in the Napa Valley, home to California's famous wine-country, is truly one of the most beautiful areas in California.  From rolling hills of vineyards to beautiful little towns, the Napa region of the state is definitly a must see.  The Fall is one of my favorite seasons in this area when the vineyards turn gold, the weather is temperate and you can drive through as many little towns as the day will take you.
Santa Barbara
One of the places that first had me fall in love with California long before my parents moved there was Santa Barbara.  This beautiful area on the coast about an hour and a half from LA will have you swooning over coastal views and Spanish style architecture.  I'd love to spend more time in Santa Barbara in the years to come and it's one of those places that feels like a little town but yet is fairly large and has everything you could ever need.
Ojai
This little tiny town in the mountains about 2 hours from LA is a beautiful scenic area of SoCal.  While the town can be seen in just an hour or so because it's so small, the area around Ojai is gorgeous and worth a drive in itself.  Head to this area if you want to drive through tiny towns, ranches that sprawl beneath the mountains and scenic vistas that feel entirely removed from California.
Palm Springs
Palm Springs had been on my list for years so when we happened to be in the area in late 2020, we couldn't help but find a couple hours to explore.  This city that's about 2 and a half hours East of LA is well worth a visit for the scenic desert views, amazing shopping and incredibly renovated mid-century homes.  I found Palm Springs to feel a bit like Waikiki in Hawaii but placed in the desert instead of the beach… the vibe was just great in this desert community.
Santa Monica
In LA proper, Santa Monica is one of my favorite places to explore.  With ocean views, interesting hotels and restaurants and a very cool vibe, Santa Monica is a great spot to explore and get away from downtown LA.  If you're looking for the typical California, beach, cool vibe, this is where it's at.  The Historic Venice Canal District is only a few minutes South of Santa Monica and that's a worthy destination to check out as well, as you wander through the neighborhood that sits on the famous canals.
Carmel + Monterey
I've visited Carmel and Monterey on the central California coast several times now and these two cities right next to each other are definitely some of the most beautiful in California.  With coastal views, a very different weather pattern than most of the state (it's pretty cool here year round), Carmel and Monterey will give you a much different view of the California Coast than almost anywhere else in the state.  I'm hoping to spend a long weekend in Carmel this coming year at some point and would love to explore the town a bit more than I have in the past.
Big Sur
For incredible scenic, California coast views, Big Sur is perhaps the most stunning.  As you drive up the California coast, Big Sur has it all: foresty, incredible views over the ocean, and stunning vistas to see the beauty of the California landscape.  The scenic spots along this route, driving the coast highway, are unbelievable and this drive should be done at least once to see that incredible views of Central California.
Solvang
For a little European escape, Solvang, in the mountains above Santa Barbara is a perfect day adventure in California.  This Danish town feels like a complete escape from Southern California and offers charming restaurants, a perfect place to wander and explore, and scenic landscapes.  Plus the drive to get to Solvang feels almost reminiscent of driving in the mountains around Provence and that's always a plus in my book!
Malibu
I feel like a top 10 list of California wouldn't be complete without Malibu on it.  While it's a little cliche, Malibu is one of those spots you just have to see at some point on the Southern California Coast.  With ocean views, cute little shops and restaurants, this little town on the Pacific Coast Highway is also a great celeb spotting area.