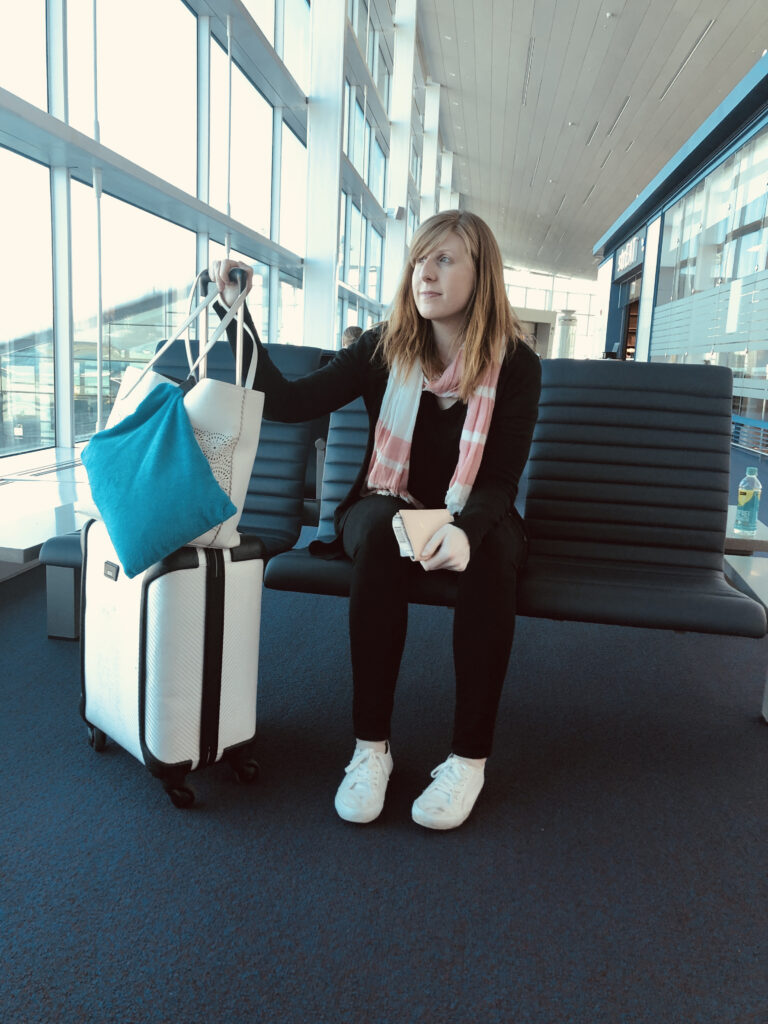 As we near the end of 2020 and more people are looking at getting back to traveling a bit in the New Year, even if it's more local, I'm feeling optimistic about traveling in the coming year.  As learn more about COVID and understand how to take precautions, I think that in 2021 at some point, people will start traveling again even if that means that travel looks a little different than it used to.  As we get back to traveling though, there are things we can do as travelers that will keep us safer and make travel easier in a situation that is already a lot more labor intensive because of extra COVID measures.  One of those things is traveling with Carry-On only and bringing only what you can keep with you at all times.  By traveling carry-on only, you limit the amount of people touching or being around your luggage plus it's a smaller amount of luggage to lug around which means you can be more thoughtful on your journey of where you go and what you do en route to a destination.  As we start traveling again while COVID still exists, here are my best packing tips to traveling with carry-on only and how to fit everything you need for your trip in just a carry-on.
Pick a great carry on bag.
For a long time, I used cheap luggage I bought at HomeGoods or TJ Maxx and eventually I found myself roaming airports in foreign countries with gouges in the side of my bags or wheels missing because the luggage just wasn't all that heavy duty to begin with.  I finally took the plunge and bought a great bag and it's been with me now for about 5 years and still looks and functions amazing.  When I bought "real" luggage for the first time five years ago, I spent a lot of time researching different luggage companies to fid the perfect carry-on bag.  I ended up with Tumi and it's been our go-to travel brand for luggage since then. The quality of Tumi luggage is incredible and my bag has taken a beating over the years and still functions perfectly.  My Tummy carry-on is a hard-side, continental size roller bag in white and while the same bag isn't available anymore, here's some good alternatives:
Combine your purse and your personal item bag.
I usually travel with my Tumi hard-side carry-on bag and then one other personal items which is usually a large leather tote.  Inside that leather tote, I place my laptop, all my toiletries and anything else I'll need on the plane or during travel, then my purse goes on top of the bag.  By placing my purse in the tote, that creates just 2 carry-on items for me when I board the plane which is what the airlines require.
I actually use a leather tote I got at Old Navy a few years back that has held up surprisingly well but if you're looking for one, Amazon has some great options!
Here are some of my favorites: Option 1, Option 2, Option 3
Pick a color family.
When you go to pack your clothes for the trip, try to stay all within one color family.  This will allow you to mix and match pieces more and allow you to pack less.  For example, I usually pick either blues or blacks as my go-to color on a trip.  Then I can stay within that color family when I'm packing everything I'll need and I know everything will go together.
Bring all your samples from places like Sephora and Kiehl's.
I don't know about you but I constantly have little samples that I get when I buy items at stores like Sephora and Kiehl's.  Those little lotions and eye creams are perfect for travel!  If you don't have to pack large jars of moisturizer, it saves a ton of room in your carry-on luggage.  Bring all those samples and use them on the go so you don't have to pack the larger containers.
Use the creases in the bag on one side for shoes.
Usually in luggage, there is one side of the suitcase that houses the handle bar when it's retracted which creates sort of creases or raised sections making that side not totally flat.  I love to use that side to pack shoes in between the raised sections.  For a little bit more of a space saver, pack your socks inside your shoes to save more space in your luggage.
Be sure to use the side crevices for socks and underwear.
In the side of the luggage that's flat, that's where I pack all my clothes, folded tightly.  Usually once all the clothes are in, there is room down the sides, top and bottom where a crevice is empty.  That's where I put extra socks (that aren't in my shoes) and underwear, anything that's small and can fold up in those small spaces.
Wear your heaviest items.
This note is particularly for when you're traveling someplace in colder weather when you might have bulky items to pack and bring with you.  Always wear your heaviest items instead of trying to pack them as they'll take up the most space.  For example when we travel to places like Iceland that we know is going to be cold, I always wear or carry my large heavy coat and I'll wear one of the larger scarves I'm bringing on the plane.  This also helps keep you warm immediately upon arrival somewhere.
Keep a pouch in your personal items with all the items you'll need during the flight.
In my tote bag, I always keep a pouch ready to be pulled out during the flight that contains all the personal items I'll want in flight.  This includes things like my headphones, chargers and chapstick.  This also is a great way to contain those small items in a small airplane seat and will allow easy access if those are all in a pouch to begin with that you can grab easily.
Pack a week before your trip so you can really organize and weed out unnecessary items.
I'm a big believer in packing early.  By packing early, say a week before your trip, you can then add in other items throughout the week as you remember them.  Personally, I'm not able to pack the night before a trip as that stresses me out way too much and I find myself much calmer on the day of travel if I know I've packed early on before the trip.
Don't bring things you think you "might" need – you can always buy them there.
I'm a very straight forward packer and I only pack things that I know I will need.  Anything that's on the maybe list, like a hair dryer or curling iron, any extra makeup that I might wear, those all get left behind.  I don't travel with a hair dryer anymore as it takes up too much space and most hotels have them.  And any extra items like makeup or things like that, you can always buy at your destination if you absolutely end up needing them.  Weeding out anything you "might" need will allow you to make sure you have the space for the things you really do need.
Have a list of items that you'll take out if for some reason you have to check your carry-on.
Sometimes, out of your control, you might have to check your carry-on bag.  Some flights end up being full and need to check bags or gate agents will ask you upon boarding to check it.  When that happens, know what items you might need to take out to keep with you on the plane so you can get them quickly before boarding.