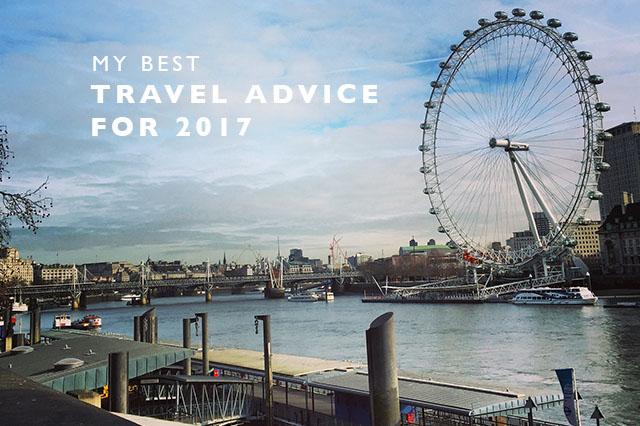 As everyone starts embarking on their travels throughout 2017, sometimes there are tips and tricks for travel that can truly help you enjoy your trip as much as possible.  And after years of frequent travel, I've picked up quite a few tidbits that really help travel be as amazing as possible.  So for the year ahead, here is my best travel advice for 2017!
If you arrive late at night – order room service instead of going out.  Even though you might pay a little more, unless it's super convenient to get food near your hotel, it's often the best option to put on your PJ's and order room service, then get to bed!
If you are going to a country that might not have breakfast available easily, include it in your hotel.  Research your destination beforehand and find out what sort of breakfasts will be available and then decide whether to add breakfast to your reservation or not.  For countries like China where Western breakfast is hard to find outside of hotels, it's well worth including it in your room price.
If you are going to a country that is world renowned for breakfast or pastries – don't include it and go out.  The opposite of the above point, if you're headed to a country like France where breakfast and pastries are incredible – don't waste breakfast at the hotel.  Head out and get a taste of the amazing local food.
For red-eye long hauls – when you get in your seat, take off your makeup with makeup removing wipes.  Then moisturize and leave make up off for the whole flight.  Refresh skin every couple hours with Evian spray.  This will make a huge difference for your skin when you arrive at your destination.  I do this on any red-eye flight and then put light makeup on again about an hour before landing.
Always ask about an upgrade at hotels.  More often than not, they can offer you something. Even if you think they'll say no, it's still worth asking.  You never know.
Learn a few words in the local language – it's appreciated more than you know by locals.  We've found all over the world that the littlest attempt at speaking some of the local language will win you favor with locals.  Even if it's just a slight smile, it lets them know you respect their country and you're willing to learn.
Invest in Global Entry and TSA Precheck immediately.  We did this when it first started almost 5 years ago and it's been the single most important travel investment we've made since then.  The time it saves in airports is worth it alone, let alone the effort it saves is totally worth it!
Buy a luggage scale and weigh your luggage at home before going to the airport.  This was something that was a game changer for us.  Buy a small luggage scale to use at home so you know how heavy your luggage is before getting to the airport and they tell you its overweight.  This way you can rearrange if you need before you get to the crowded airport – much less stressful than opening up your suitcase in line at check in and having to take stuff out as everyone watches!