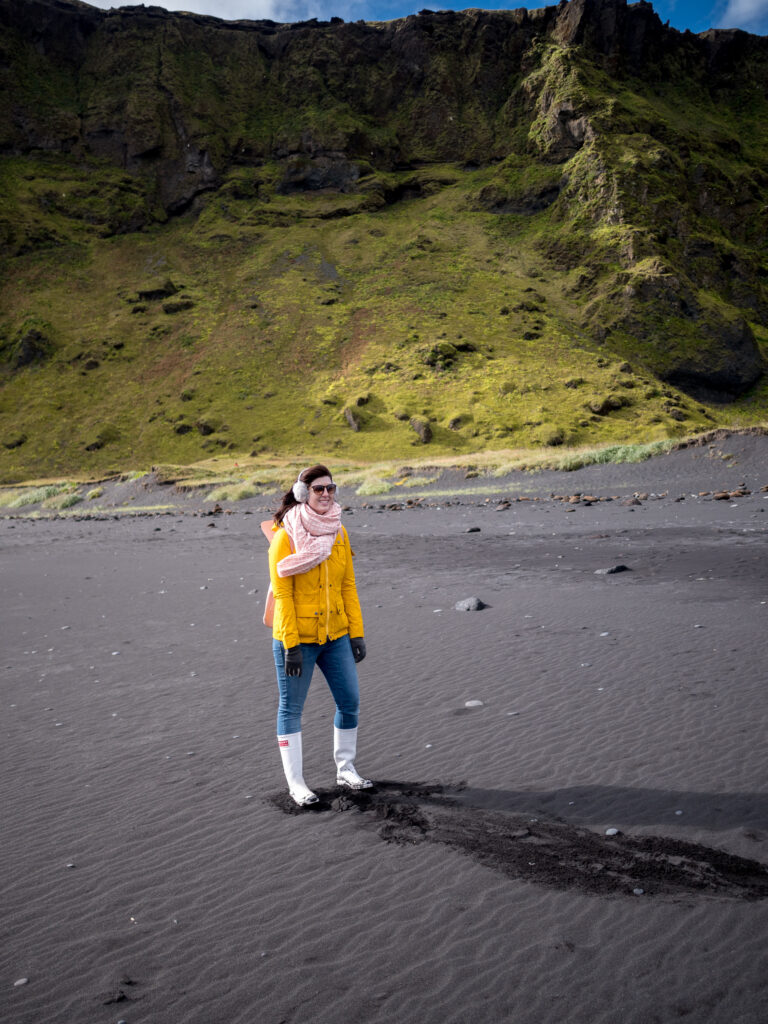 Outfit Details:
Barbour Yellow Jacket (similar) | Distressed Denim | Old Zara Scarf (Similar) |
Old Zara Leather Backpack (Similar) | Burberry Rain Boots (Similar) | Ear Muffs | Madewell Sunglasses
After sharing all the spots in Paris that I can't wait to get back to after this pandemic subsides, another destination has also been on my mind, thinking of all the places I'd like to visit again: Iceland.  The little island in the middle of the ocean that captured Nick and I's hearts almost a decade ago still calls to us and after several trips to Iceland, we're so excited that it will be the first place we return to outside of the US post-pandemic, at the end of this month.
A month or so ago when news of Iceland opening up to vaccinated tourists came out, I jumped at the chance to use our Iceland Air airfare credits before they were due to expire at the end of the month.  As Nick and I are both fully vaccinated, we decided that our risk would be low on a non-stop flight to Reykjavik from Seattle, while taking every precaution along the way.  So in advance of our return to a place we adore, here are all my favorite spots in Iceland that I can't wait to get back to!

Braou and Co. in Reykjavik
Perhaps one of the places that I'm most looking forward to upon our return to Iceland are the cinnamon rolls at this famous little bakery in Reykjavik.  They are some of the best I've had and I can't wait to eat my fill during our few days in the city.  We'll be renting an apartment for several days at the end of our trip in Reykjavik and I can't wait to spend every morning here.

Seljalandsfoss Waterfall
This interesting waterfall is a favorite stop of ours but I'm really looking forward to seeing it in a few weeks without the throngs of tourists like it's been for the past several years.  This waterfall is unique in that you can actually walk behind it and feel the water spray out.  The last time we went it was super crowded so I'm hoping this next trip will allow us to really take it all in without so many people.

Skogafoss Waterfall
This massive waterfall on Iceland's South Shore is a perfect stop when heading to Vik or beyond and it's always worth seeing.  The sheer power of this waterfall is definitely a sight to behold and it's one of my favorites that we've seen in Iceland.  The scale of this waterfall is just unbelievable and I'm looking forward to seeing it in a new light in a few weeks.

Vik's Black Sand Beaches
One of my favorite spots in Iceland is the Southern Coast where Vik lies.  This little tiny town boasts some impressive views and landscapes, as well as their famous black sand beaches and huge rock formations.  Vik and the surrounding area feels very much like what you expect Iceland to look like and it's always a spot we return to over and over.

Gullfoss Waterfall
This famous waterfall is part of the tourist route in Iceland and while we've seen it several times and in all seasons, I'm anxious to see this famous landmark in a few weeks without so many tourists around and experience it in a new way.  This was one of the first waterfalls we saw in Iceland years ago on our first trip there, covered in snow and ice in November.  We've now seen it in all the seasons but seeing it in the Summer is my personal favorite as the landscape around it is covered in green.

Snæfellsnes Peninsula
While we probably won't make it to this area of Iceland on this upcoming trip, it really is one of my favorite parts of the island.  From gorgeous vistas and incredible coastlines, this peninsula has a little bit of everything.  If you have the time to drive the Snaefellsnes Peninsula, it really is one of the most interesting drives you'll have in Iceland, but it is slow going and lots of roads are gravel in this part of the island, so be ready for a bumpy drive.
Headed to Iceland?
See all of our Iceland content here.