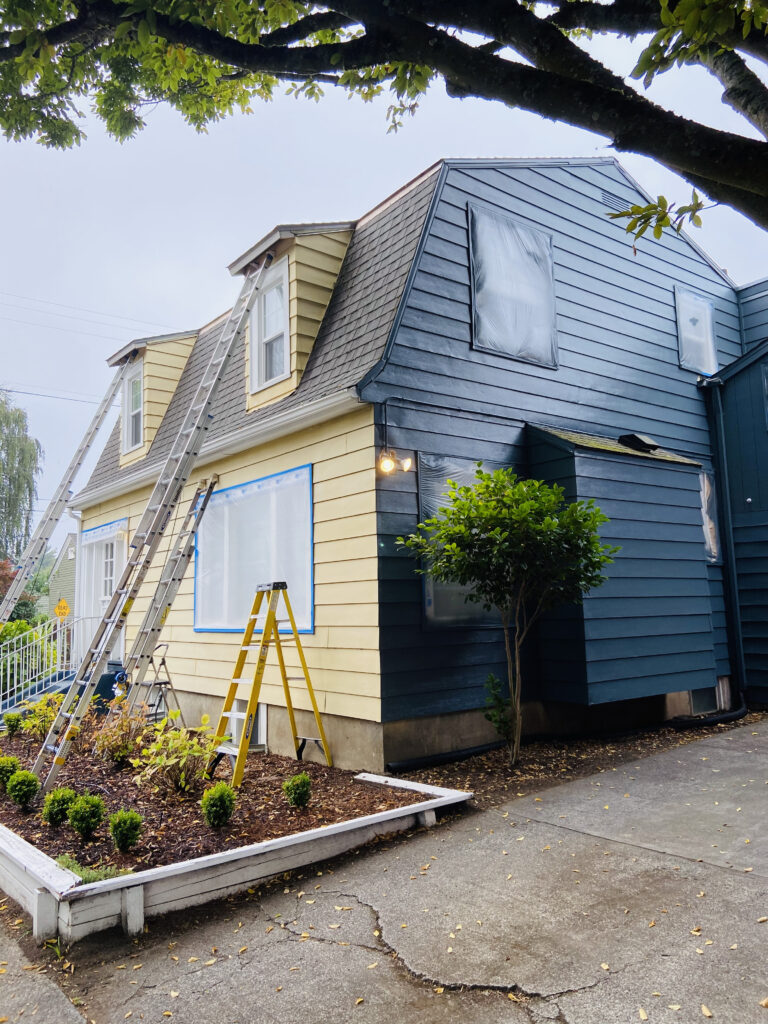 When we moved into our 1925 Dutch Colonial house in SE Portland a little over two years ago, one of the first things I wanted to do in our renovation was paint the exterior and see our house's exterior makeover come alive.  From literally the first moment I saw the house, I knew what color I would paint it and could envision in my head what it would look like in a dark navy/slate gray color.  Upon moving in however, my hopes of painting the exterior were pushed aside when other projects were way more important to tackle, like remodeling the outdated upstairs bathroom and the 80's kitchen complete with slab granite and old white appliances.  Our budget and time on interior renovations, alongside our massive garden renovation outside took us through two years of living here without the money or time to even touch the house exterior.
Then COVID happened.  And we stopped traveling, only staying on the West Coast for the last 8 months.  We also had to cancel our 10 year wedding anniversary/my birthday trip to Europe scheduled for early October.  So when mid-September rolled around, I got to thinking, why not spend the money we would have spent on that trip to Europe and some of our other trips this year on a project that I had wanted to do for, literally, years.  I texted our handyman/amazing house painter to see if he could squeeze us in on his schedule for the first week of October that looked like it would be sunny and warm and luckily he could!
I fit in a quick run to the paint store to get paint samples, painted a few color options on the house to see them in person and immediately knew which color was "the one."  We ended up going with Sherwin Williams "Grays Harbor" and a few days later, our handyman was taping off windows and our house was transformed.
The new color is so my style and fits this house so perfectly.  It also matches the interior of the house now, as we've gone towards more navy and grays inside.  The yellow was fine, but it was never my choice of color.  Now, I feel like the exterior of our house is truly what I always dreamed it could be.  Sometimes house renovations can be daunting and you feel like there is a never ending list of things to get done.  And sometimes you wait years and years to tackle a project that you've seen in your head for a long time.  When those projects actually happen, it feels like magic!