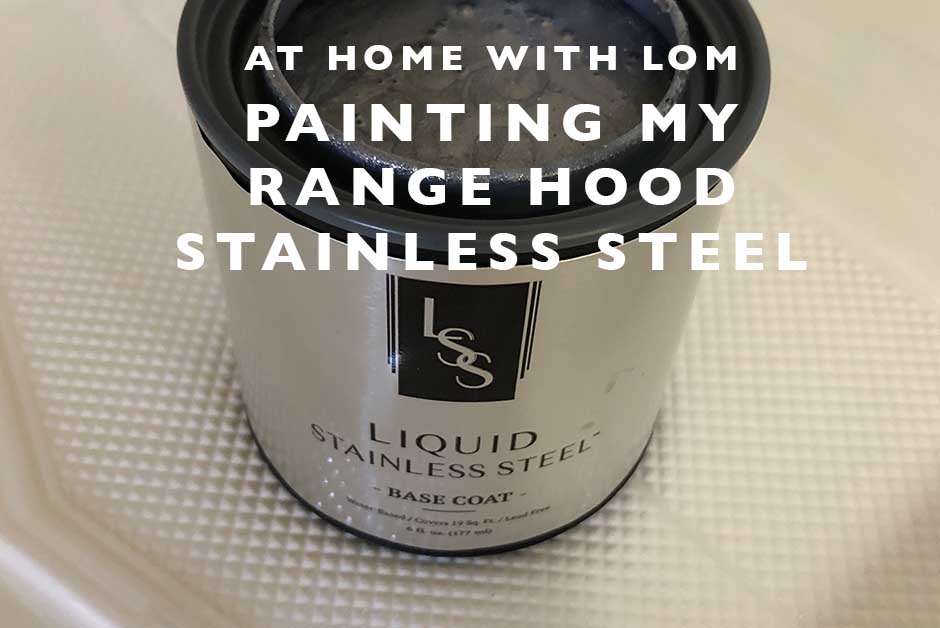 A couple months back when I did an Instagram survey, I had several people comment that they would love to see more content here on Land of Marvels about our home renovation and today, I'm starting a new series for that specific purpose.  As much as I love to travel, I love being at home and as an Interior Designer in my day job, design and renovation are also a very big part of my life.
If you're not aware or don't follow me on my personal Instagram (cmart1015), my husband Nick and I bought a 1925 Dutch Colonial house in SE Portland a year ago and we've been renovating it ever since.  We've done a number of room renovations which I'll get into in future posts, but I'm also going to start sharing a few other smaller DIY projects that we've had a lot of success with, starting with today's post: painting my range hood stainless steel! 
Ok so let's back up a little bit and talk about our kitchen in this house.  The kitchen was fine, but it was just a little dated: black speckled granite countertops and all white appliances.  In August, we did a semi-renovation, changing out the countertops to a white Quartz, a new light fixture and new fixtures (stay tuned soon for the entire room reveal and makeover post!).  We also recently updated the gas range and the dishwasher and installed stainless steel versions of both.  We'll eventually get to the refrigerator, but that's a whole different story for another time.  Above our beautiful new gas range (with 5 burners, that makes me so happy!!!) is a range hood that was installed already when we bought the house.  It works great, has lights in it and the fan really does do a great job.  I don't use it all that often, but it completes that side of the kitchen so when it came to figuring out how to make it match the new stainless steel range, the white just wasn't looking good.
I started doing some research online and found a few different products for painting old appliances stainless steel.  I found some spray paint options and then I found the one I ended up going with: Liquid Stainless Steel.  I bought mine on Amazon for $25 which is a far cry from shelling out hundreds of dollars on a new stainless steel range hood to match!  So one day a couple weeks ago, I decided to give it a go and here are all the tips and information I gathered from my research and my process of painting my range hood stainless steel.
Materials and Tools Needed:
Step 1 – Do a Deep Clean + Tape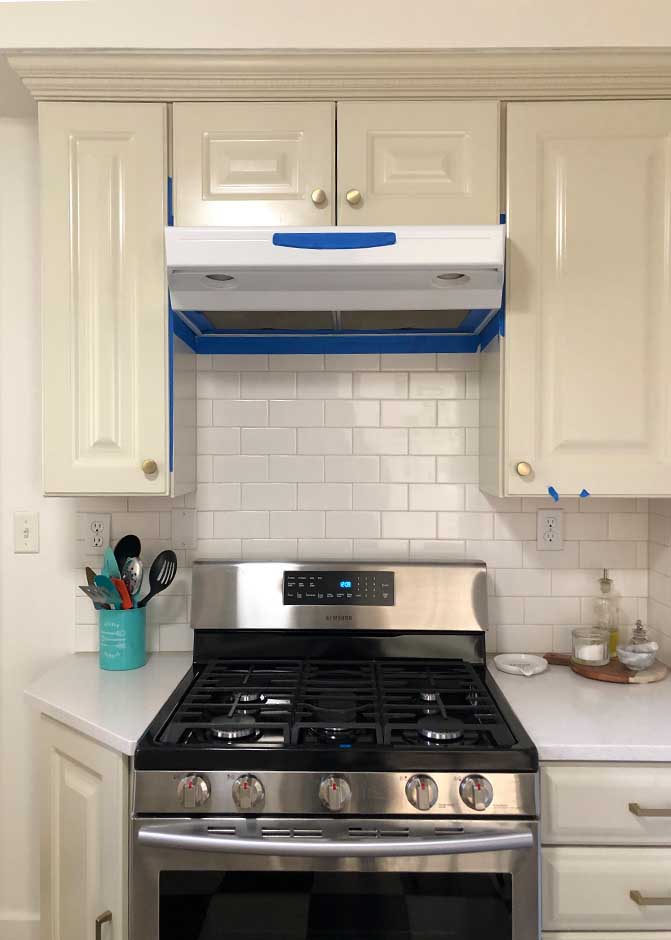 The first thing you need to do regardless of which appliance you're painting is clean it really really well!  I started by laying out old towels (you could also use a plastic dropcloth) over my range to protect it from any paint splatter during the process. My range hood was filthy with grease and dirt from years of use and I used cleaning wipes to get all the dirt and grime off of it.  Do a good job with this step to make sure the paint adheres correctly later.
Once it's clean and dry, tape everything off with painter's tape!  This will make it go a lot faster later when you're painting.  I taped every edge of the range hood as well as the connecting cabinet edges.  I used a thicker painter's tape for the edges and a thinner one for the section where the buttons are that I didn't paint.
Step 2 – Open up the Base Coat Paint Can and Stir Well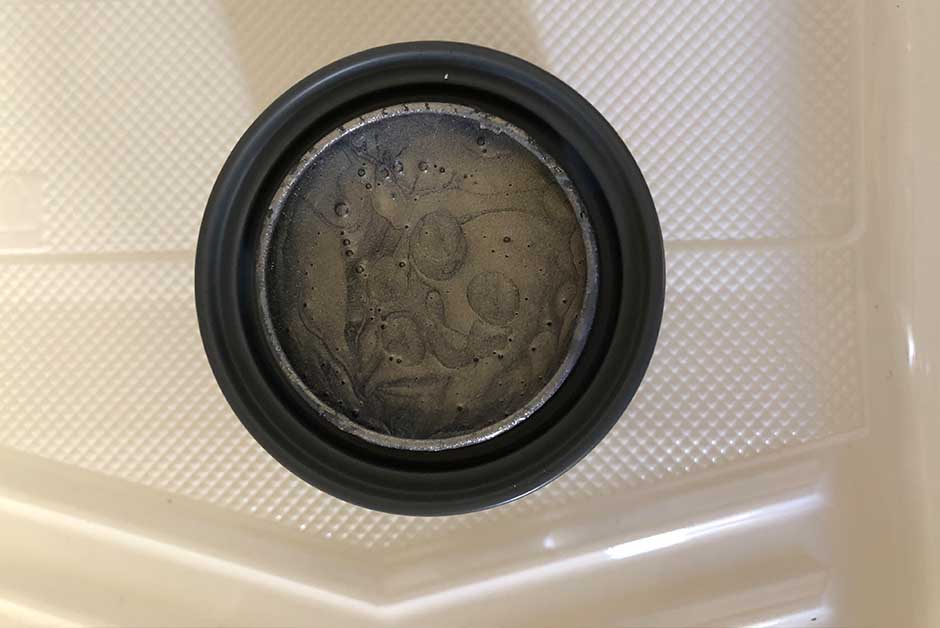 You'll start with the base coat can of paint that comes in the package.  Shake it really well before opening and then with your wooden stir stick, make sure you stir it really well too. I put a paint tray liner down over the old towels just to keep the can in and make sure no paint got on my countertops. There are actual metal particles in this paint so they get a little clumped up if you don't stir it well.  I also stirred it again really well before every subsequent paint coat.
Step 3 – Paint the First Coat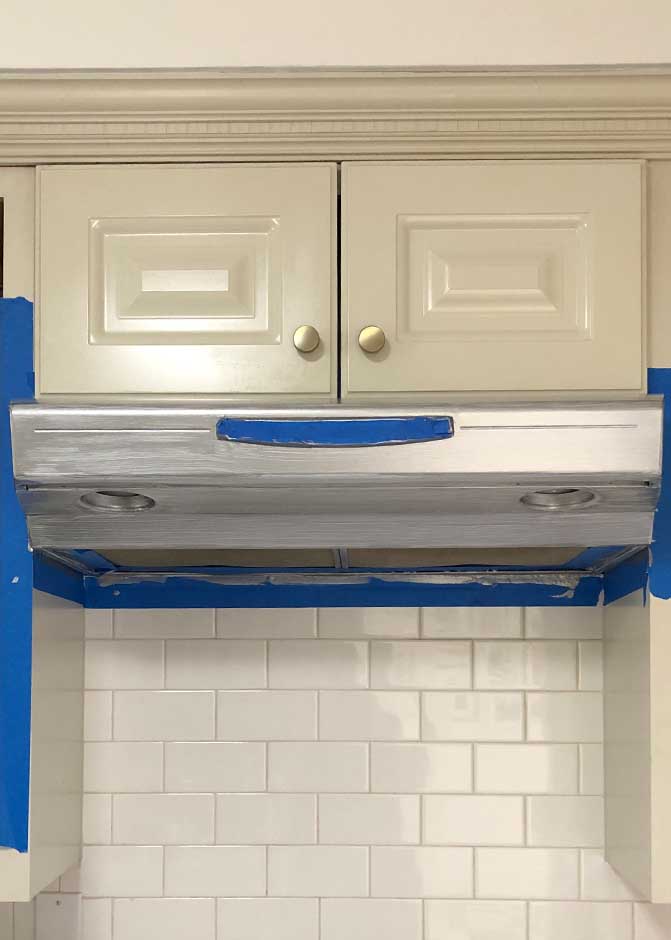 Once the paint is mixed and stirred, dip the brush that comes with the packaging in the paint can lightly.  You don't want a huge amount of the paint.  And then with brush strokes side to side (you might want to go up and down depending on what type of appliance you're painting), you paint from left to right in steady strips.  The first coat is not going to totally cover everything and that's ok.  It will look stripey after the first coat and that's how it should be.  Just be sure to get every part of the appliance that's visible with the first coat and make sure it looks even and the lines look straight.
Step 4 – Paint the Second Coat
The directions say to wait an hour between coats and I did that on the first few.  Set a timer for 1 hour, let the first coat dry and then come back an hour later and do the second coat.  Mix the paint again with your stir stick before you start the next coat, then dip your painted brush and do the same thing, except this time, go the opposite direction than you did on the first coat.  If you started painting left to right, this time go right to left.  I did a little bit more paint on the brush this time around versus the first coat just to fill in any of those areas that didn't get enough on the first coat.  You'll start to notice it blending better on the second coat.
Also make sure that any spots that get a little clumpy, that you even them out and smooth them… you don't want it to dry that way!
Step 5 – Paint the Third (or more) Coat
Same thing as before, let it dry an hour and then come back for the remaining coats, however many you might need.  I did 4 on my range hood and that seemed to fill all the areas on the surface and visually, it looked great after 4 coats.  You'll want to determine how many coats your individual appliance needs and just take it one coat at a time until it looks good visually.
Step 6 – Paint the Topcoat
Lastly, once all the other coats are dry, you'll want to paint the topcoat over all the other coats of paint.  This will both protect it as well as give it a finished look.  This coat does go on a little bit blue in tint but dries quickly to a clear topcoat. Let this coat sit for at least an hour before you take off all the tape but voila!  You have a new stainless steel appliance to enjoy.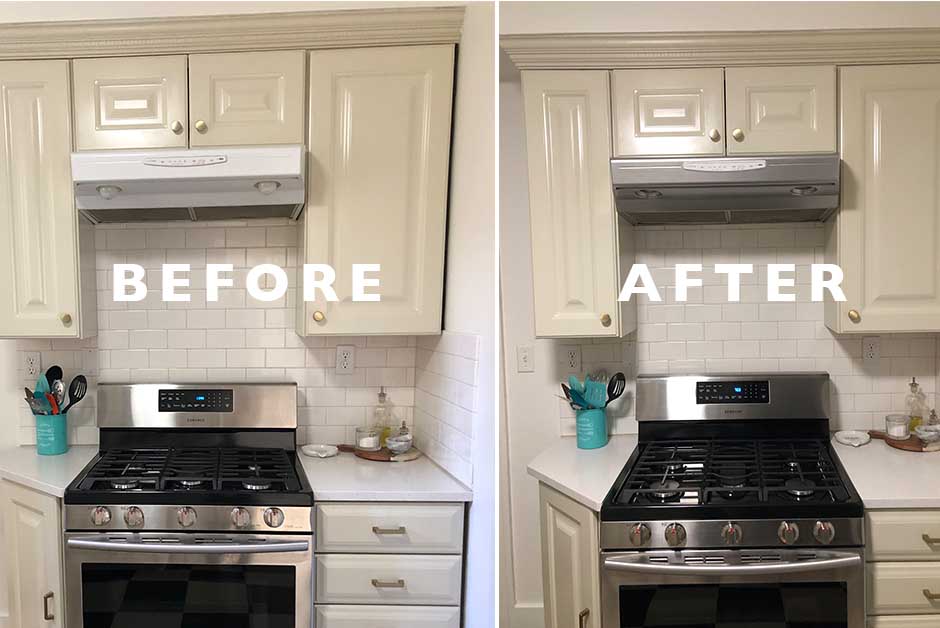 Final Thoughts
I will be raving about this product (not sponsored in any way!) for a long time to anyone who will listen.  It totally transformed an okay vent hood into something that actually looks like it belongs where it is and it really does like like Stainless Steel.  If I didn't tell you that it was painted, you probably wouldn't even know!
Tips:
Open a window – this stuff does get a pretty heavy smell after a while
Use a Small Paintbrush for Hard-to-Reach areas – there were a couple spots on the top of my range hood that I couldn't get to with the brush that came in the package so I used a very small paint brush for those areas.  They aren't visible areas so it didn't really matter but having a small paintbrush on hand would be handy.
Do this project on a day when you can be at home most of the day – I wish I had started earlier in the day honestly and instead started around Noon.  Leaving it to dry an hour in between each coat, made for a long day at home.  Be sure you can be home all day and do this project and don't have anything else planned or if you need to be anywhere else.
Buy it on Amazon – I've included a link below to buy the package of paints and brushes that I bought.  It was super easy to not have to look all over for a place that sells this and Amazon delivered it the following day after I ordered it – super easy!
*Just a note to say that some of these links I'm linking on this post are Amazon Affiliate links.  I want to always be transparent when I do include affiliate links as I hardly ever do.  But this specific project, I ordered all these items myself on Amazon so I thought it would be easiest to link them here for you if you want to tackle the same project!