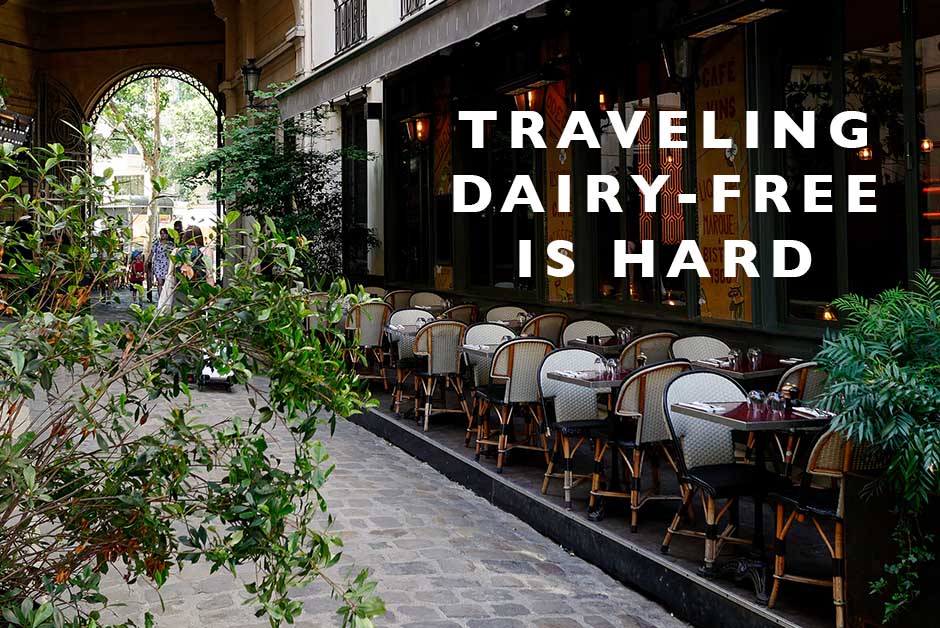 I shared a few weeks back that I went dairy free in the beginning part of 2019 and without a doubt, it's changed my life.  My health is so much better when I stick to a dairy free diet and when I'm home in Portland, whether cooking at home or eating out, I'm able to stick to doing no dairy in my daily life.  However, since going dairy free I've been on two major trips – the first to Europe in July about 3 months in to doing dairy free.  The second was our recent trip to Vermont and New York earlier this month.  And I will tell you, traveling dairy-free is hard.
I'm still learning how to be completely dairy-free in all honesty, but traveling makes it that much harder. I've always been a very non-picky eater.  I like pretty everything and there are very few things I would stay away from, particularly when traveling, which has always made it pretty easy for me to eat while traveling.  So these recent trips since going dairy-free have been completely different in that sense – no longer can we really eat anywhere, no longer can I really order several things on a menu.  I have felt pretty lousy coming back from both of these last couple of trips in all honesty, because at some point I just sort of gave up and ate dairy, which in turn made me physically feel horrible.  Unfortunately, this is my new reality and it will take some getting used to but I definitely have learned a few lessons in regards to going dairy-free while traveling and if, like me, you've had to give up an entire food group, these might help you as well to eat healthy while on the road and keep up your diet to feel the best you can.
Don't Expect a Destination to Offer the Same Items You Can Get At Home
At home, I have found that my favorite milk alternatives for cooking and my coffee are rice milk and coconut milk.  But when we travel, those plant based alternatives aren't always widely available.  I usually can count on Starbucks wherever we're traveling to have coconut milk for my coffee but in smaller locations, you might not be able to get what you get at home.  We're really lucky in Portland that most of our restaurants can very easily cater to different diets and substitutions, but that's not the case other places, even other places in the US so be prepared for that.
Figure out What Substitutes work for you
I've come to realize that what I might order or make at home, might not be available that way somewhere else so I've come up with other options and substitutions that I will still like.  For example, if a coffee shop doesn't have coconut milk, I've found they might have Oat Milk.  I don't like it as much, but it's a good backup.  For things like ice cream, especially when in Europe, they might not have a coconut milk based option like I get at home but most ice cream shops will have sorbet options and those usually don't have dairy.  Figure out backups to what you'd normally order and then go for those.
Bring Your Own Snacks
I honestly hate brining my own snacks when I travel.  I hate packing them, they get all crushed in a bag and they are just extra that I hate bringing.  But I'm slowly realizing that this will become a necessity for me from now on.  Whether it's a bag of dairy free popcorn or energy bars, having a few backups can be a really good thing.
Learn How Food is Cooked
One thing I'm learning in this process of eating dairy-free is that you have to have an idea of how food is cooked in order to actually be able to order properly in restaurants.  For example if you don't know that something is generally make with milk, you might order it and not even know there is a ton of milk in the item.  I cook a lot and I am pretty good at making things from scratch so knowing how food is made has really helped me develop a sense of what to order and not to order.
When in Doubt, find Asian food.
One of the saving graces that I'm finding while traveling, when in doubt and you can't find anywhere that looks like it will be dairy-free, find Asian food.  Asian food in general doesn't use very much dairy and in many "creamy" asian dishes in Thai cuisine say, it's usually cooked with coconut milk.  I actually find myself craving Asian food more now that I'm dairy-free, mostly because I can usually pretty much order anything on the menu there.
I've also found that for other types of cuisine, there are things that are easier to order.  For example, at Italian restaurants, I usually go for a red sauce on pasta which usually doesn't have dairy in it.  At Mexican restaurants, I lean toward a tostada or taco salad without cheese or sour cream.  It will take time, but you'll figure out what works for you and what doesn't!