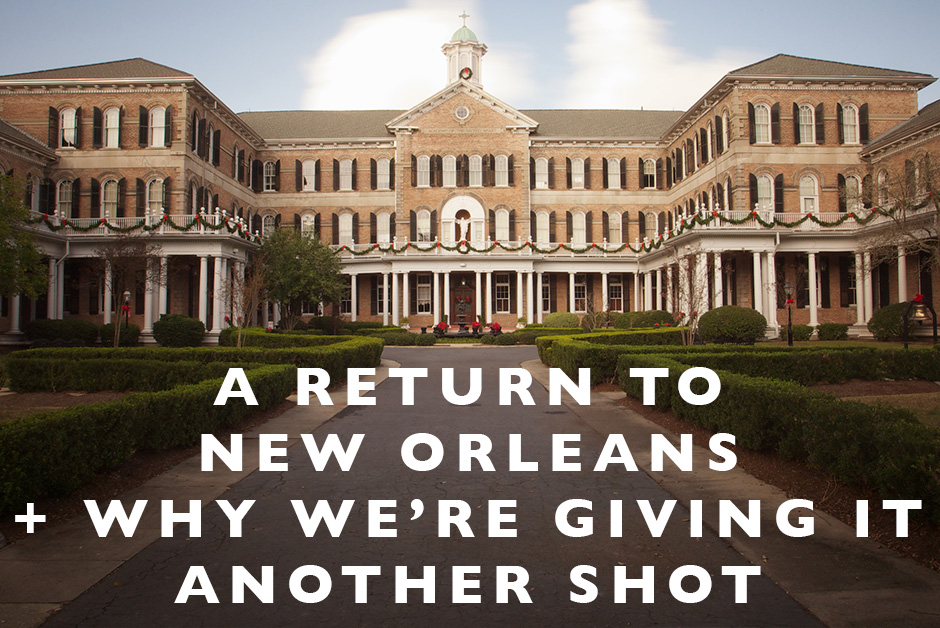 A few years back, we headed to New Orleans over Christmas.  It was the first time we had traveled over Christmas (not to see family) and after a not so great experience in NOLA, we're headed back to the city this weekend to give it another shot.  In truth, I didn't love much about New Orleans the first time.  It was hot and humid and the French Quarter smelled like alcohol and people were drunk everywhere.  But, I truly believe that travel is all about the way you look at it.  I had high expectations for NOLA the first time around, I thought I would love it because it's has such a French influence.  And while there were certain things I liked about the city (the food was amazing!), I had expected it to be completely different than it was and that ruined the trip for me.
Now as we're headed back, I find myself thinking about what I want out of this second trip.  First, we're spending less time in New Orleans itself (1.5 days) and then heading to Baton Rouge for work.  And as we go into our second trip to this part of Louisiana, I am going in with no expectations whatsoever.  If I like it, great.  If I don't, I know I gave it another shot and that's totally ok.
I'm a firm believer that you aren't going to love every place you travel and that's totally alright, but you have to really give a place a shot.  And because we had a bad experience the first time in New Orleans, I think to rightly form an opinion either way, I need to visit again with an open mind.  So we'll head to New Orleans this weekend to explore the city again, to take in the sites differently this time and to eat all the beignets.  And as I revisit a city that I had a hard time with the first time around, I'll remember that whether I walk away loving it or not, either way is alright.  Travel is all about experiencing things outside of your comfort zone and seeing a different way of life than you're used to.  As long as you're going with an open mind and learning what you need to, that's the point anyways.
So NOLA, show us your best!
Headed to New Orleans?
See more of our New Orleans content here!