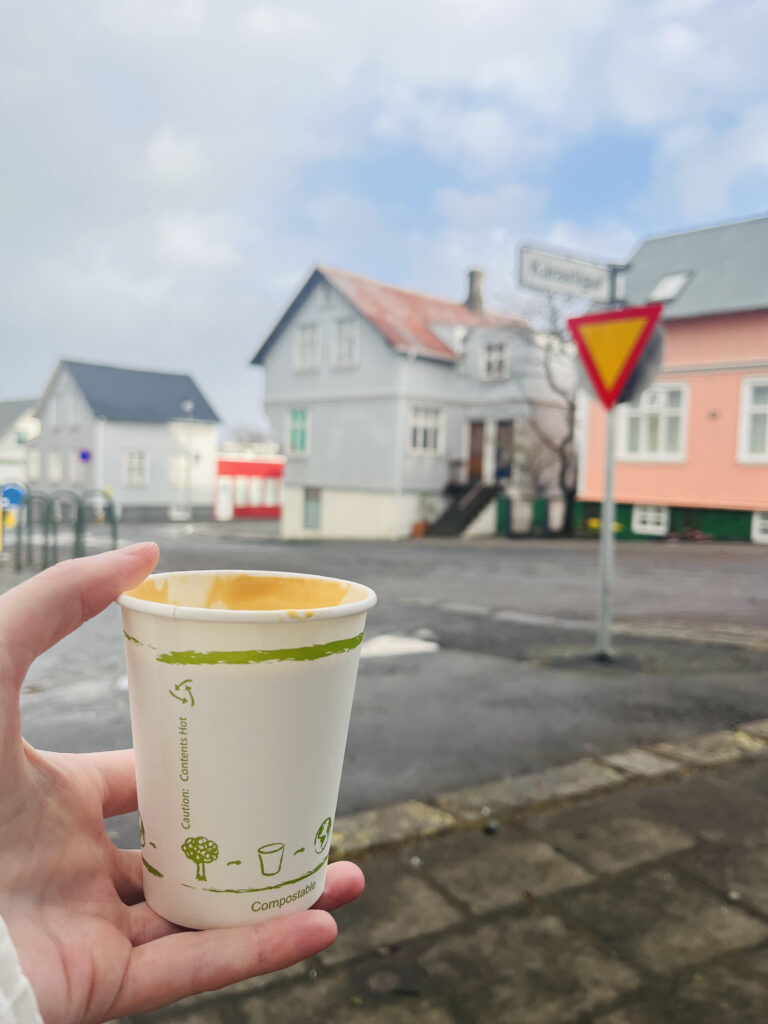 Over the years of visiting Iceland, the capital city of Reykjavik has really grown on me.  And while it's definitely not a "big city" in terms of Paris or London, it feels huge compared to the other towns and cities around the country.  It's in Reykjavik where you'll find the shopping and restaurants while you travel through Iceland, as well as a plethora of hotels and activities to partake in.  Over the years we usually stop through Reykjavik for at least 1 night of our time in Iceland and we've come up with a list of Reykjavik favorites for the city.  Next time you visit Iceland, don't miss some of these quirky and fun spots to enjoy!
Food
Krost at Hlemmur Mathöll Food Hall – This has become one of our favorite spots for dinner while in Reykjavik.  Sit at the bar top and watch the food being prepared while you sip on a great glass of wine.
Braou and Co. – This has become our go-to bakery in Iceland.  Go for their cinnamon rolls (which are amazing) but try everything else too.  They have an amazing assortment of vegan pastries which are delicious for me being dairy free and their rye bread is my favorite to bring home.
Reykjavík Roasters – This is THE Instagram spot in Reykjavik and everybody who's anybody has visited this chic hipster coffee spot.
Laundromat Cafe – This is another favorite for any meal of the day and offers a variety of items on their menu and a great location.
Eldsmiðjan – On our last trip to Reykjavik we were craving some good pizza so we headed out in search of a great option – much to our luck we found this spot near Hallgrimskirkja Cathedral and it was delicious!
Ítalía Veitingahús – This is an incredible Italian spot right in the center of Reykjavik that has become a new fave.
The Coocoo's Nest – This amazing spot down by the harbor in Reykjavik is the perfect brunch spot.
To Do
Hallgrimskirkja Cathedral – This is a famous building on the Reykjavik skyline and well worth checking out when in the area.
Shopping – Downtown Reykjavik is filled with quirky little shops and you'll find everything and anything you need.
Grótta Island Lighthouse – This cool spot at the tip of Reykjavik is great during the day to see some of the area around the city and great at night to try and spot the Northern Lights.
The Pond – In the downtown area of Reykjavik you'll find what is generally called "the pond," a body of water that freezes over in the Winter and is lovely in the Summer.  Wander by and take it all in!
Kringlan Mall – If you need to do a bit of commercial shopping on your trip or need to stop in at H&M or Topshop, head to Kringlan Mall on the outskirts of downtown for whatever you may need.
To stay
Tips for Reykjavik
Use spare change for parking meters – Wherever you park downtown you'll need to pay for parking at the meters!
Watch out for pedestrians – There are people everywhere these days in Reykjavik so when driving be sure to yield to pedestrians.
Explore the city but don't spend all your time here – The beauty of Iceland really is out in the countryside so while Reykjavik is lovely, to really get a sense of Iceland, be sure to explore out of the city as well.
Headed to Iceland? 
See more of our content on Iceland here!