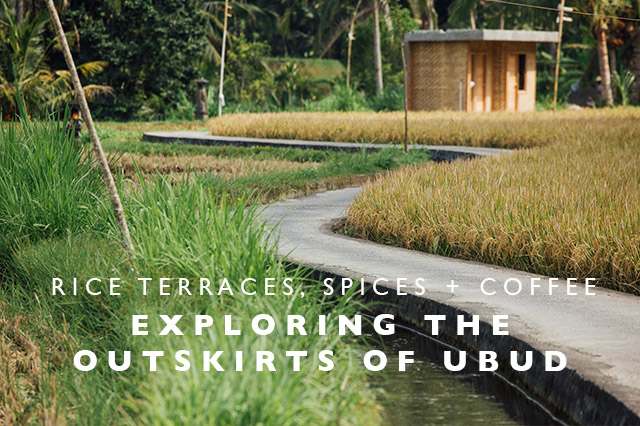 Bali is a beautiful place, but more than even just seeing the towns and cities that make up this island, the outskirts of those places are even more beautiful.  Driving from Seminyak to Ubud was perhaps my favorite day of our whole trip.
Before the trip, we knew we wanted to see Ubud even though we were staying about 1.5 hours away in Seminyak.  After reading Eat, Pray, Love years ago, seeing Ubud and the famous Balinese rice terraces in the area were high on my list for Bali.  So we hired a private driver through our hotel and headed out for the drive up to Ubud on our second day in Bali.  The countryside drive was gorgeous, rice fields upon rice fields, green as far as the eye could see.  We went through small towns and dense forests and I loved seeing the actual landscape of Bali.
After driving through Ubud to its outskirts, our driver/guide stopped at Bali Pulina, a spice forest with incredible aromas and views.  It was not planned on our end, but ended up being one of my favorite stops on the entire trip.  We wandered through a small forest of a whole bunch of spices growing, we taste tested local coffee, cocoa and lemon tea.  And to top it all off, the views were incredible!  For me as a baker, I love spices and I cook with them frequently.  So I made sure to stop off at the shop before leaving and stock up on cinnamon, cocoa, nutmeg and lemon tea.  And while it was a spontaneous stop, it was by far one of my favorites of the trip.  Seeing the outskirts of Ubud and enjoying the scenery is not to be missed on a trip to Bali!
Tips for Day Trips to Ubud's Outskirts
-Don't miss Bali Pulina – a spice forest and incredible views of rice terraces!
-See if your hotel can hire Gun as your guide.  We hired him through the Oberoi Bali but he works with lots of hotels.  His info: gun_balitour@yahoo.co.id / Phone: 0-81-238-18-498
Traveling to Bali?
See all of my posts on the island here!