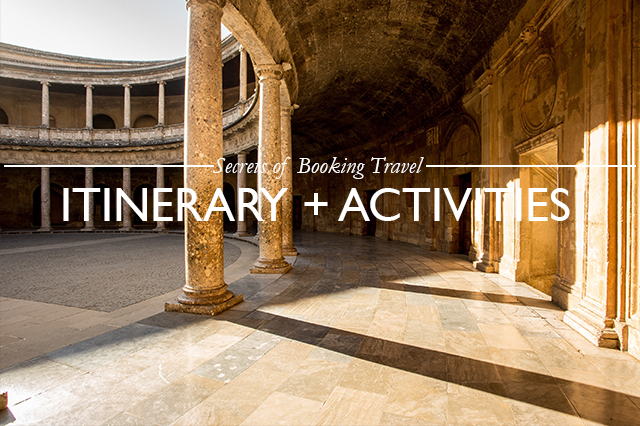 I get a lot of questions about how we book travel, the tips and tricks we employ to get good deals and make all the necessary arrangements.  All this week I'll be revealing my process for booking travel from start to finish, focusing on a different part of the process each day.  So stay tuned every day this week for my secrets to booking travel!
One of the best things about traveling is seeing things what you've always wanted to see or experience: seeing the Eiffel Tower, visiting the Taj Mahal at sunrise or wandering through Ta Prohm a la Tomb Raider.  But all of these amazing sites in the world also require some planning ahead of time; making an itinerary and planning activities is a really important part of a great trip, so here's how we do it!
1.  As soon as you know dates, lay out a rough itinerary.
As soon as we have booked our major flights and know our dates of a trip, I type up an itinerary.  Lay it out day by day, showing where you'll be each day.  This will help you figure out how long you want to be in each place during your trip and what days will be best to visit monuments or enjoy certain activities.  Down the road, this will also help you narrow activities down that may not be open on certain days and you'll have a rough calendar all laid out.
2.  Keep items not yet booked highlighted in red.
Once the itinerary gets more filled out with activities or travel to the next destination, I keep anything not booked yet highlighted in red so when I open up the file, I know immediately what I still have to do before the trip.
3.  Fill out your itinerary over time.
Since we book flights many months before a trip, that gives us plenty of time to fill out our itinerary.  I spend months filling in items to do or see, places to visit or restaurants to try.  It's usually only a month or two before we leave that everything gets finalized.  (I've included below a screenshot of part of our itinerary for our recent Spain trip so you can see how I lay it out).  Obviously, filling out your itinerary takes time and I do mine over the course of several months, when I have time to do the research.  I also include items like how much our taxi rides should cost so we'll know and include items that we've researched and want to see on whatever days they work best.  Of course, this is just a general overview and often we don't do everything on there, it just helps us remember when traveling what it was that we wanted to try to do in a certain place.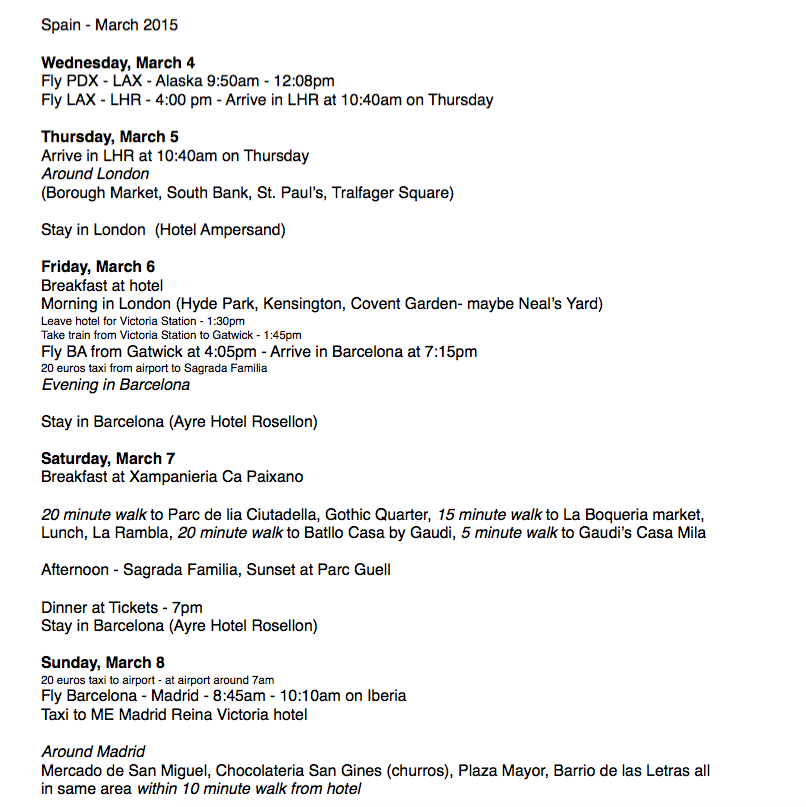 4.  Research activities and buy any necessary tickets.
Many activities while traveling require you buy tickets and often times, at the really crazy spots, it's a lot easier and you'll wait a shorter amount of time while there if you buy them ahead of time.  It's also important to know if certain activities are only open certain days.  Unfortunately there have been a number of times that we've not checked ahead and found activities or places closed or not had the right tickets.  Like the time on our honeymoon to Paris, we wanted to visit Versailles.  We had planned to go on a Monday, but the morning of, after a quick random search, we realized it happened to be closed that day.  Had we not checked, we would have ridden the 30 minute train ride out there and gotten there to find the Palace closed.  Or the time in Northern Ireland that we didn't check to see if there was a time that access to the Giants' Causeway closed and we drove all the way up there to find we had arrived 15 minutes too late.  We had to end up paying more to keep our rental car another day and go the next day, leaving us less time in Belfast than we had planned.  Therefore, do your research ahead of time for each major activity you want to do.
5.  Don't overbook yourself.
I've learned over the years how important it is to not overbook yourself.  It's all too easy to let yourself be overwhelmed by all there is to see and do while traveling.  A good lesson: keep at least every other day while traveling to just wander or relax.  Know that you don't need to see everything to really see a place, sometimes seeing the local spots and just wandering will teach you more than waiting in line to do a tourist attraction.