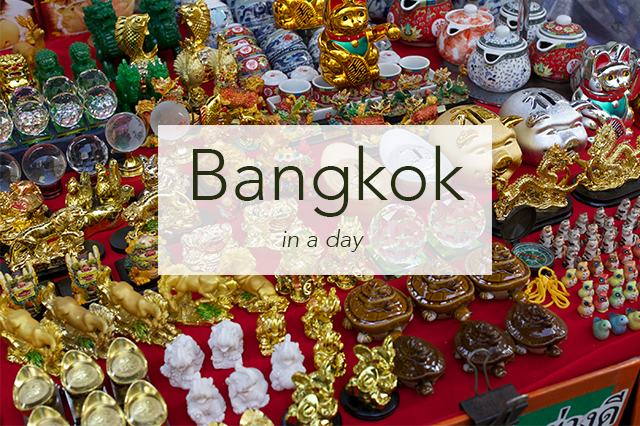 Due to random things lately, I've been thinking a lot about our trip through Asia last February and specifically about our time in Bangkok.  As I've mentioned before, I ended up really liking Bangkok and Thailand in general, something I wasn't sure would happen before hand.  Due to the nature of our trip, we ended up only having one day to explore Bangkok (as we used it more as a stopover en route to SE Asia from India).  But we saw a lot of the city and here's my suggestion to see the famous Thai city (as much of it as you can at least) in a day, if that's all you have.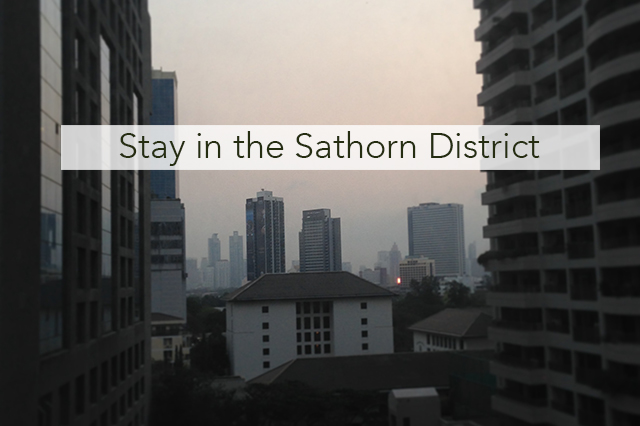 Because we were using Bangkok as more of a stopping off point in between India and SE Asia, we wanted a hotel that was in a city central location but also that was equidistant from both airports in Bangkok (both of which we used).  We ended up on the Sathorn District, a clean high rise area with great options for hotels.  It was also easy to get around from here with the light rail and taxi/tuk tuks.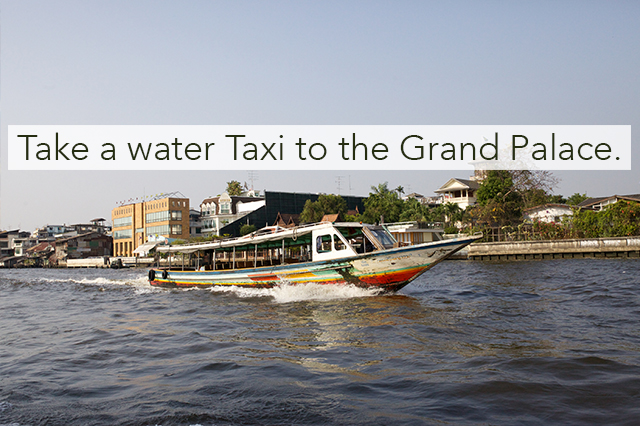 When you're ready to head out and explore, grab a taxi from the hotel and have them take you to the nearest water taxi dock.  Buy your tickets and jump on a boat, it's the perfect way to see a lot of the city while enjoying the cool breeze off of the Chao Phraya River.  I would suggest heading up to the area around the Grand Palace and Wat Pho.  We jumped off there and explored the area.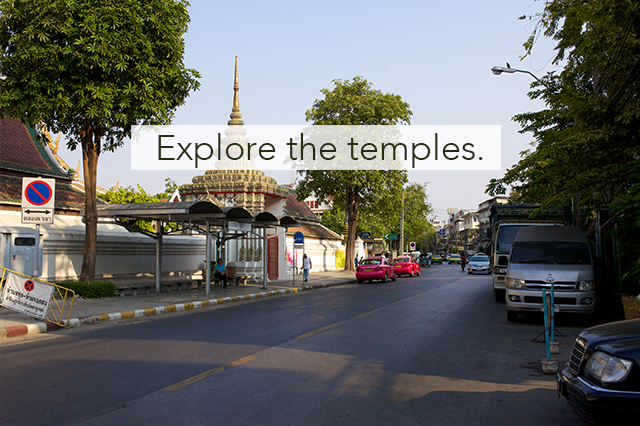 Once you get to the area around the Grand Palace there are architectural wonders all around you.  Take a few hours and explore.  Had we had more time we would have loved to go in all the temples and palaces in this area, but due to time constraints we just wandered along the edges and took in the architecture from the outside.
*Note: If you do go in the temples, make sure you check before hand as some don't allow you to wear shorts inside.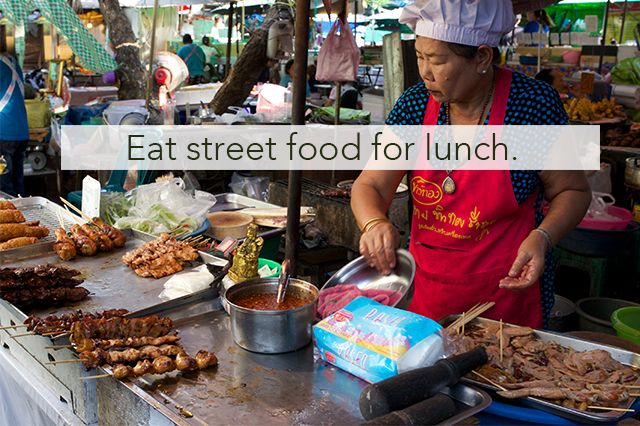 One of the most amazing things about Thailand is the food and the street food is no exception.  After wandering around the architectural wonders of the area, I would suggest grabbing a Thai meal for lunch at one of the many vendors in this area.  We found one with tables and indulged in delicious Pad Thai and Thai iced tea.
*If you're worried about getting sick, take a Peptobismal chewable tablet an hour or so before you eat and it will help settle your stomach.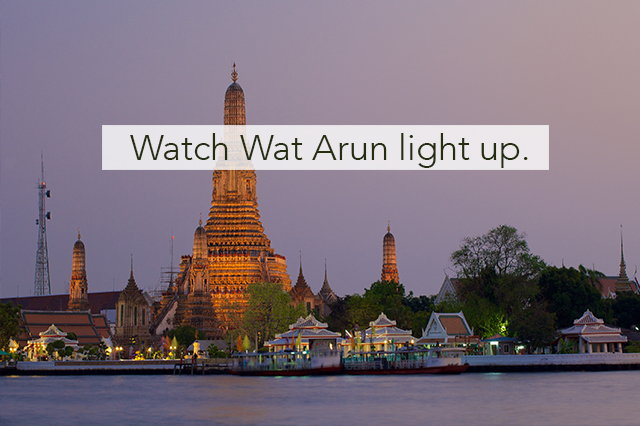 If you have the time, wait around for the sunset while you're in the area of the Grand Palace.  We found a small river-side park and watched the sun set over the city, sipping on Thai iced teas and taking in the glowing Wat Arun temple across the river light up as the sun sank lower.  It was one of my favorite spots in Bangkok and a lovely evening.  In the middle of this chaotic city, take a moment and just let it slow down for a bit.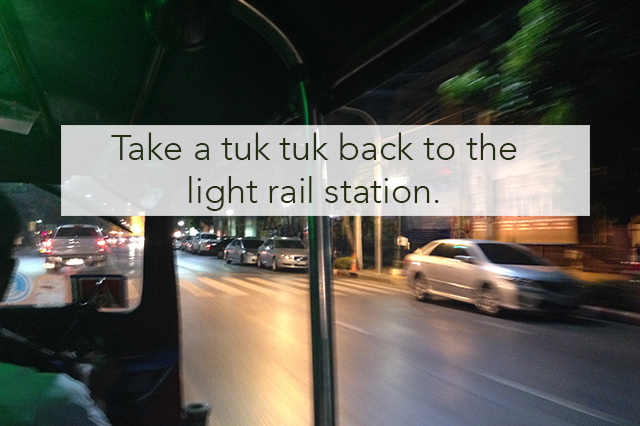 When you've watched the sun set and as the temperature cools as night falls, grab a tuk tuk and have them take you to the nearest light rail station.  It's a great way to see the city, especially at night when it comes alive.  You'll also be immediately cooled down as you speed (often very very fast) through the chaotic streets of Bangkok.  When you arrive, jump on a train back to the Sathorn district.
*Make sure to agree upon a price before you get in the tuk tuk.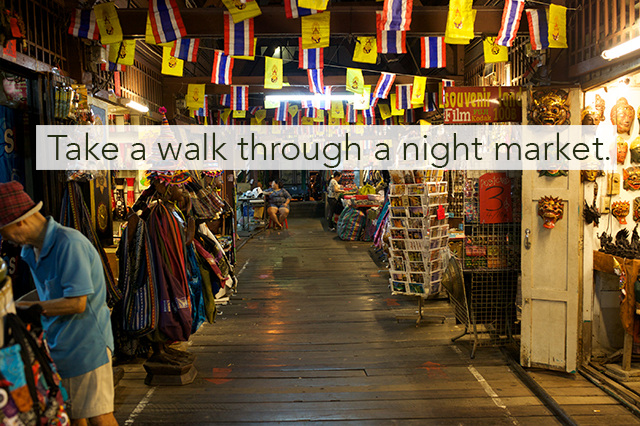 After you get off of your train, venture through the Silom Road night market as you make your way back to your hotel.  I always find it intriguing that Asian countries have seemingly perfected the night market, a way to shop for whatever you need in the cool darkness of night.  Pick up a few souvenirs and then make your way back to your hotel.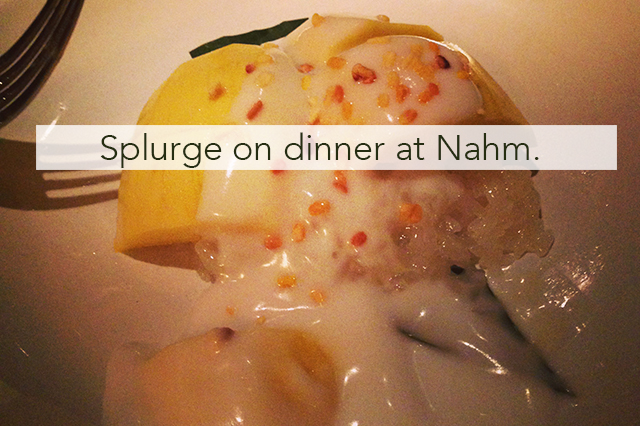 While Thailand does cheap street food greatly, it also does high end Thai food great too.  Finish off your day in Bangkok with dinner at
Nahm
, an upscale Thai restaurant in the Metropolitan hotel.  The atmosphere is great, the food delicious and finish off your meal with a Thai favorite: mango with sticky rice.
*If you want an after dinner drink or a view of the Bangkok skyline, head next door to the Banyon Tree Hotel's rooftop bar.  We didn't get a chance to go but I'm sure it's a fantastic view of Bangkok!
I know there is so much more to see of Bangkok than what we got the chance to see, but just a day in Bangkok left me wanting for more and I can't wait to get back and explore more of this lovely city!
Traveling to Thailand?
See all of my posts on the country!