Sophia Suites – Santorini, Greece
When we knew Santorini would be the last stop of our trip, I looked at a bunch of different hotel options.  When I came across the brand new Sophia Suites in Santorini with a Moroccan-style design, I reached out to them to see about hosting us for our stay.  They accepted and finally, we arrived at this Santorini hotel with views out over the typical white washed buildings and caldera views!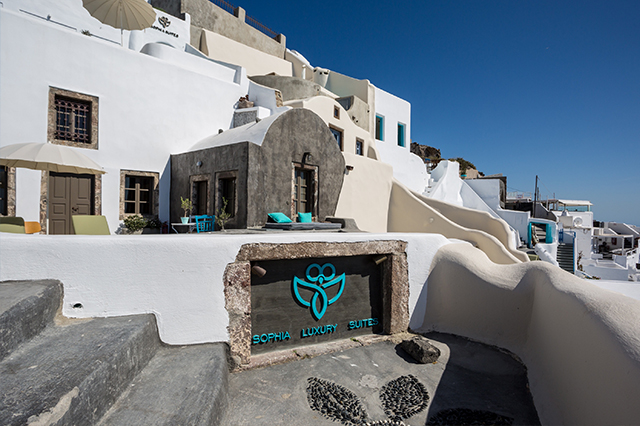 LOVE
Views- The views in Santorini truly are incredible and our hotel didn't disappoint for this.  Our balcony overlooked the cliffside with views out over the caldera and all of the island.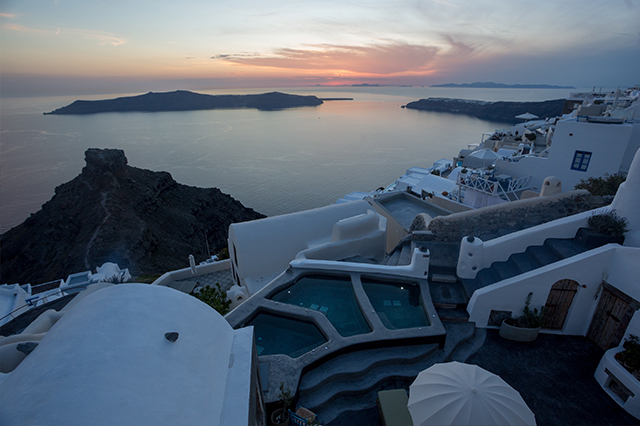 Comfortable Bed – We slept well for our 2 nights in Santorini!
Decor – This was one thing that drew me to the hotel in the first place and the decor was a mix of modern Greek and a Middle-Eastern/Moroccan type vibe.  In truth, our room didn't have as much of this decor as other rooms that I'd seen photos of on the website, but nonetheless, I enjoyed the decor.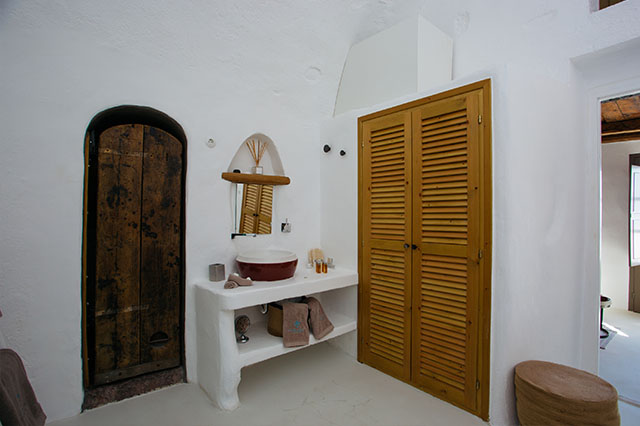 Breakfasts with a View – Each morning at the hotel, you get to choose from a menu of local favorites for breakfast.  We chose to enjoy ours on our balcony and the food was delicious.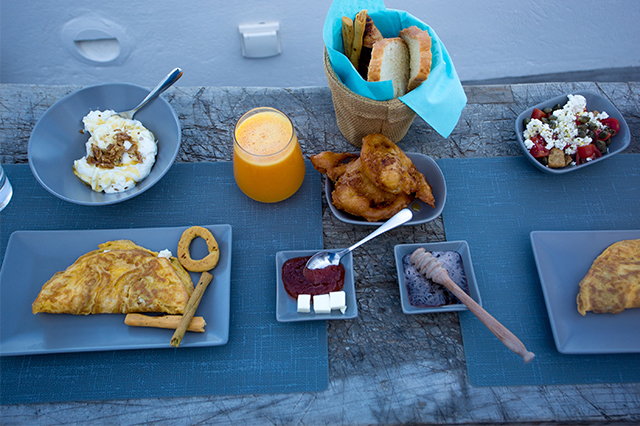 Location – When I was researching where to stay on Santorini, a lot of people recommend Imerovigli instead of Fira or Oia.  And while I could see how it would be maybe more convenient for restaurants in the other cities, we did enjoy the quiet local feel of Imerovigli.
DIDN'T LOVE
Shower – I think this was just our room, but still this was something that really bothered us.  Our shower was literally in the middle of the bedroom of our room and had no curtain or anything.  When we showered, we didn't have privacy and on top of that, water got everywhere and was just really annoying.  And the super simple solution would be for them to hang a curtain and it would have been fine, but the way it was just odd.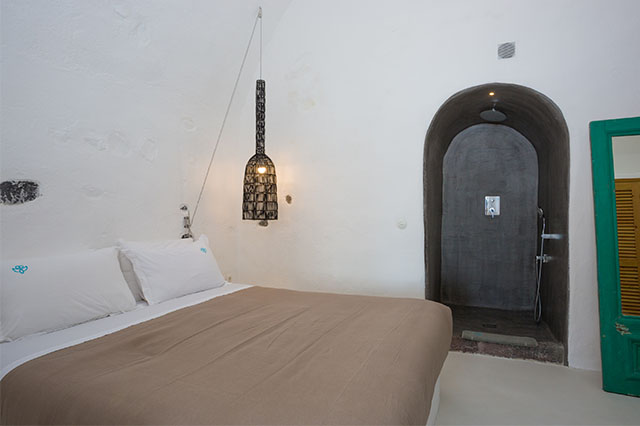 Toilet/Bathroom – On top of the toilet paper issue that I spoke about yesterday, our toilet in the room was in a tiny little cave with a cracked wooden door to semi-close it.  It again offered no privacy and was directly in the bedroom which seemed strange.  It also was really dark.
Noisy Hot Tub that wasn't hot – Our room had a balcony with what they called a "hot tub."  However, it was stone cold the whole time we were there.  It also was super loud and noisy, which one night sounded so loud we thought it was thunder outside.
TIPS
Have the hotel arrange to pick you up from the airport – We did this before hand and it was so much easier to have someone there waiting for you upon your arrival.
When taking taxis, have them drop you at Blue note restaurant –  The first day, we told our taxi the hotel and he dropped us in the completely wrong place.  Tell them to drop you at Blue Note Restaurant, which is right next to the hotel and everyone knows that spot.
Land of Marvels was welcomed to the Sophia Suites as a guest, though all opinions are my own for this review.  
Traveling to Greece?
See all of my posts on the country!