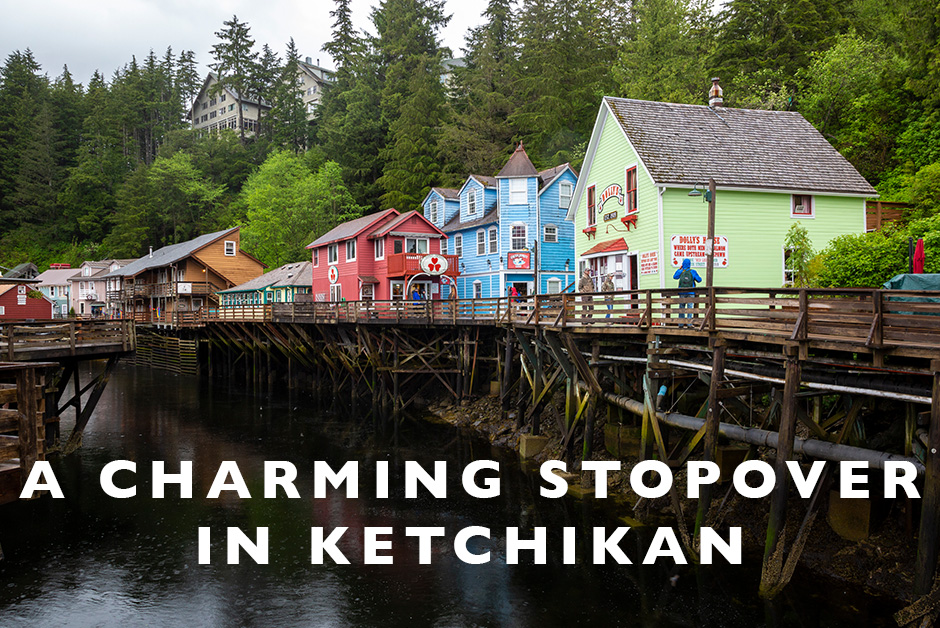 Our first stop on our cruise to Alaska was to the little seaside town of Ketchikan.  I knew a little about Ketchikan as some of our dear friends are from there, but even with what I knew, I was blown away and it was my favorite town of the cruise.  With cute little pastel colored buildings, lovely little shops and amazing local artists, Ketchikan was a great first stop on our cruise up the Alaskan coast.  We arrived into Ketchikan bight and early one morning and the cruise into the town was breathtaking with true beautiful Alaskan scenery.
We spent our time in port in Ketchikan just wandering the main area of the town including the cute little Creek Street area and the dockside souvenir shops and restaurants.  We bought some local art and huckleberry honey and then proceeded to a chowder restaurant for some clam chowder and fresh Alaskan halibut and salmon.  The day was pretty rainy, but the colorful buildings of Ketchikan made it feel so much cheerier.  I was so glad we didn't book an excursion that took us out of town on this first port day, as I loved just being able to explore all this little Alaskan town had to offer.  All in all, I loved Ketchikan and loved it for our first stop on the cruise as we headed North.
Are you headed to Alaska?
See more of our Alaska content here!