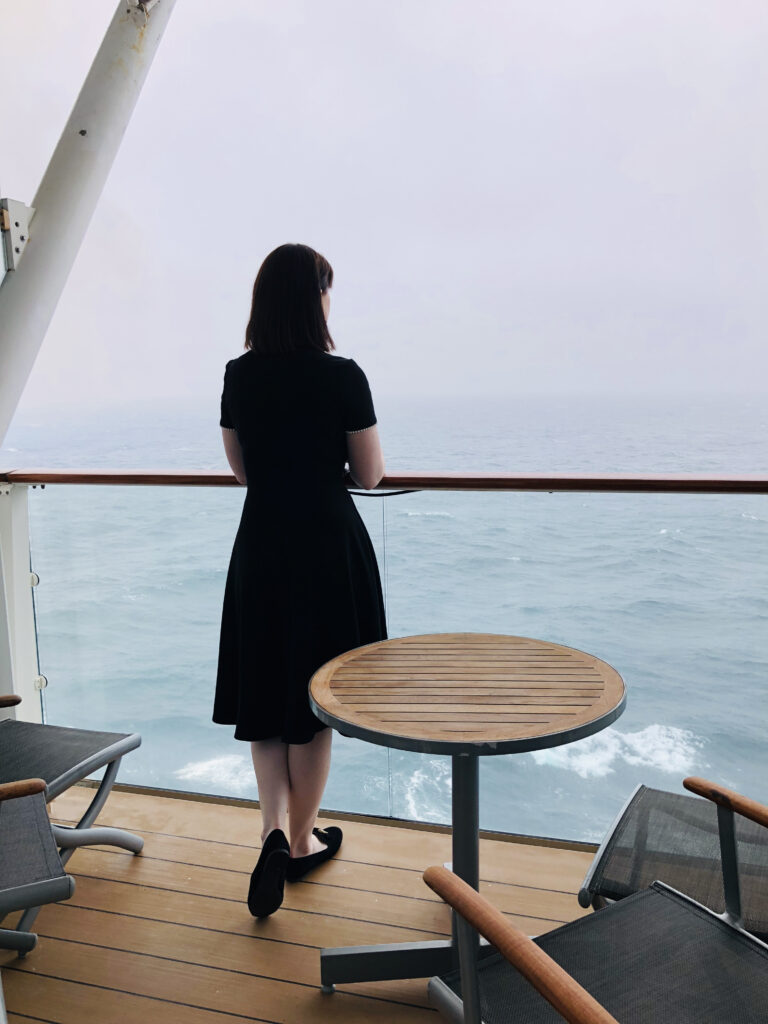 When I was packing for our cruise to Alaska, I had a really hard time finding any information or images from people my age for what to wear for dinners, especially the formal nights.  I read everywhere that Alaska cruises are much more casual than other cruises, but still, never having been on a cruise before, it was really hard to figure out what sort of outfits would work for formal dinners on our Celebrity cruise and what was appropriate and what wasn't. In the end, what I packed was perfect and should you find yourself in the same position I did in the future, I thought it important to offer my advice specifically for what to wear for dinner on an Alaskan cruise so you have information that I didn't!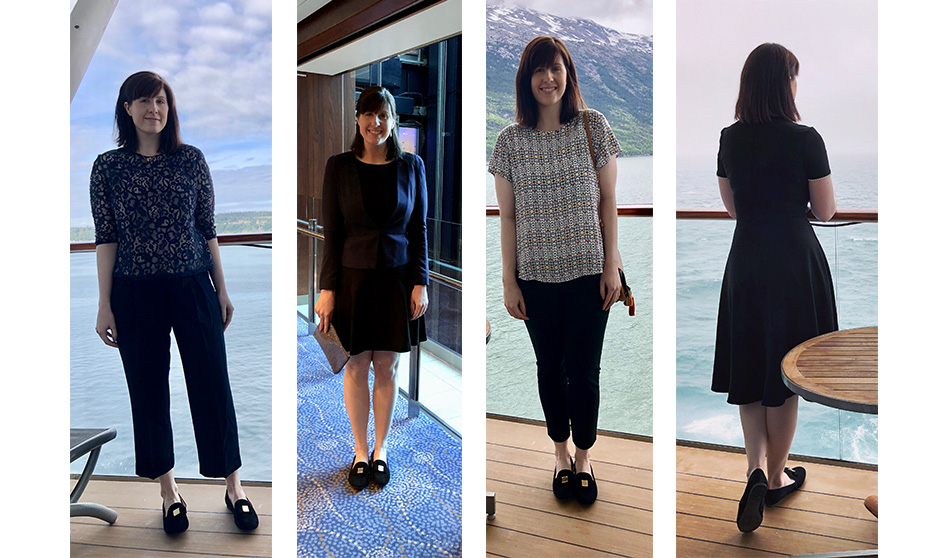 OUTFITS FOR DINNERS
Outfit 1 – Semi-Formal/Semi-Casual – Tuxedo style navy pants with a lace top
Pants Option 1 | Pants Option 2 | Pants Option 3 | Lace Top Option 1 | Lace Top Option 2
Outfit 2 – Formal – Black Dress with Blazer
Black Dress Option 1 | Black Dress Option 2 | Black Dress Option 3 | Blazer Option 1 | Blazer Option 2
Outfit 3 – Semi-Formal/Semi-Casual – Black pixie pants with a Graphic flow-ey top
Pants Option 1 | Pants Option 2 | Top Option 1 | Top Option 2
Outfit 4 – Black dress with pearl details
Black Dress Option 1 | Black Dress Option 2 
PEOPLE ARE GOING TO BE ALL OVER THE PLACE IN TERMS OF WHAT THEY WEAR
Not sure what to expect for formal dinner nights on a cruise, I had read that you'll see everything from very casual to tuxedos, and indeed, that was the case.  At one of our dinners, we saw one man come in the restaurant in ripped up jeans and a white undershirt to another man in a full tuxedo – both of which were seated and no one said a thing, so it really is sort of anything goes.  I found myself on the edge of overdressed most nights, but that's how I generally feel in normal life too, so dress how you feel comfortable.  In our experience, no one was turned away based on what they were wearing.
PANTS + A NICE TOP OR A DRESS ARE FINE
For women, a dress or pants/skirt and a nice top are totally fine and I wore both while on our cruise. I wore dresses for the more formal nights and then slacks and a dressy top for the "non-formal" nights to just be a little more dressed up for dinner when we went to the nicer restaurants.
FLATS ARE TOTALLY FINE (AND MOST COMMON) – NO NEED FOR HIGH HEELS
Before our cruise, I looked into the idea of bringing some heels (I barely ever wear heels in my normal life) and decided to just bring a pair of dressy black flats instead.  I was worried that I'd be underdressed in flats – but that wasn't the case at all.  Again, dress how you feel comfortable.  If you are more comfortable in flats – then wear flats and don't worry about it.
YOU'LL BE INSIDE THE WHOLE TIME, SO DON'T WORRY ABOUT BEING COLD
Another thing I wasn't sure about was if I'd need tights or jackets with my formal outfits due to the cold weather in Alaska – long story short – you'll be inside the whole time, from your state room to the restaurant so no need to worry about being cold.
Are you headed to Alaska?
See more of our Alaska content here!