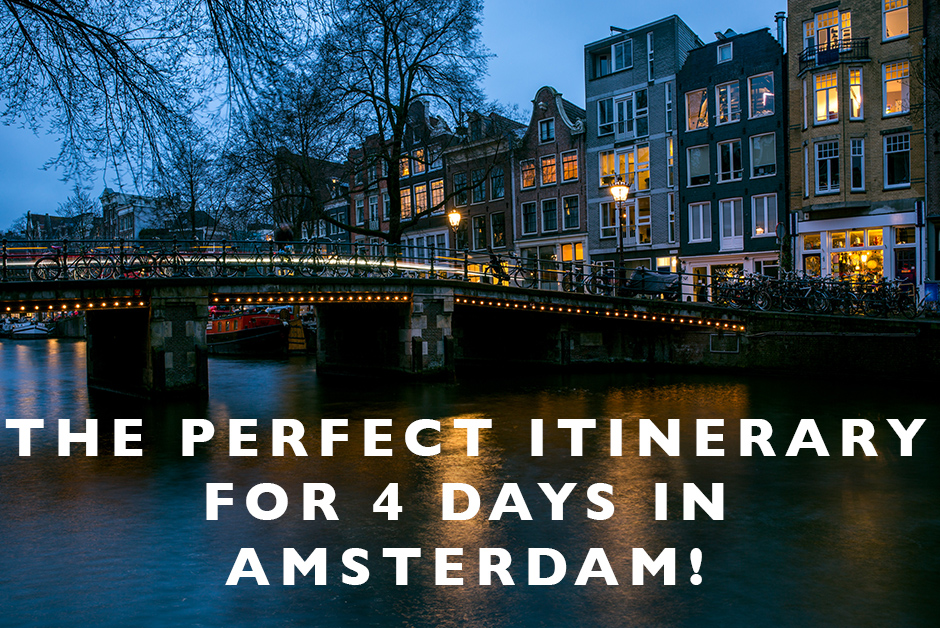 Oh, Amsterdam… the famous Dutch city of canals and stroopwafels.  Amsterdam is consistently one of my favorite cities to visit when traveling and the charm of its narrow streets, waterways and amazing food are all amazing reasons to visit!  A while back when I posted my new free itinerary download for 4 days in Paris, one of my lovely readers Vannesa requested I do an Amsterdam itinerary as well!  So here we are… the perfect itinerary for 4 days in Amsterdam!
DAY 1 : EXPLORE THE NINE STREETS + the JORDAAN
Arrive in Amsterdam! 
Take the train from the airport Centraal Station in Amsterdam and then walk to your hotel OR grab a cab at the airport and drive in.
Check into the Pulitzer Amsterdam.
Do a quick outfit change, freshen up and head out to explore, starting with breakfast at The Pancake Bakery.
After breakfast, wander the Nine Streets + the Jordaan
Don't miss stops at the Anne Frank House, and the canal-side cafés along the way.  Be sure to stop for stroopwafels for a snack!
Around dinner time, find a spot to enjoy a long leisurely dinner and watch the sun set over the canals.
DAY 2 – EXPLORE THE MUSUEM QUARTER + VONDEL PARK
Start early with breakfast at PANCAKES AMSTERDAM near the hotel.
Indulge in Dutch pancakes with every topping imaginable!
Head off to see Amsterdam's famous museums!
As you head toward the Museum Quarter, choose which museums you want to visit.  Don't miss the I Amsterdam sign in this area and a photo-op!
After a morning in the museums, head to Vondel Park for an afternoon stroll.
This large open park will hold your attention for hours as you stroll through and take in the natural beauty of this area!
Head to the De Pijp area for dinner!
You'll find this area a little grittier but still super charming!  Wander to Mangiancora for dinner and once you taste their pizza, you can thank me later!
DAY 3 – EXPLORE CENTRUM
After a fun filled first couple days, maybe room service at your hotel will let you sleep in a bit on Day 3.
Start by heading to downtown Amsterdam, the Centrum Area is a bustling area full of tourists, but well worth spending a couple hours exploring.
Then make your way toward the Central Flower Market to take in all the Dutch tulips you could possibly want!  Stop at a cheese store in this area as well and pick up some Dutch Gouda cheese to much on later.
At sunset, head back to the Nine Streets to watch the bridges light up!
Right as the sun sets and the city goes dark, find a spot near one of the bridges in the canal district to watch as the lights like up and illuminate the city!
DAY 4 – TAKE A CANAL CRUISE
Spend your final day in Amsterdam seeing more of the city by boat!
I like to spend my final day somewhere seeing more of the city without having to be on foot and Amsterdam is the perfect city to see more by boat!  Buy a ticket for any of the boat tours and enjoy a leisurely tour of this gorgeous city!
Traveling to The Netherlands?
See all of my posts on the country!