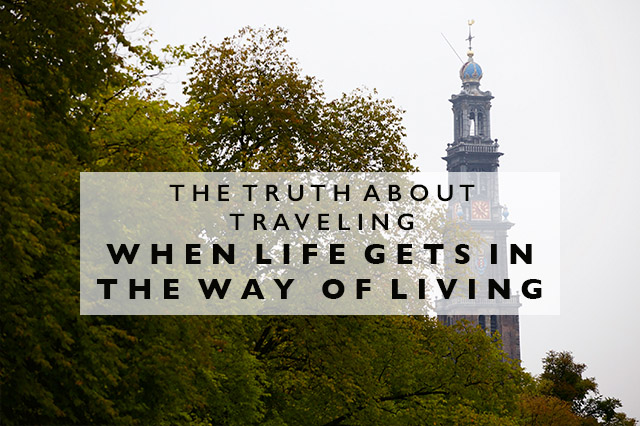 Our trip a couple weeks ago to Amsterdam was a very spontaneous one for us, booking only a few weeks prior to our travel dates, which we hardly ever do.  But to give you a sense of why we booked it, it had everything to do with needing some time together, just Nick and I, and forcing ourselves to take a break from work.  This Summer has been insanely busy for us.  Nick recently took a big promotion which has had him crazy busy with work as well as having a handful of photography jobs throughout the Summer.  I started teaching part time at a local Art college, on top of managing a handful of projects in Korea, as well as finishing up construction on all of my own design projects in Hawaii and managing my own business.  Add to that keeping up to date here on Land of Marvels, traveling for work and the general craziness that Summer seems to bring, to say the least, we've been  insanely busy.  Even our few Hawaii trips have been work pretty much non-stop while there.  There have been a ton of nights spent late at the computer for both Nick and I, and while we do love being busy and we both love our jobs, the past few months have been a little crazy even for us.
In late July, it sort of hit me: we were spending all this time trying to get ahead in our professional lives and barely making it through the week, only to start again the following week.  Our lives were go go go, but we weren't making the most of each day or really living.
So when we decided to take a break over Labor Day weekend, we knew we needed someplace far enough away that would force us to stop and really take it in.  It needed to be someplace with a direct flight and someplace that we could really sign off.  So even though our trip to Amsterdam was way more than I would usually spend on flights for a quick weekend and it was really only 2.5 days there and it might seem extravagant to some, we spent the weekend wandering the canals and eating Dutch waffle cookies and spending time together, no work, no emails, no craziness, and for us, it was entirely necessary.  The truth of the matter is, sometimes life gets crazy, sometimes you and your partner feel like you see more of everyone else than each other, sometimes life gets in the way of living.  That's exactly what happened to us this Summer and that's exactly why we splurged on our long weekend in Amsterdam.
I truly believe in working hard, in pushing yourself.  But at what cost?  Sometimes our lives start to unravel, sometimes that stress of keeping up at home and work and general life can get to the point where you just have to hit reset.  That's what Amsterdam was for us, a reset, a refocus to what's important in life.  Because at the end of the day, when life throws you in a hundred different directions and takes every ounce of energy you have, sometimes you truly just need a change of scenery to clear your head and wander the canals of Amsterdam with the one you love without a care in the world.