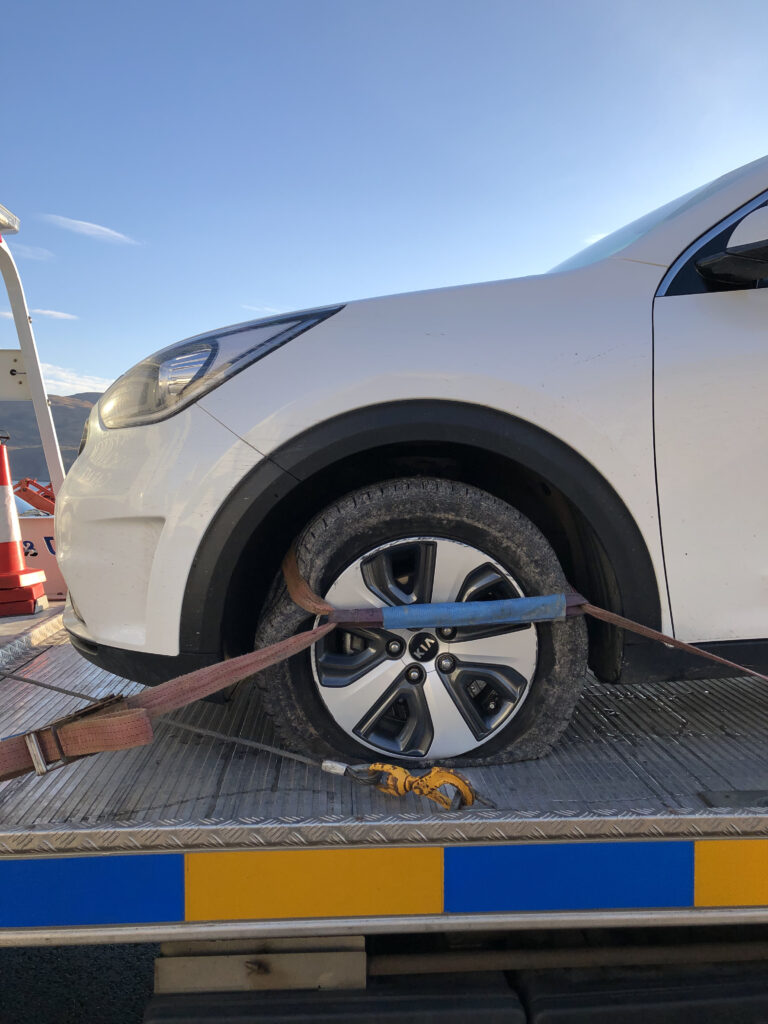 A lot of people look at travel as a luxury, where you're sipping cocktails on beautiful beaches or on a vacation where you get to escape all of your daily problems.  And while sometimes, travel can be that way, it's also important to realize that things go wrong while traveling too and it's important to know how to handle situations when they arise.  I travel a lot compared to most people and I've been incredibly fortunate over the years to only have a handful of major things go wrong during my trips, but when I look back at some of the incidents that occurred (most recently a flat tire on our rental car on our recent trip to Scotland), I realize how important it is to know what to do in those situations and how to handle them, especially when in a foreign country or when there is a language barrier.  So here is my best advice for what to do when things go wrong while traveling.
When Something Goes Wrong with Your Rental Car
We've actually been pretty lucky over the years with how many cars we've rented while traveling and never had any issues or damage while driving them.  Until this past trip to Scotland a few weeks back when we got a flat tire while driving from Inverness to the Isle of Skye.  Ok first, this wasn't just a leak in the tire, it was a full flown out flat tire.  Second, it was on a stretch of road in the middle of the highlands of Scotland with not much around for miles.  And third, it was my first flat tire ever in my life.  As the driver, I immediately pulled over so as to to drive on it very far and damage the car further.  In the end, it didn't end up being that big of a deal and Hertz was super easy to deal with and got us towed to a town about 30 minutes up the road who fixed the tired and sent us on our way.
Here's what I learned from this situation:
Buy the full insurance on rental cars if at all feasible with your budget.
Pay for the rental car on a credit card that offers insurance coverage.  I have submitted my claim to my Chase Sapphire card to see if they'll cover the charges which were about $100 and haven't heard back yet, so we'll see!
Pull over immediately after something happens and don't try to fix it yourself.  Call the number the rental car company gives you and go through them to do what is needed.
Stay calm and realize that everything will work out.
When Something Goes Wrong with Your Flights
Again, Nick and I have been pretty fortunate over the years and haven't had too many flight debacles but a couple years back when we went to Peru, we arrived at the airport in Cusco to find out our flight to Lima (where we would connect to our flight to LAX) was just suddenly canceled without reason and all the other flights to Lima for the time period we needed were completely full.  Suddenly we were standing in the little Cusco airport trying to figure out how to make it home.  Long story short, in my broken Spanish and our booking agent's broken English we were able to get ourselves to Lima later that day, pay for a hotel that night in Lima and then pay to change our flights home to LAX for the following day.  It added an extra day to our trip and ended up costing a lot of money, as well as a lot of stress but we did get home eventually and we look back on that story and laugh now.
Here's what I learned from this situation:
Always double check flight updates the day before, especially when in a foreign country and have a tight connection.
Stay calm.  This issue really threw us out of our comfort zone but in the midst of it I realized that being upset or stressed wasn't helping anything.
Fall on your instincts when in need.  After we spent about an hour trying to remember my high school Spanish and getting our flights rebooked for the next day, I immediately fell back in what I do best: organizing.  We got our boarding passes, used my Priority Pass membership to check into the airport lounge and used their free Wifi to rebook all the other items necessary for this mess.
Sometimes, you won't get compensation.  Airlines are notorious for skimping out on compensation for things like this and even though we had travel insurance for that trip, we actually got nothing back and felt very cheated over the whole thing.  It ended up costing us close to $1000 and we had to pay it all out of pocket, even though it wasn't our fault.  So just know that sometimes when things go awry with the airlines, you might not get anything back even when you feel owed.
When Something Goes Wrong with Your Hotel
I find hotels are usually the easiest to deal with when something goes wrong out of all the travel industries.  I've had several things go wrong with hotels over the years, whether needing to get out of a booking last minute or leaving a hotel early and every time, I've been able to figure something out something to get my money back or change plans.  Last year in Iceland, we were staying in the South East part of the country and due to severe weather, we needed to get back to Reykjavik earlier than we had planned.  And while I had booked our 3 night stay on Hotels.com and not directly through the hotel, the hotel was actually very easy to deal with as was Hotels.com and we were able to head back to Reykjavik as well as get the money back for our last night.  Usually, as long as you have a decent reason, hotels are willing to work with you.
Here's what I learned from this situation:
Be nice.  The people working in the hotel deserve your respect and kindness and that will go a long way to help you in your situation.
Have all of your reservation information handy.  Usually I book my hotels through Hotels.com, so I always pull up all of the reservation information on their site to help the front desk staff at hotels with any info they might need to help me out.
If you're not pleased with a hotel stay, be sure to tell a manager.  Nine times out of ten, when I have had bad hotel stays or things arise, when I go directly to a manager, they are able to help me out.