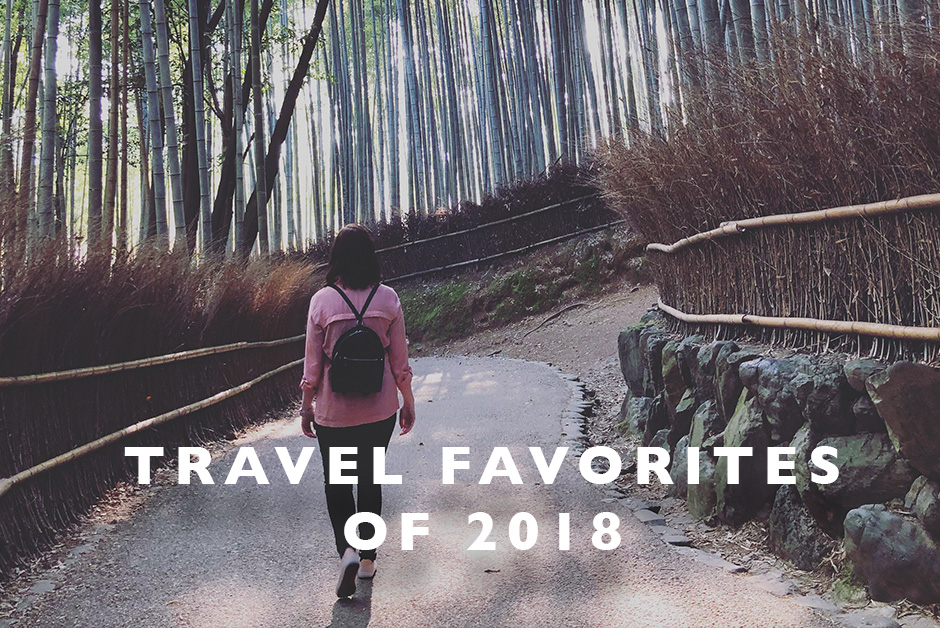 This year was little different for us in terms of our travels.  We traveled a decent amount but in different ways to see how those changes made us feel.  We still saw a lot, but slowed it down a bit and spend more time in each place.  We also returned to several places we've been before and saw less new destinations this year.  All in all, was this my favorite year of travel?  No.  But many lessons were learned and each trip and each destinations taught us something new.  And along the way, there were still many amazing travel memories made and here are some of my travel favorites of 2018.
Favorite Travel Moment 
In the Spring this year, we headed to Hong Kong while en route to Japan.  Hong Kong has been high up on my list for a long time and I was so excited to make it a reality this year.  But to top it off, my parents were in China for a week prior to our trip and we all met up in Hong Kong before they headed back to Hawaii and Nick and I headed to Japan.  It was so much fun meeting my parents in a foreign place and exploring with them and I think that's definitely one of my top favorite moments of the year this year!
Favorite Reoccurring Travel Moment
Every time we book a trip with a stopover in London, I do it mostly because London is familiar to us and it's easy.  But this year when we got to spend 4 days there on the front and back end of our trip to Scotland, it reminded me yet again that I love the city so so much and yet when we leave, I always forget how much I love it.  London is a wonderful familiarity for me, it's where we honeymooned and where we've visited several times over the years.  Something always awakens in me in London and I absolutely loved our return to the city this year.
Biggest Travel Surprise 
Charleston has been on my travel list FOREVER and I was so beyond excited to get to visit this year.  Upon arrival, I knew immediately how much I was going to love it but going into it, I wasn't sure.  I came out of that trip in love with the American South and can't wait to get back to that area to explore more.
Worst Travel Moment 
After falling in love with Alaska a couple years back, we really wanted to return this year and decided to do an Alaska cruise to see more of the state.  In short, I really didn't love cruising and spent the majority of the week on board the ship dizzy and sea sick.  I still love Alaska and would love to see more, but I'm pretty sure cruises aren't for me.
Best Hotel Stay 
This might have to be a tie between our massive Presidential suite at the Tokyo Station Hotel in Tokyo on our last night before heading home which we had no idea how we got (we definitely only paid for a standard room) and the giant suite we got in the heart in the French Quarter for my birthday in New Orleans at the Chateau Lemoyne.  Both were total luck of the draw and while we only paid for standard rooms at each hotel, it was so fun getting to indulge in these huge suites for both of these stays.
Most Emotional Travel Moment
In Scotland a few weeks ago, we got a flat tire on our rental car while driving through the Highlands and while everything worked out and it wasn't a big deal, it did bring up lots of feelings.  I've been overall fairly lucky on all my travels with things not going horribly wrong, but in a moment like that, you realize that you're so so lucky that nothing worse happens.
Most Beautiful Scenery
While I love a natural scenic moment, I think this year one of most scenic moments I remember was watching the sunset over the dramatic skyline of Hong Kong with my parents and Nick.  Watching as the sky turned colors and the lights shone out over the water, sometimes a manmade panorama is just as beautiful as a natural one.
Favorite Landscape
This, I think, has got to go to the Highlands of Scotland.  I've had this area on my travel list for years and thoroughly enjoyed seeing it this year.  With each day of driving, the landscape changed and shifted and felt totally unique for the area we were in.  The Scottish Highlands are truly one of the greatest and most beautiful landscapes on the planet.
Favorite Country
While we visited a few different countries this year, I think that I might have to do another tie for this one.  We got to return to Japan which is such a favorite country of mine in general and I always love our time there but I might also have to say the UK as we so enjoy our visits to London and Scotland always.  Both are places we've been several times and we always love them so much and they just became more and more favorites of ours this year!