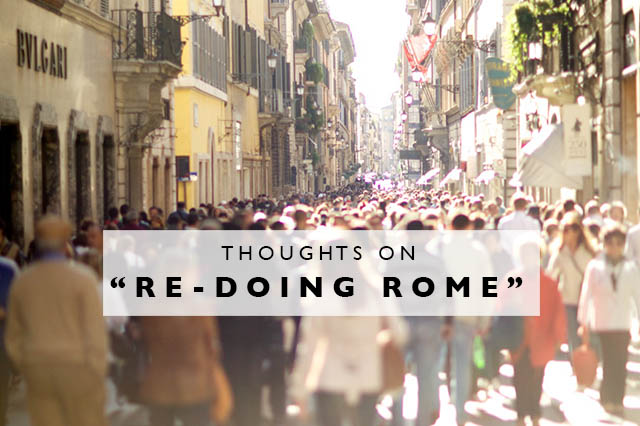 In just a few days we'll be back in Rome, after spending a few days in my beloved Paris.  Ahh Rome, this famous city conjures up a lot of memories for me.  A few years back (four-ish actually), when we returned from our honeymoon to London and Paris and Nick got his first taste of International travel, the next city on his list to see was Rome.  I wanted to see it too and to experience Italy, to have amazing food and wander the cobblestoned streets of ancient Rome.  So we booked a trip.  And then it seemed all Hell broke loose.
Still to this day, I've never had quite as horrible of a travel experience as we did en route to Rome that fateful October a few years back and it left a permanent stain on the city of Rome, through no fault of its own.  Long story short, we flew Air Canada from Portland to Toronto, Toronto to Rome.  Before knowing our favorite travel routes at that point, we landed in Toronto to a huge worker strike by the Canadian equivalent of TSA.  Which meant planes couldn't take off because no one could get through security, so planes landing, like us, sat waiting for gates for hours.  That would have been bad enough, but later that evening when our flight to Rome was about to take off, we boarded, got out to the runway only to then be turned back due to mechanical issues and have the flight canceled.  At this point, we're in a different country (cell phones didn't work without fees), were left in long lines to get rebooked and then eventually shuttled to hotels.  To make matters worse, because of the security workers strike, it was taking on average 2-3 hours to get through security, so we ended up getting to the hotel, sleeping a couple hours and having to be shuttled back again so we'd have time to get through security for our rescheduled flight.  Eventually when we did make it to Rome, we had lost a couple days of our trip and had a horrific experience getting there which took away from our vacation.
So while our days exploring Rome that first time were fine, we were tired, annoyed and not in the right frame of mind to enjoy the city thoroughly.  Add to that that we were new travelers, we made all the wrong choices like lunches in the high tourist areas (which were terrible) and seeing the famous sites in the middle of the day (hello crowds).  So this time around, I feel like I'm finally ready to experience this famous city as it should be.
We have our few days there hardly planned, left more for quiet wandering, catching the sunrise at Piazza Navona and the sunset on the Ponte Sant'Angelo.  We'll be taking local suggestions for restaurants and finding tucked away spots that aren't tourist traps and exploring away from the crowds.  This time, I want to embrace all that Roma is truly about, I want to see it, I want to feel it, with fresh eyes and a fresh heart.
Sometimes places we visit don't stick with us for one reason or another the first time we visit.  Rome was such a place for me.  I had a hard time with it.  But this time, knowing what to expect, I hope I can fall in love with it, I hope I can fall in love with Italy and experience all the magic I know it has to offer.
Traveling to Italy?
Check out my archives for more posts on Italy!