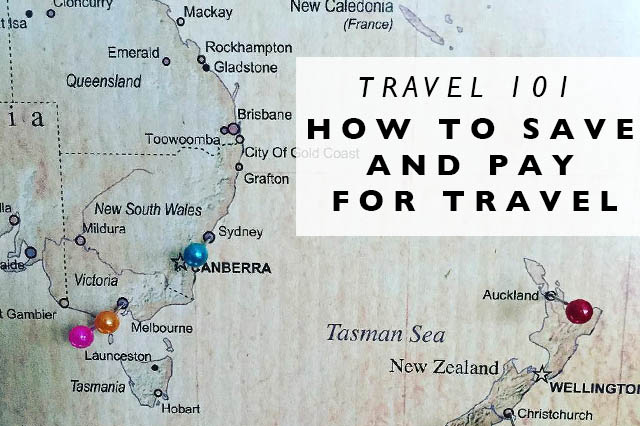 We are currently exploring some of favorite (and some new) spots in Europe this week, but while we're away, one of the goals of Land of Marvels is to offer advice to those of you who want to travel in order to get to that dream destination yourself.  So this week, in Travel 101, we're touching on the basics of how to travel, what to do once you get there and everything in between.  So follow along and welcome to Travel 101!
It's no secret that Nick and I travel a lot each year and that travel costs money.  And while we've gotten really good at using points to travel all over the world, there are still a lot of trips we pay for in full.  It can really add up if you're traveling a lot and for us, we don't enjoy travel as much when we skimp on it, so it's worthwhile for us personally to spend a little extra for an experience we enjoy.  So what does that mean?  It means we've gotten really good at saving money to be able to pay for travel.  And today, here are my best tips to help you save and pay for travel as well so that amazing trip is within your reach!
Start early.
One thing that really helps us is to start planning and saving for trips way ahead of time.  In general, our big trips are planned at least 6 months ahead of our travel dates, so that gives us a full six months to get everything paid off and save for money while traveling.  When we book a trip, if we don't have the money saved yet, I'll put the flights and hotels on one of my travel rewards credit cards (my favorite is my Sapphire Visa), and then every month I'll pay it off as I can.  This makes it really nice because once that trip does come around, all you have to worry about paying when you get home is any expenses during the trip.  But by starting early and planning ahead, you can have the majority of the trip paid off before you even leave.
Don't touch that fund.
Once you start saving, don't draw from that fund.  Personally, I have a separate travel savings account and whatever money goes in there, is ONLY used for travel.  I don't grab money from that account for anything else.  It helps me to have a separate account, but however it works for you, keep an idea of how much you have saved for travel and don't touch it until you're planning a trip!
Put big chunks away at once.
For me, a lot of my side jobs (which we'll talk about next) pay be in large amounts all at once instead of salary type increments, so another great way to save quickly for travel is to put large amounts away in savings all at once instead of saving a little at a time.  If you're able to, big chunks of money can go a long way quickly, but make sure you can afford to be putting that much away and not hindering your daily expenses.
Get a side job.
I've mentioned this multiple times here on LOM, but Nick and I both have day jobs as well as multiple side gigs.  I have my own design business plus part time teaching in addition to my day job and Nick does photography in addition to his full time job.  The money we make from those side jobs primarily goes to our travel fund and is what we use to fund the trips we take each year.  I always like to stay a year ahead, so when we can, I like to have the next year's worth of travel money in my savings account by the end of the year, so we're always saving for future travels.
Auto transfers into savings.
Another great way to make sure that you can save enough money for a trip is to set up auto transfers through your bank.  Maybe you save $100 per month or perhaps you can do less or more, whatever works for you, every little bit helps!  And this way you won't even have to worry about doing it yourself, the bank will auto transfer it however you set it up.
So how much should you save?
Many of you reading this are probably wondering then, "ok, so how much do I need to save?"  For us, a good rule of thumb for a 10 day trip overseas (including hotels, airfare and daily expenses) is between $3,000-$5,000.  We are not budget travelers, so this is including nice hotels, good airlines and eating out a lot during our travels.  So if you want to cut that back by doing a more "budget" trip, you very well could.  But for a good starting point, I'd say the above should be a good figure to go with to get started!