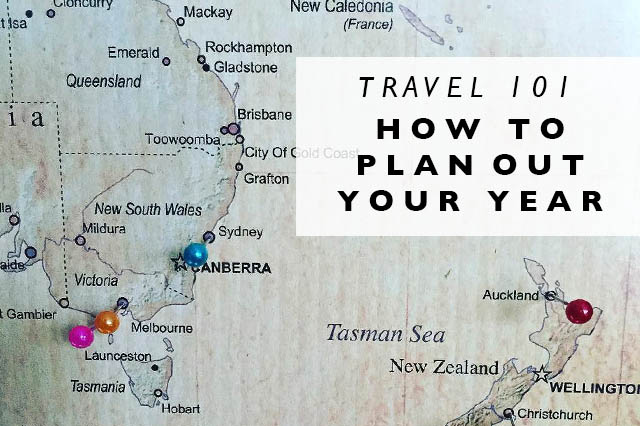 We are currently exploring some of favorite (and some new) spots in Europe this week, but while we're away, one of the goals of Land of Marvels is to offer advice to those of you who want to travel in order to get to that dream destination yourself.  So this week, in Travel 101, we're touching on the basics of how to travel, what to do once you get there and everything in between.  So follow along and welcome to Travel 101!
One reason that we're able to travel as much as we do is that we are very specific about our travel plans and maximizing time off.  We do that in a number of ways which I'll go over below, but if you want to travel often, with jobs and time off and finances, it's often only possible when planned well in advance.  So for us, here's how we plan our our year to travel as much as we can!
Start in January and figure out when large trips will be.
Our year revolves around generally 2 bigger trips, when we're gone for 7-10 days.  We usually do one larger trip in the Spring and one in November.  By doing these larger trips in the off/shoulder seasons, we're able to save money rather than traveling during peak periods.  It's also generally quieter and cooler, which we like.  So schedule-wise, we sit down in late December or early January at the beginning of the year and look at specific locations and dates that we'd like to do for our larger trips.
For example, this year we're doing Europe (Paris, Rome, Tuscany/Florence, Vienna and Santorini) in late April as opposed to our usual March trip because Santorini warranted a later trip this year.  So sometimes destinations will change your schedule a bit.  But generally we usually do our first trip in March or April.  Then later in the year we always travel over the Thanksgiving week and we'll be venturing to China and Japan in November this year.
Once you have your large trips set, you can plan the rest of your travel year.
Request time off of work or work around big projects.
One of the things that really relies on us choosing our dates for the larger trips is how much time we can take off of work or working those dates around big projects.  For example, for me, my busiest times of the year are January-August, so the Fall is much quieter for me to travel.  For Nick, we try to work around his time off as it's a little more strict than mine.
So you'll want to sit down and figure out exactly how much time you have off, then request that time off when booking a trip.  We like to make sure our travel doesn't impact us in our jobs, so working these priorities in can really help.
Add small trips into weekends and holidays.
We usually also have a handful of small trips we'd like to take, whether near our home or somewhere closer to home in the US or neighboring countries, so for these, we plan these around weekends throughout the year.  After we have our larger trips on the calendar, I'll go through the other months of the year and figure out how to maximize our travel days.  Often this means using long holiday weekends to take time to travel or working them into other opportunities.
Leave some time open for spontaneous travel.
One thing I've learned in the past few years is that it's also important to leave some room open in your schedule for spontaneous travel.  Some of our favorite trips have been ones that came up spur of the moment and I love leaving certain months of the year open so that if things come up, we can jump at them!