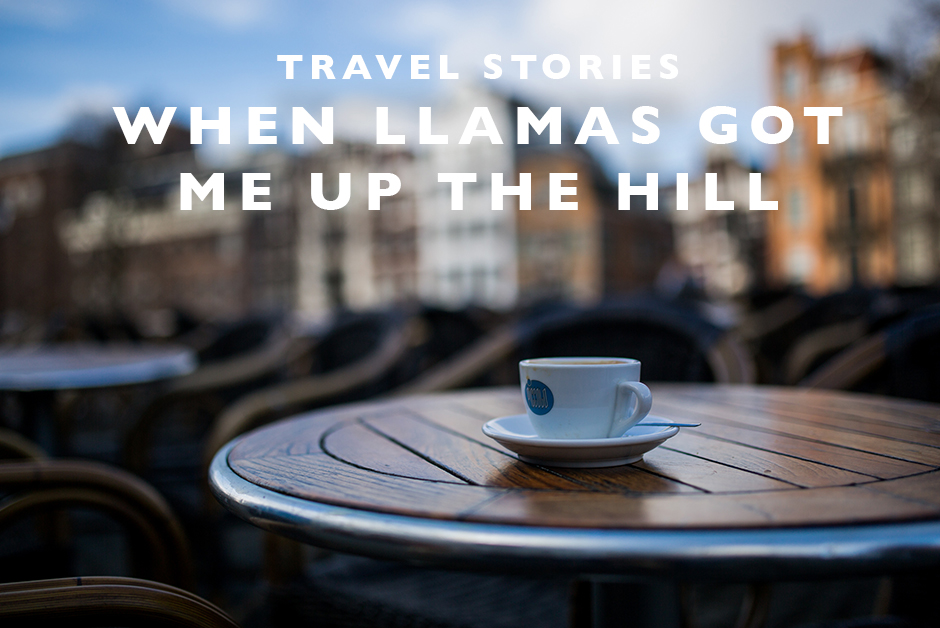 In my continuation of telling travel stories from some of my journeys these past years while we're all grounded due to COVID-19 lockdowns, today's is one of the stories that Nick and I laugh about the most in our real lives.  It involves Machu Picchu, a 5am wakeup call, dense fog and llamas… so grab a cup of coffee and here we go!
A few years back I called Nick at work this time of the year in early May and said "would you want to go to Peru and Machu Picchu over Memorial Day?"  Luckily he said yes but you have to understand that this is so me.  I'm a jump at things kind of person and figure it out later.  He's a meticulously think though things and take a while to make a decision type of person.  Opposites attract I guess!  Anyways, he jumped with me on this one, to both of our surprise, and I started booking a trip that was only a few weeks away.  My push for this trip was that Nick was turning 30 that June, I would be celebrating the milestone October that year and South America was the last continent except for Antarctica for us to visit before our birthdays.  Hence we ended up in Peru over the Memorial Day weekend after only just a few weeks of planning the trip.
After a very quick night at the airport hotel in Lima, we hopped a steel plane that looked like it was straight out of the 1950's to fly over the Andes to Cusco, the city with closest access to Machu Picchu.  Now before I get to the Machu Picchu part and the funny part of this story, you have to understand, we literally arrived in Lima very late at night on a Friday.  Flew to Cusco on Saturday morning after only a few hours of sleep, had the day in Cusco on Saturday, took an early train to Machu Picchu on Sunday, explored Sunday afternoon and Monday morning, took a train back to Cusco Monday afternoon and flew back to Lima Tuesday.  The entire trip was only a few days, so we were all over the place in terms of time changes and lack of sleep just to preface the story I'm about to tell.  In retrospect, it was really crazy fast but that's all part of the fun, right?
Anyways, we arrived in Cusco and immediately started to feel the affects of the high altitude.  I had altitude sickness pills with us which I began taking but immediately began feeling some weird side effects from them so I stopped taking them pretty quickly into the trip.  Just walking around Cusco we could feel the thin air, allowing ourselves to go a little slower than normal to catch our breath.  We explored the city in the short time we had and then prepared for our train trip up to Machu Picchu the next day, incredibly excited about seeing this amazing wonder of the world.
The trip didn't start out great when we found out we were supposed to pick up our tickets the day before travel and ended up having to purchase new train tickets… but that's a whole other story.  We arrived in Aguas Calientes, the tiny town at the base of the mountain that holds Machu Picchu.  After meandering our way around and trying to figure out how to get up the mountain, we ended up on a bus filled to the brim, flying up the side of a huge mountain on the curviest road I've ever seen, no guardrails in sight.  It got even crazier as two buses tried to pass each other at some points, one going up and one going down and the person sitting next to Nick almost had a heartache several times on that drive.
We arrived up at Machu Picchu with hundreds of other people as most people come as a day trip from Cusco so we decided to wait a few hours and go into the sanctuary later in the afternoon that day, when the day travelers would be heading back to the trains, allowing us to have a more secluded experience.  We were staying at the only hotel at the top of the mountain, footsteps from the entrance to the monument.  This hotel in itself is an entirely other story but let's just say it's the most we've ever spent on a hotel night, still to this day and it was in no way worth the money other than it's location.  It's location is what you spend the money for, to literally walk out of your hotel and enter Machu Picchu whenever you want.  We got unpacked, had lunch at the hotel and then ventured over to the sanctuary of Machu Picchu later that afternoon, just as the shadows were growing long and the day tourists were leaving for the trains.  Truly, the experience of seeing such a place was life-changing in the best possible way and we explored a while before calling it a night.
The next morning though is when it gets really good.  We decided to go into the sanctuary again at sunrise the next morning and set our alarms for an early wake up call to be at the gates (a minute walk from our hotel) at 5am.  We rolled out of bed at 4:30am, tired, jet lagged but excited.  We covered ourselves in bug repellent (a necessity up there), sunscreen (because of the altitude) and bundled for a cold foggy morning outside.  We laced up our hiking boots, grabbed backpacks and headed out of the hotel to find a small line already formed at the entrance to Machu Picchu.  Sleepy, we inched forward as they started letting people in and we listened to a crowd of guys behind us, talking about them training for Ironman competitions and how they had already ran the trails of the mountainside this morning to get up to Machu Picchu.  I looked at Nick and said "they literally already climbed a mountain this morning and it's not even 5am!"  The same mountain that had taken us a solid 15 minute drive up in those busses the day before and their arms were covered in the largest bug bites I'd ever seen.
Ok now, let's stop for a moment.  I'm not a runner.  I don't have very good stamina and I hate inclines, like even walking a hill is hard for me.  Now put me in a city on flat ground and I can walk 20 miles, but not on a hill, not when I'm tired, not at 5 in the morning.
The morning was also filled with a really dense fog, like a can't really see in front of you type fog.  The day before, Nick had scouted the spot he wanted to go for sunrise, so immediately upon entering the gates, we turned left and started heading up an ancient set of stone stairs.  The stairs were uneven, rocky, hard to climb and coupled with exhaustion and fog, I struggled.  Halfway up, I was really struggling to catch my breath.  Later I realized I was probably also struggling to breathe due to the altitude, but in the moment, I just could not take one more step up and literally just fell to the steps and sat down right in the middle of these ancient stone stairs, unable to physically move myself, even to get to the side.  Luckily for a minute, it was still and quiet, no one else around us and I had a moment to just try to breathe, in the middle of the staircase.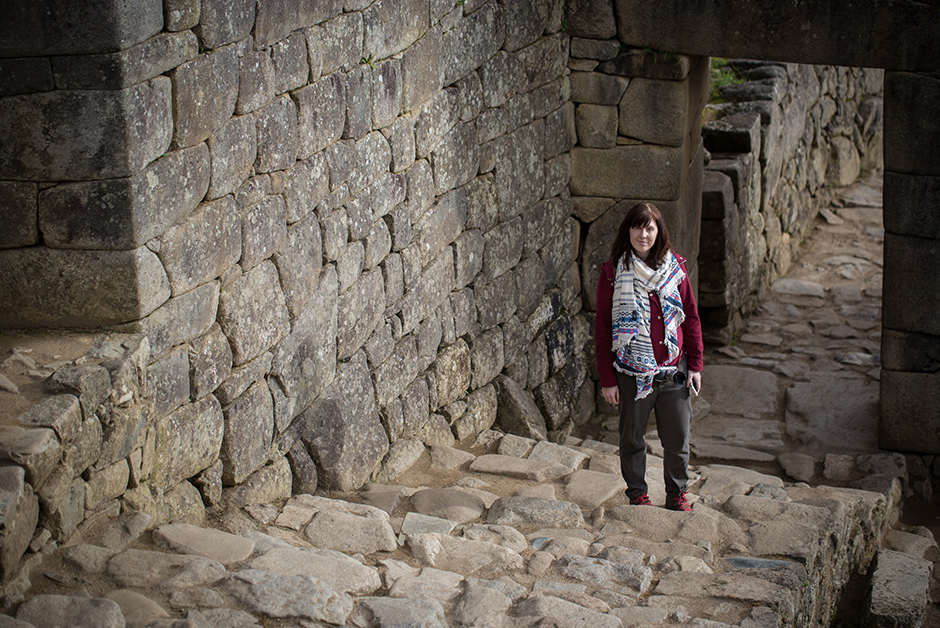 I couldn't see anything in the fog around me but I started to hear the sound of footsteps, fast footsteps.  Low and behold, the Ironman guys, who mind you had already climbed a mountain that morning, came flying toward me sitting on the steps in the fog.  They couldn't see me until right before they almost trampled me, sitting in the middle of the steps.  I remember thinking "you've got to be kidding me" as they flew past me, running up these stone stairs that I could barely walk up.  We laugh about it now, that time the Ironmen almost trampled me at Machu Picchu.
After they passed, I moved myself over to the side of the stairs to a little overlook area and just sat for a while, watching the scene unfold around me.  The fog was started to lift, and actually, a better word to describe it would be more like the fog started tearing apart, unveiling the monument below us.  I hadn't actually realized in the fog how far up we had climbed and now I could finally see where we were, I could finally breathe a little better and everything started becoming a little less foggy, both literally and mentally.  At this point, Nick had left me at this spot to catch my breath and had headed up the hill a little further to see where we were, how much further we needed to go to get to the spot he wanted to take photos from and to come back to let me know how much I would need to gather my strength to climb further.
He returned and told me, word for word, "I have good news and I have bad news."  He continued, "the bad news is that it's still pretty far up the hill we have to climb but the good news is that there are a ton of llamas roaming around at the top."  I don't even remember registering his comment about how much farther I would have to climb when I could barely breathe as it was, all I remember him saying was that there were llamas at the top.  That for me was the prize.  And I just started going.  He kind of looked at me bewildered, but give me the chance to pet and play with animals and I'll do almost anything, even climb an ancient mountain at the crack of dawn.  I raced up the rest of the incline and don't remember much about the climb to be honest, all I remember was arriving at the top, out of breath but my eyes widened when I saw the llamas grazing around up at the top of Machu Picchu.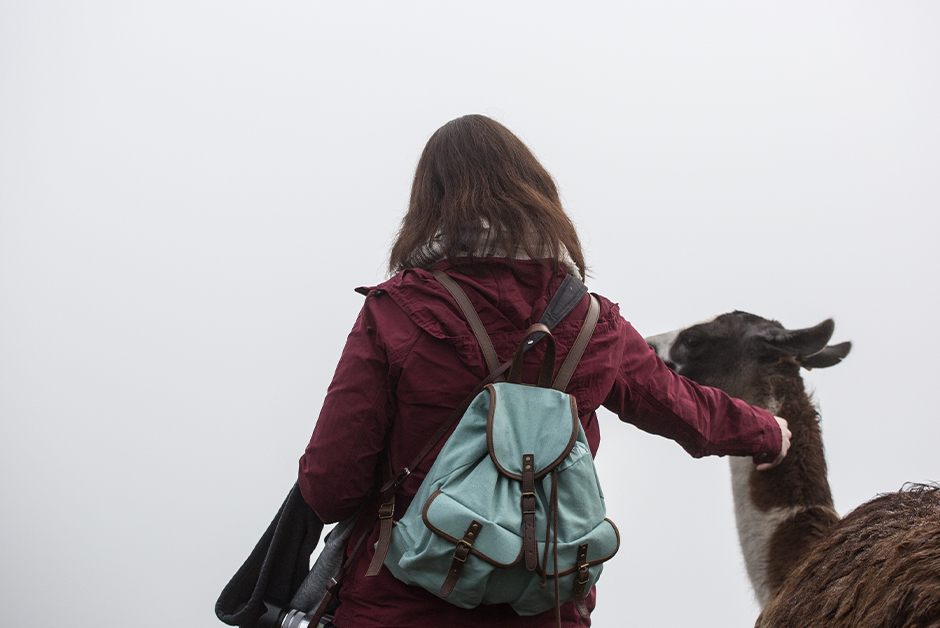 For a while, we were only two of a few people up there, the llamas all to ourselves, Machu Picchu all to ourselves as the fog was clearing and the views out over this incredible landscape opened up.  The llamas had collars with their names on them and I spent the next hour frolicking around with Nacho and Lucy, petting them, playing with them, all the while, thinking to myself, "I'm at Machu Picchu playing with llamas right now, wow."  I was also thinking, "someone should have told me there were llamas at the top a lot earlier and I might not have almost been trampled to death by Ironman runners."