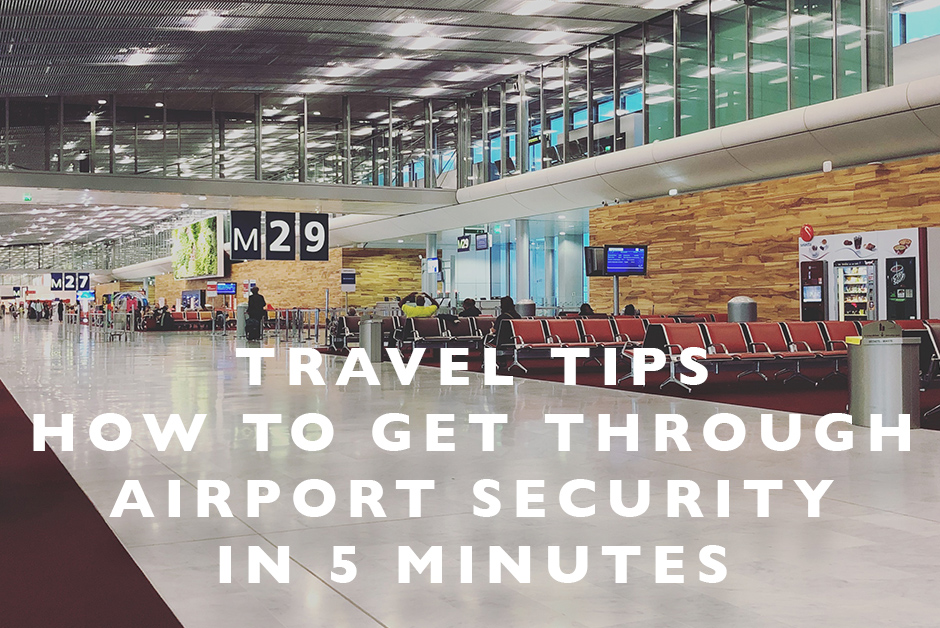 People often ask us if we get tired of traveling, tired of the rigor of going through the airport and enduring security and dealing with issues from check in to the gate agents of airlines.  And the answer is, truthfully, we have the act of traveling down to a science at this point and we very rarely have bad airport experiences.  99% of the time we are dropped off at the sidewalk, enter the airport and are through security within about 5 minutes.  And if you're jaw is on the ground right now, I will say it again, it is entirely possible to be through security in 5 minutes (in a normal airport situation) and in the following tips and strategies I'll tell you how!
Use Mobile Boarding Passes.
The first thing that saves us an enormous amount of time – not having to check in at a counter or kiosk to get our boarding passes or carry extra pieces of paper around.  Using mobile boarding passes (which most airlines offer) is a quick and efficient way for you to be able to head straight to security and bypass the whole first part of the airport experience at the check in counters.
Get Global Entry/TSA PreCheck.
I will never stop singing the praises of Global Entry and TSA Precheck – both programs you sign up and pay for.  We did ours right when they started years and years ago and paid the small fee ($100 for 5 years) and it has been a life changer for us.  While there are now other ways to get TSA Precheck printed on your boarding pass, this is still the most sure way to do it.  Global Entry will get you Precheck at no additional cost and you'll go through the Precheck lane at security – never needing to take out liquids, laptops or coats again.  You put your bags on the conveyer as is, walk through the metal detector and voila, you're done!  This is the single most incredible way we've been able to get through airports so fast all over the country.
Know when your airport is busiest and avoid those times.
For your home airport, try to figure out when it's busiest as this is going to be when the lines are longest.  For Portland, early mornings tend to be busiest while evening flights usually bring shorter queues.  So if possible, arrange flights when the airport is least busy.
Find out which security checkpoint is least crowded or go through another terminal.
All airports have different security checkpoints and some might be more crowded than others so figure out which ones are usually empty and use those to go through security.  For example in Honolulu, there is a side security checkpoint that is rarely used and we usually walk right through.  You can also sometimes go through other security checkpoints and then connect to your gate in the other terminals.  So figure out which one is best for your situation and which will get you through quicker.  No need to wait in a long line if there is another option.
Carry on luggage only.
This is by far the fastest way we get through security quickly.  We usually only carry on our luggage and have everything convenient for security.  That means nothing falling out of your bags or bags you can't lift – be ready to just throw them on the x-ray machine and go.
Have a pocket in your bag to put your ID and phone in quickly.
Even in Precheck lines, you'll have to put your phone and ID away after it's checked by an agent.  Be sure to have a place to put those in your bags quickly and safely so as not to hold up the line at security.
Become an elite member of an airline loyalty program.
If you fly a lot and happen to be an elite member of airlines' loyalty programs, you'll know this is a sure fire way around the world to get access to shorter lines everywhere, but especially at security checkpoints.  You'll get access to way shorter security lines and be ushered through most areas of an airport – so rack up those miles to get elite status!