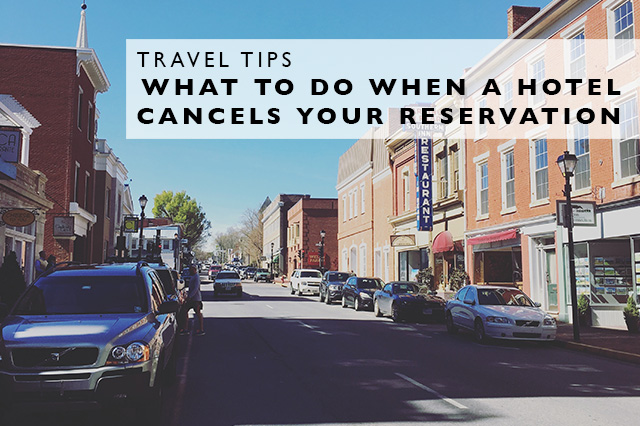 During our trip to DC we were driving out to Lexington, Virginia on Saturday for a family wedding.  We had booked to stay at a little boutique hotel in downtown Lexington about 7 months prior to the wedding through Hotels.com.  Friday while we were still in DC, I got a call from Hotels.com telling me that the hotel had overbooked and that we would have to pick another hotel to move to.  I told them I wanted to call the hotel first to see what was really going on and that I'd call them back.  Long story short, I think it was the hotel that somehow moved our reservation (even though they had rooms) and it was all taken care of in about 20 minutes.  But if for some reason a hotel cancels your reservation or moves you, here's what I would always suggest doing!
Go directly to the hotel first.
Instead of going through whoever you booked through (in my case Hotels.com), call the hotel directly first and find out what's going on.  In my case, it was an error in their system which then got directed to Hotels.com and my reservation with them so the hotel was able to straighten it out right away.
Then go back to your booking agent.
Even if you get it sorted with the hotel, be sure to also call your booking agent (in my case Hotels.com) and confirm with them that the hotel has your reservation shown in their system.  You want to make sure it's good on both ends with them and with the hotel.
Demand that your reservation be honored (especially if it was booked way out).
If they fight you on it, demand that your reservation be honored, even if that means you have to be upgraded to find a room for you.  In my case, I had booked 7 months out and mentioned that as well that I shouldn't be the room canceled when I had booked so far in advance.
If they can't honor your reservation, demand compensation.
If for some reason they really are overbooked and you get bumped from your room, demand that you get compensated not only for the refund of your booking but also an extra compensation for the hassle of the situation.  You might have to be firm with them, but it's worth it.  I ended up getting my reservation back from the hotel as well as a $100 voucher for a future Hotels.com booking which made up for the inconvenience.